Sometimes there's just nothing you can do but sit back and accept a loss. There's no one to blame, nowhere to point fingers. You just get beat. It happens. Sixty-something times a year too. Chris Sale and the White Sox cruised to a 3-2 win over the Yankees on Thursday night.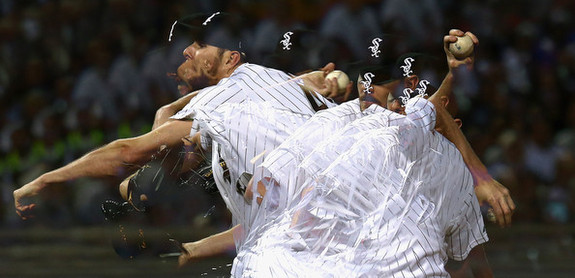 A Great Sale
It was pretty clear the Yankees were in a tough night offensively as soon as the lineup was posted, but I'm not sure even the '27 Yankees had much of a chance against Sale on Thursday. The lanky southpaw was as sharp as ever despite spending the last month on the disabled list with an elbow issue. He struck out ten in six innings and did not allow a base-runner until Zoilo Almonte singled to center with two outs in the sixth. The same Zoilo Almonte who hit .132/.214/.158 against lefties in Triple-A this year. Baseball is weird sometimes.
The Yankees actually did a good job driving up Sale's pitch count early in the game — manager Robin Ventura said his ace was going to be limited to 100 pitches or so, though he yanked him after 86 — forcing him to throw 49 pitches in the first three innings. When working the count produced nothing, but they started swinging at pitches in the zone earlier in the count, and that didn't work either. Had he been perfectly healthy and not been limited to a pitch count, I'm pretty sure Sale would have gone the distance and struck out 14 or 15. He was on top of his game.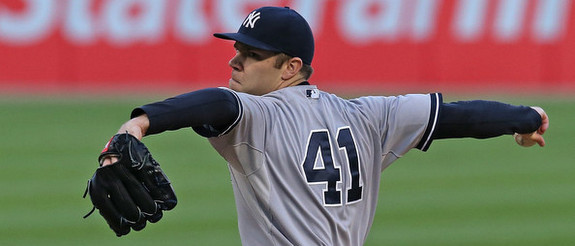 Dealin' David
David Phelps gave the Yankees exactly what they needed. He gave them both quality and quantity innings, allowing just two runs in seven innings of work. Both runs scored in the second inning, after the slugger formerly know as Paul Konerko doubled with two outs. Alejandro De Aza dunked a bloop ground rule double to right — Almonte came up juuust short on his dive and I'm pretty sure Brett Gardner would have caught that ball — to score Konerko, then Adam Eaton flared a single to left to score De Aza. All with two outs. Yuck.
Aside from that, Phelps was pretty awesome. He retired 16 of the final 18 batters he faced and struck out eight, finishing the night with a season-high 104 pitches. The bullpen got worked pretty hard in Wednesday's extra innings win over the Cubs, so I'm pretty sure Phelps was going to be left out there to throw about a hundred pitches no matter what. The rotation is a big question mark behind Masahiro Tanaka right now and it would be great if Phelps could give the Yankees something like this every fifth day. Maybe not two runs in seven innings, that's a high standard, but pitch deep into the game and not let things get out of control. Tough luck loss.
DFAceves
For the second straight day, the Yankees rallied for two runs in the ninth. Too bad Alfredo Aceves spotted the White Sox a third run in the bottom of the eight. A double by Gordon Beckham and a single by Adam Dunn did the trick. He also managed to walk the unwalkable Alexei Ramirez. That turned out to be the game-winning run after Mark Teixeira singled in a pair in the top of the ninth. The tying run was on first when Alfonso Soriano struck out looking to end the game. The pitch was rather high, especially by current strike zone standards (PitchFX plot), and heck, catcher Tyler Flowers didn't even catch it, but home plate ump Tom Woodring called it a strike so a strike it was. Soriano's doing a great Vernon Wells impression this year, don't you think?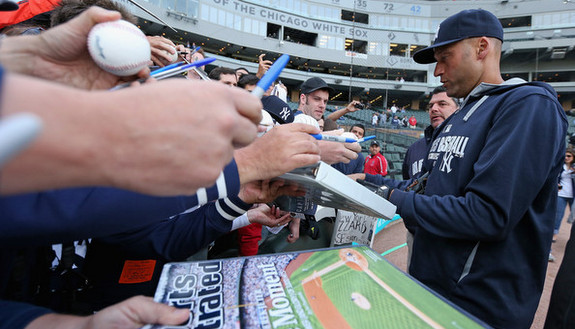 Leftovers
The Yankees only had three hits on the night because Sale was dynamite — singles by Almonte, Teixeira, and pinch-hitter Ichiro Suzuki. After going without an extra-base hit for the first time this season on Wednesday — last team to have an extra-base hit-less game! — they did it again on Thursday. Baseball, huh? Derek Jeter drew the team's only walk in that ninth inning rally. The Yankees struck out 13 times as a team, including three times each by Soriano and Jacoby Ellsbury. Ellsbury's been pretty bad of late but I can't give him grief for whiffing three times against Sale.
Other than that … at least the rest of the bullpen got the night off? Not the most eventful game of the year. It's pretty clear Aceves should be the guy to go whenever Michael Pineda gets healthy. Whoever loses their rotation spot to Pineda can talk over as the long man. That 2009 Aceves magic is long, long gone.
Box Score, WPA Graph & Standings
For the box score and video highlights, go to MLB.com. FanGraphs has some other stats and ESPN has the updated standings.

Source: FanGraphs
Up Next
The Yankees are now halfway through their six-game stint in Chicago. Hiroki Kuroda and former Yankee Hector Noesi will meet in the second game of this four-game series on Friday night. Chicago's next three starters can reasonably be considered replacement level, so if they don't wake up the bats, nothing will.