The mailbag is our Friday staple, but this week we received a question worth its own post.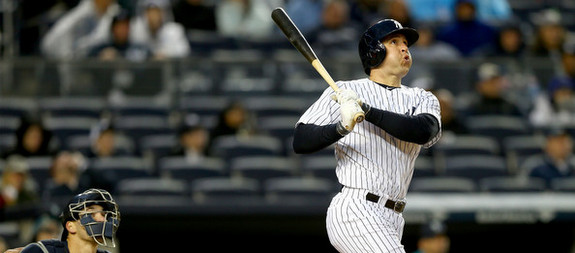 Jonathan asks: Hey Mike, have you noticed any change in Mark Teixeira's stance so far? He's standing up much more straight with less of a crouch and his hands are starting in a lower position.
I hadn't noticed anything different until I read Jonathan's question the other day, so I paid extra attention during Tuesday night's game against the Mariners. Sure enough, it looks like Teixeira has changed his setup at the plate. To the action GIFs: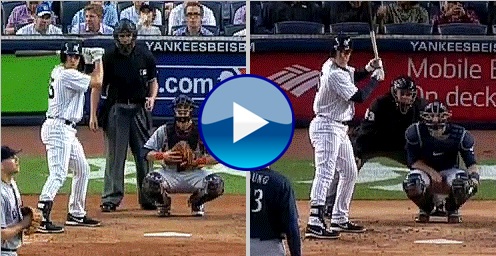 That is 2013 on the left and 2014 on the right, both homerun swings (not that the outcome matters much, but just in case) and both at Yankee Stadium so the camera angle is the same. I'm not much when it comes to media editing and all that, but I did my best to sync the two GIFs at the moment his front foot hits the ground.
There are definitely some differences between last year and this year, as Jonathan pointed out. Four that I see, in fact.
Closed Stance: Teixeira's front foot was further away from the plate than his back foot last season. He'd been like his entire career. The same is still true this year, but it isn't nearly as exaggerated.
More Upright: Look at his knees. He was in a bit more of a crouch last season. This year he's standing close to straight up.
Lower Hands: They wind up in the same place once he starts to load his swing, but Teixeira has brought his hands out in front of his body before the pitch is delivered. Before they were almost behind his head.
Follow-Through: Last year Teixeira still had his big one-handed follow-through. This year it's a more compact two-handed follow-through.
Do those adjustments sound familiar? They should. You're a bad fan if they don't. (Not really.) Those are the same exact adjustments Curtis Granderson made when he revamped his batting stance in August 2010 and turned into one of the game's premier power hitters almost literally overnight. Here's a pair of screen caps from a post I wrote about Granderson's overhaul back in the day:
Granderson's very first at-bat of the 2010 season is on the left (homer off Josh Beckett!) and an at-bat from August 2010 is on the right. It's from the series immediately after he went through his crash course with hitting coach Kevin Long, so right after Curtis went through the overhaul.
The camera angle isn't the same but you can see Granderson closed his stance and dropped his hands, pretty drastically too. Much more than Teixeira. (Lower hands is a classic adjustment players make in an effort to get their bat moving quicker.) He is not standing more upright, though he did replace his one-handed follow-through with a two-handed follow-through. I'm not going to make a GIF of that; I trust you remember Grandy following through with two hands these last few years.
Alright, back to Teixeira. Here's a snippet of a relevant Mark Feinsand article from late in Spring Training, just before the Yankees traveled to Houston to open the season:
Kevin Long noticed that Teixeira had been letting the bat go early when he hit lefty, protecting his right wrist in the process. Teixeira said he fell into that habit last year when he tried to play through the injury, but until Long picked it up on video earlier in the week, he didn't realize it was still happening.

"Lefthanded, mentally I have to continue to remember that it's healthy now and even though it might be a little bit tight, and every now and then it's a little bit sore, I can still take that full swing," Teixeira said. "It was unbelievable how early I was letting go of my (left) hand to protect the (right) wrist. Just really a bad mechanical thing."

Long and Teixeira worked on the adjustment in the cage and during batting practice, but it wasn't until Thursday's game against the Pirates in Bradenton that the first baseman truly felt he let loose during his lefthanded at-bats.

"It looked like a whole different animal," Long said. "The problem is it wasn't allowing him to drive the ball and he was cutting his swing off. I can't tell you how positive the Bradenton game was for him and for us.
That's the kinda thing I read in Spring Training and completely ignore. We hear that sorta stuff everyday and most of it means nothing, both short and long-term. Teixeira has noticeably revamped his stance though, and both he and the hitting coach talked about making adjustments back in camp. The early returns are positive too: .231/.375/.487 (140 wRC+) with three homers in 48 plate appearances this season, including two homers in his last two games. Suddenly that little blurb from March seems more meaningful.
Teixeira is a switch-hitter, but his left-handed swing has been the concern in recent years. I didn't bother to look to see if he changed his righty stance as well. He never stopped mashing lefties (144 wRC+ from 2011-13), so there was never a reason to worry about him from that side of the plate. Teixeira's production against righties took a hit though (104 wRC+ from 2011-13), plus a right wrist injury is more worrisome for a lefty hitter. The front arm is the power arm, so if any part of that is compromised, it's tough to drive the ball. Teixeira has hit those two homers off righty pitchers the last two games, which is encouraging.
Will the adjustments Teixeira made this year be as effective as the ones Granderson made in 2010? Man that would be so cool. It is the same basic stuff, after all. Closed stance, lower hands, two-handed follow-through, etc. That said, no. Probably not. Granderson's fix was 95th percentile stuff. Turning into a 40+ homer guy with a few mechanical tweaks is damn near the best case scenario. I wouldn't expect the same results from Teixeira just because they made the same adjustments. They are two different players at two different points of their careers.
Still, can this new stance help Teixeira regain some of his lost production as a left-handed batter? It's possible and I hope so. There's really no way of knowing at this point though. Teixeira wasn't bad in his last full, healthy season (116 wRC+), he just wasn't as good as he had been during his prime. The easiest way for him to improve his overall production is to improve against righties, and these recent changes could help him do just that. Hopefully this recent power surge is a sign of things to come and an indication Teixeira's new batting stance is paying real dividends.