I guess the good news is that no one got hurt for a change. The Yankees dropped their fourth straight game on Tuesday night, falling 12-7 to the Mets. It's their sixth straight loss to the Mets dating back to last season. This game was competitive for about an inning.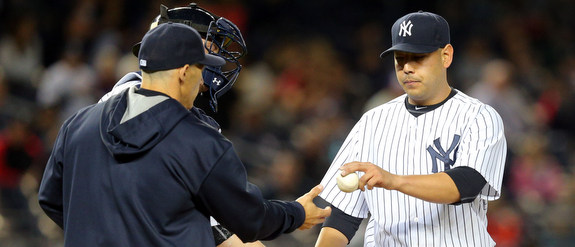 Vile Vidal
Vidal Nuno has now made five starts this season, and he's looked like a competent Major Leaguer in two of them: his first start against the Rays and his last start against the Angels. The Yankees were down four-zip before Nuno recorded his second out on Tuesday night thanks to a hit batsman, a walk, a single, and a three-run homer by Curtis Granderson. Granderson has not forgotten how to hit the ball out of Yankee Stadium. At least not hanging breaking balls, anyway.
Nuno threw 37 pitches before the Yankees came to bat and 78 total in the game. He ended the night having allowed seven runs (six earned) on four hits, four walks, and the hit batsman in only 3.1 innings. Mets hitters fouled off 19 total pitches, including ten with two strikes in the first inning. Phil Hughes Syndrome. They swung and missed once. Once! Out of 78 pitches! Nuno has little margin for error as it is, and on nights when he can't locate precisely, he allows seven runs in 3.1 innings. He's the very definition of replacement level. The Yankees have a ton of pitching injuries right now and they are more or less out of rotation options at this point, so Nuno will get the ball again in five days.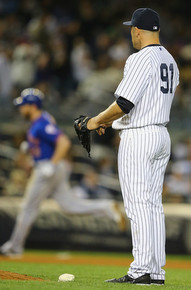 Who Needs A Bullpen When We Have Each Other?
Alfredo Aceves went from rotation candidate to designate-for-assignment candidate in the span of three days or so. He took over for Nuno and allowed four runs on four hits and one walk in 1.2 innings, throwing 52 pitches. Daniel Murphy's three-run homer off the right field foul pole in the fifth inning put this one out of reach. There's a decent chance Aceves will be dropped from the roster in favor of a fresh arm before Wednesday's game. Pretty clear the 2009 magic ain't coming back. Matt Daley struck out three in three scoreless innings, sparing the rest of the bullpen. He threw 44 pitches and chances are he will be off the roster tomorrow as well. Such is the life of an up-and-down middle reliever.
Five More Runs
It feels like the Yankees have struggled to score runs lately, but they've scored at least five runs in five of their last six games. The highlight of Tuesday's offensive attack was Brian McCann's two-run homer in the first inning, which turned a 4-1 game into a 4-3 game. He had three hits and a walk in this game. McCann has quietly put together a four-game hitting streak and is finally starting to show signs of life with the bat. They need that badly.
Mark Teixeira singled in the team's first run and Brett Gardner remained hot with two more hits. He's gone 20-for-57 (.351) in his last 15 games. The Yankees had seven hits and six walks against right-hander Zack Wheeler, who was left out there to throw a career-high 118 pitches in only 4.1 innings by manager Mets manager Terry Collins. Collins was clearly trying to make sure Wheeler got through five innings so he'd qualify for the win. Yikes. That's a lot of stressful pitches.
Leftovers
The daily defensive miscue came in the fourth inning, when Yangervis Solarte stopped a hard hit ground ball but threw the potential double play ball into right field. That led to two more runs for the Mets. To be fair, the rally started when Nuno walked the number nine hitter (Ruben Tejada!) to leadoff the inning. Every game there's a botched defensive play that comes back to bite them. Never fails.
Meanwhile, Solarte had two hits and a walk, including a garbage time solo homer. He currently leads the AL with a .336 batting average. Alfonso Soriano singled in a run as well. The Yankees had ten walks as a team (seven strikeouts), including three by Jacoby Ellsbury and two each by Derek Jeter and Kelly Johnson. Brian Roberts and McCann drew a free pass as well. The Bombers had at least one base-runner in eight of nine innings and at least two base-runners in six different innings.
Preston Claiborne allowed a run in the ninth inning because that's what Preston Claiborne does. The Yankees have now allowed double-digit runs six times this season after doing it only seven times last year. They really need another starting pitcher. Two, preferably.
And finally, Joe Girardi was ejected after the bottom of the fifth for arguing balls and strikes, specifically a called strike three to Johnson. I don't blame him for looking for a way out of this one early.
Box Score, WPA Graph & Standings
MLB.com has the box score and video highlights. You can find more stats and FanGraphs and the updated standings at ESPN.

Source: FanGraphs
Up Next
The Subway Series shifts to Flushing. The Yankees and Mets will start the second leg of this home-and-home series in Citi Field on Wednesday night, when Masahiro Tanaka gets the ball against rookie righty Rafael Montero. Montero will be making his MLB debut. If you want to catch that game or any game on the homestand, check out RAB Tickets.