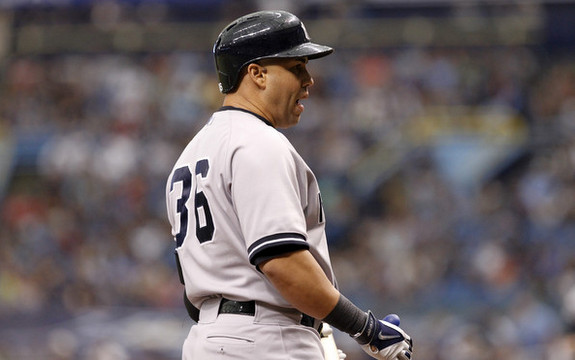 An MRI revealed a bone spur in Carlos Beltran's hyper-extended elbow, according to Meredith Marakovits. Apparently it is an old bone spur not even Beltran knew about. He received a cortisone shot and they are hopeful that will alleviate the pain and allow him to avoid the disabled list. Beltran will rest the next two or three days, and if the cortisone shot doesn't work, he will need surgery and would presumably miss several weeks.
Beltran, 37, hurt himself while taking swings in the batting cage between at-bats last night. I guess he aggravated the old bone spur somehow. CC Sabathia pitched for years with a bone spur in his elbow until it started to act up during the 2012 season. He had surgery that October and the recovery time was 6-8 weeks. That doesn't necessarily apply to Beltran, however. Pitcher vs. position player, every person is different, yadda yadda yadda.
In 33 games and 140 plate appearances this season, Beltran is hitting .234/.286/.430 (89 wRC+) with five homers. He has been in a big slump for weeks now, ever since he flipped over the wall trying to catch a foul ball in Tampa. Who knows if that fall or the bone spur were behind the slump. With Ichiro Suzuki also banged up, the Yankees figure to use Alfonso Soriano in right field for the time being. Zoilo Almonte was just called up to add an extra warm outfield body.