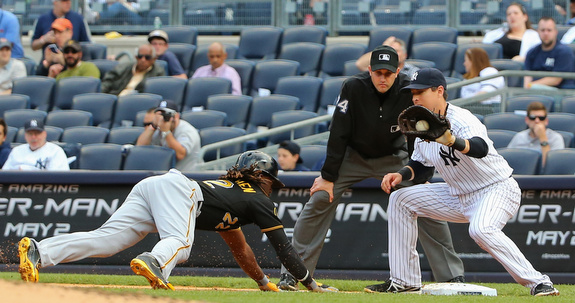 When the Yankees signed Brian McCann over the winter, I'm pretty sure they knew he would have to move to first base eventually. He turned 30 just as Spring Training started and he's been an everyday catcher for a long, long time. McCann caught almost 9,000 innings with the Braves in the regular season alone. Eventually he'll have to move out from behind the plate. That's just the way it goes.
Now, that said, I don't think the Yankees expected to start McCann at first base 52 games into his five-year contract. He had never played first base before this season, but Joe Girardi used him there for four innings (spread across three games) earlier this year in blowout games. Nothing crazy. Jorge Posada did that a bunch of times too. But starting a game at first, like he did last night? That was not the plan coming into the season.
"I was a little hesitant to do it," said Girardi to Chad Jennings before last night's game. "I saw him over there those couple of times and I'm a little more open to it, just because of some of the injuries. You know, there are a lot of things you don't plan on doing during the course of the season that kind of go awry when some things happen. I never planned on playing Vernon Wells at third base last year. Never in my wildest dreams, but it happened. That's where you have to be sometimes a little creative."
First, shout-out to Girardi for reminding me Wells played third base last year. I completely forgot about that (even though I GIF'd it). He played second base at one point too. So did Mark Reynolds. Now let's wipe that from our memories forever.
Anyway, the Yankees have essentially been forced to play McCann at first base on occasion because they never bothered to pick up a real backup first baseman over the winter. The backup first baseman was Kelly Johnson by default — "We felt that Kelly'd be able to handle it, and I still think that Kelly can handle it," added Girardi — and he had 18 career innings at the position coming into the season. McCann, Johnson, Frankie Cervelli, and Scott Sizemore all started games at first this year. Brendan Ryan and Carlos Beltran have played there as well. Seven different players already.
Mark Teixeira will visit the doctor to have his surgically repaired right wrist examined at some point today. He missed the Cardinals series due to lingering soreness and inflammation, something that will apparently be the norm going forward. It's going to act up from time to time — "[The doctor] was surprised I haven't had more flare ups," said Teixeira to Jennings — and they'll have to manage it somehow. More days off, more time at DH, more treatment, whatever it takes. They don't have much of a choice.
Because Teixeira's wrist will continue to be an issue, the Yankees will have to keep forcing round pegs into the square hole at first base. McCann was fine last night but he wasn't tested with any particularly tough plays. Johnson has been a mess over there recently — is it just me, or did he look much more comfortable over there while Teixeira was on the DL in April? what happened? — and that's to be expected given his inexperience. Same goes with McCann, Ryan, Sizemore, and whoever else they throw over there.
The Yankees had the ideal backup first baseman in Nick Swisher a few years ago. A productive player who could play another position everyday and step right in at first base if need be. It was awesome. That's much more preferable to a pure backup first baseman like, say, Lyle Overbay. Players who can play another position and slide over to first seamlessly are hard to find though. Kendrys Morales is still unsigned but he barely qualifies as a first baseman at this point of his career (59 games at first since destroying his ankle in 2010). Maybe Mitch Moreland becomes available if the Rangers continue to fall out of it. Who do you drop from the roster to make room for this player though? It's tricky.
Looking back — and really, we don't even need hindsight to say this — it was pretty silly to come into the season with no really backup plan at first base after Teixeira missed all of last season with a wrist injury, especially since he was told it would flare up during the season. Yeah, they did bring in Russ Canzler on a minor league contract, but that's it. Keeping Mark Reynolds as a part-time corner infielder/DH would have been awesome, but it's pretty clear he signed with the Brewers because they gave him a greater opportunity for playing time. Hopefully Teixeira's soreness this week nudges the Yankees towards finding a suitable backup and soon.