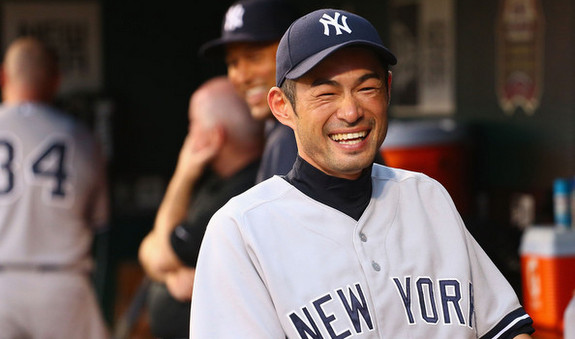 The Yankees are off today following their nine-game road trip, and starting tomorrow they play 17 games in 17 days in three different time zones. On the bright side, they don't have to travel back to the West Coast after that, and only two more times this season do they even have to go to the Central Time Zone. The team's travel after this upcoming stretch as is easy as it gets. Here are some random thoughts on the off-day.
1. This weekend's series against the Twins marks the end of what is probably the softest stretch of schedule for the 2014 Yankees in terms of the quality of their opponents: 19 straight games against the Mets, Pirates, Cubs, White Sox, Cardinals, and Twins. Only the Cardinals aren't awful. The Yankees have won nine of the first 16 games during that stretch, with the last three against Minnesota still pending. That's pretty damn good, but I can't help but feel greedy and wish they could have stolen one or two more. That Adam Dunn walk-off homer game really stings. With the Rays and Red Sox falling behind the rest of the AL East a bit — Tampa is literally one game better than the Astros right now — the division race has opened up a little bit. The Yankees play the Blue Jays and Orioles a combined nine times next month and those games are the most important ones right now. Games against Boston and Tampa aren't as crucial as they have been the last few years. (They're obviously still important. You know what I mean.) This isn't the AL East race we're used to seeing.
2. I'm pretty sure I've said this at some point before, I but I can't remember the last time the Yankees had a reliever like Dellin Betances. That overwhelmingly dominant flamethrower. Joba Chamberlain was excellent following his call-up in 2007, but even he did not have the kind of strikeout stuff as Betances — Joba had a 37.4 K% in 24 innings in 2007 while Betances is at 44.7 K% in 30.2 innings in this year. (Bet you didn't realize David Robertson has a 41.5 K% strikeout rate this year, did you?) Mariano Rivera was outstanding in 1996 as John Wetteland's setup man, but Mo's dominance was always more surgical than overpowering. You know what I mean, right? Betances just comes out of the bullpen pumping 97+ with a knee-buckling breaking ball that hitters don't even bother to swing at. They just bail on the pitch and it goes for a called strike. It's amazing and so much fun to watch. Betances spent a very long time in the minors fighting control problems and battling injuries, and the decision to move him into the bullpen last year was basically a last resort. A desperate attempt by the team to get something out of him. The move into a relief role has worked out to the best case scenario and it saved his career.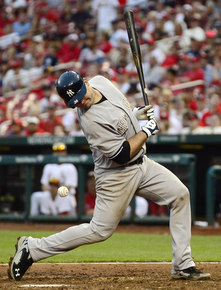 3. Obviously the late-1990s Yankees were excellent for many reasons, one of them being their strength up the middle. Derek Jeter and Bernie Williams were among the best players at their positions, Jorge Posada was just starting to get the majority of the playing time behind the plate, and Chuck Knoblauch was very good until things started to fall apart in 2001. They were getting top notch production from the four most important non-pitcher positions on the field. That is not the case this year though. The Yankees have gotten a combined .266/.331/.379 batting line from their catchers, second basemen, shortstops, and center fielders this year, which is right in line with the .254/.323/.397 league average. Average isn't bad! It is less than you would like to see though. The Yankees should be getting more production from those positions — neither Jacoby Ellsbury nor Brian McCann were hitting much prior to their big games last night (McCann was playing first, remember) — but it has not been there just about a third of the way through the season. Ellsbury and McCann are not going anywhere, but as the Yankees usher out of the Jeter era this winter, improving both middle infield spots should be a top priority. Along with having good pitching (duh), getting big production from those up the middle spots is one of the most surefire ways to contend. Just look at the World Series teams of the last, I don't know, 25 years or so. All strong up the middle.
4. So, with that in mind, man how perfect would Chase Utley look in pinstripes? Someone asked about him in a mailbag a few weeks ago and I haven't been able to shake the thought of trading for him since. It's not going to happen for several reasons — his ten-and-five no-trade protection first of all, plus the Phillies would have to be willing to sell and trade their best and most popular player — but the fit is too perfect. Left-handed power and patience, no real platoon concerns, good defense at second base, big market and postseason experience, short-term contract … he's perfect. The only negative is Utley's injury history, particularly his knee problems, but 100 games of him and 62 games of a replacement level player is still one of the best second baseman in baseball. The Phillies are pretty bad and they're only sinking further in the standings, especially with Cliff Lee hurt. Maybe that will push ownership to demand a rebuild. In the unlikely event it happens, the Yankees should be on the phone about Utley immediately. He's exactly what they need on both sides of the ball.