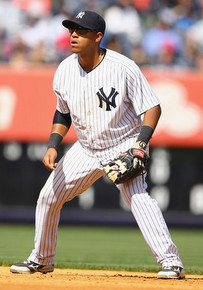 If he continues to hit like he has the first few weeks of the season — he's shown no signs of slowing down at this point, amazingly — Yangervis Solarte will go down as one of the best minor league free agent signings in baseball history. The switch-hitter has been a godsend for the Yankees, solidifying the infield and adding serious thump to the lineup. It's been remarkable to watch.
I like to think that I'm pretty well-versed when it comes to prospects and the minors, but even I had never heard of Solarte before he signed with the Yankees. He came out of nowhere. Major League teams sure knew who he was, of course, and the Bombers were not the only team who pursued him over the winter. Joel Sherman says the Tigers were aggressive as well, so much so that they even promised him an opportunity to win their second base job. Here's more from Sherman:
As a player who had spent eight years in the minors and was consistently — in (agent Peter) Greenberg's words — "the 41st man" in a sport of 40-man rosters, Solarte wanted to see a road to make a team and perhaps start.

But then Detroit obtained (Ian) Kinsler. The Yanks were aggressive from the outset. They often have trouble convincing minor league free agents to sign with them because those players believe in the organization's rep to go with stars over unknowns. The Yanks try to use money as a lure, and Greenberg said the $22,000 a month was the most any of his minor league clients ever had been offered, plus the Yankees were willing to guarantee three months of that contract.
Not only had Solarte never been in the big leagues before this season, he had never even been on a 40-man roster either. At least as far as I can tell. Solarte had several years of Triple-A experience though, so, according to Jeff Blank, he was earning upwards of $2,700 per month the last few years. Probably a bit more since he signed with the Rangers as a minor league free agent in both 2012 and 2013, when he had some negotiating leverage. It wasn't $22k per month though, according to Sherman.
Being a pro baseball player is a good gig if you can get it, and if you injected every player in the world with a truth serum, I'm sure every one of them would say they are in it for the money, at least to some degree. It's impossible to ignore the millions and millions of dollars on the table. Solarte signed with the Twins for a relatively small bonus as an amateur player out of Venezuela back in the day, and he didn't exactly make huge bucks in the minors all these years. A $22k a month salary with $66k guaranteed would have been hard to pass up. Now it's likely Solarte will earn more this season ($500k, the MLB minimum) than he did in his entire minor league career.
Like every other team, the Yankees sign a bunch of minor league free agents every year. Some work out — Solarte is an extreme example of one of these deals working out, but other minor league signees like Jayson Nix, Cory Wade, and Clay Rapada have contributed to the MLB team in recent years — and most don't, but these deals are super low risk. No 40-man roster spot is required, and in many cases the actual salary is measured in the low six figures (or in Solarte's case, five figures). It's a place where the Yankees can flex their financial might by offered those extra couple thousand bucks per month, amounts that barely put a dent in the team's bottom line.
Minor league salaries and free agency are still a bit of a mystery these days, especially when it comes to guys like Solarte, who have yet to make their MLB debut. He's an outlier, and building a team around minor league signings is not something that will win titles, but these players are necessary to provide depth and fill out Triple-A (and sometimes Double-A) rosters. Even the best farm systems have holes — the vaunted Cardinals farm system had no shortstops, hence four years for Jhonny Peralta — and this is one way to fill them. It's another spot where the Yankees can flex their financial muscle and it helped them strike minor league contract gold in Solarte.