The Yankees are more or less one-third of the way through their season right now — it'll be exactly one-third of the way through following Saturday's game, if you must know — so it's not that early anymore. I mean, yeah, it is still pretty early, no one is out of the race yet or anything like that, but we've reached the point where we have a pretty good idea of who the Yankees are. They have an injured riddled rotation, an inconsistent offense, and an overworked bullpen. It's not all bad of course, but there are problems that need to be addressed.
And yet, the Yankees come into today with a 27-24 record, which has them sitting three games back in the AL East with a half-game lead on a wildcard spot. They're a good weekend from first place with a long way to go. Things could be much worse, but the Yankee seem to have this knack for hanging around and outperforming their problems. They did it just last year. That club has no business even thinking about the postseason in mid-September, and yet there they were. Even in their current state, I think it's very clear this year's team is better positioned to make a run than last year's. It's not even close, really.
The Yankees will need help to make any kind of run though, either internal help or by acquiring players from elsewhere. The Red Sox (Stephen Drew) and Orioles (Nick Hundley) have already taken steps to improve their roster, and I'm sure the Blue Jays are eager to capitalize on their current position atop the division as well. How long until we start seeing "Toronto interested in Jeff Samardzija" rumors? I give it like two weeks. Before we get into how they can address their problems — trust me, there is plenty of time to talk about that — we have to figure out what those problems are. Some are obvious. Others not so much.
Huge Need: Another Starting Pitcher
Masahiro Tanaka has been everything the Yankees could have possibly imagined and more. He's been elite since day one and while I'm not sure he will sustain a 2.29 ERA and 2.61 FIP all season (pitching is hard), Tanaka is the very least of the team's rotation concerns. The non-Tanaka starters have a 4.49 ERA and a 4.02 FIP though, and that's a problem. Michael Pineda is working his way back from his back/shoulder injury but is still several weeks away. Even when he does return, how effective will he be and will stay healthy the rest of the year? Guys who have major shoulder surgery tend to keep getting hurt.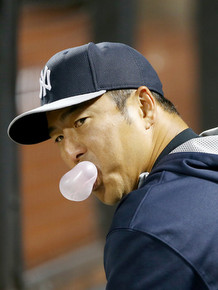 Hiroki Kuroda has not been as bad as he was down the stretch last year but he's been far from the Hiroki Kuroda we all know and love, the guy who was ace-like for months at a time. He has shown flashes of improving but nothing more. At this point it's tough to expect meaningful improvement. David Phelps, Vidal Nuno, and Chase Whitley are the number three, four, and five starters when they should be like, numbers six, seven, and eight. CC Sabathia? I'm not even sure what to say about him. Between the terrible performances and degenerative knee injury, I'm not sure how the Yankees could count on him to be anything more than a innings eating fifth starter when he does return. Adding another quality pitcher alongside Tanaka and maybe Pineda is imperative.
Big Need: Get More From Guys On The Roster
This goes without saying, but the Yankees need to get more from the players already on the roster. Jacoby Ellsbury (94 wRC+) and Brian McCann (75 wRC+)? Yeah, they have to do better than that, especially McCann. They were signed to anchor the roster and especially the lineup, not be big name complementary pieces. Alfonso Soriano (81 wRC+) has also been terrible. Kuroda falls into this category and I guess all the injured players do as well. This goes without saying, right? Needing more from the players already on the team is pretty standard across the league. Every club has guys not playing up to snuff.
Medium Need: Another Power Bat
So far the news on Carlos Beltran and his bone-spurred elbow has been positive, but he isn't out of the woods just yet. Not even close, really. Mark Teixeira wrist has been barking on and off these last few weeks, and apparently the doctors said this will continue to happen from time to time, so the flare-ups will be an on-going thing. Soriano has a recent history of slow starts and I suppose he's going through the same thing, but right now the power isn't there. that's pretty much his only redeeming quality. McCann's seven homers are great, but his .152 ISO is his lowest since his rookie year in 2005.
As a team, the Yankees have a .139 ISO and are on pace for 149 homers, a tiny bit better than last year (.133 ISO and 144 HR). Remember, they play in a tiny ballpark and in a division full of time ballparks. On any given day, the so-called Bronx Bombers have little-to-no power players at second, short, left, and center, and that's only because I'm giving Yangervis Solarte the benefit of the doubt. That's half the lineup. The power production isn't there, and while there is certainly more than one way to score a run, that ability to create offense with one swing is a game-changer. It makes rallying from behind and tacking on insurance runs much easier. Even if Beltran comes through this bone spur incident perfectly fine, another bat would be a big help.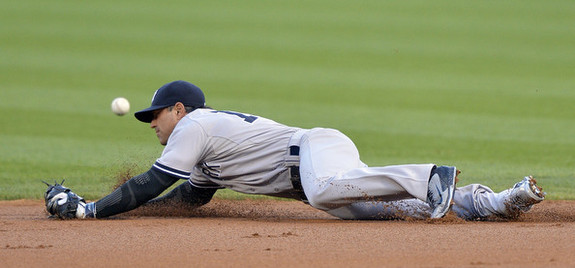 Medium Need: Another Infielder
I have to admit, the infield has been way better than I thought it would be. Solarte has definitely cooled off but he still remains productive and a net positive to the team. He's been an enormous lift. Derek Jeter is getting on base just enough (.337 OBP and 85 wRC+) — especially compared to the league average shortstop (.308 OBP and 87 wRC+) — to remain helpful, though it's a far cry from vintage Jeter. Besides, it's clear the team is not going to reduce his playing time at this point. The Cap'n will play, like it or not.
Brian Roberts has had his moments but has been pretty bad overall, both at the plate (85 wRC+) and in the field. He hasn't been an outright disaster but he hasn't exactly given the team a reason not to seek an upgrade. Kelly Johnson … I don't get it. He's been reduced to a once a week player and has struggled with the lack of playing time. I feel like Johnson is someone who could have helped had he not been buried. Whatever. And, of course, the overall infield defense has been a nightmare. All of them — Jeter, Solarte, Roberts, Johnson, and even Teixeira. Every game there's a play(s) that hurts the team. There's only so much the Yankees can do on the infield, but adding someone who can catch the ball and provide some pop should be on the trade deadline shopping list.
Small Need: Bullpen Depth
Both Adam Warren and Dellin Betances have been worked pretty hard these last few weeks, but Shawn Kelley will hopefully be back reasonably soon, and the Yankees do have some viable bullpen options in Triple-A, specifically Danny Burawa, Mark Montgomery, and Jose Ramirez. Matt Thornton has been good enough against lefties (.228 wOBA and 2.66 FIP) that replacing him isn't a high priority. Getting some more length out of the rotation will make life easier on the bullpen, and even then there isn't a team in the league that couldn't use another reliever. Everyone wants bullpen help and the Yankees are no different. If they can find an upgrade, great. If not, well I doubt it will sink the season. The other problems are much more pressing.