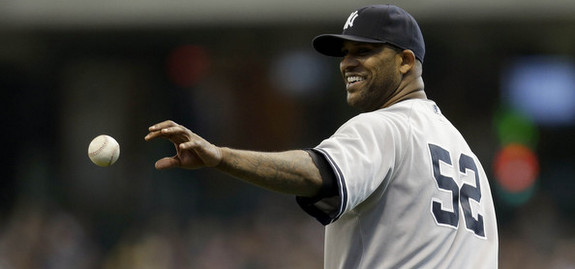 It was what, three or four weeks ago that the starting rotation was the clear strength of the Yankees' roster? Even with CC Sabathia and Hiroki Kuroda struggling through the early part of the season, everyone felt great about what they were seeing from Masahiro Tanaka and Michael Pineda. Ivan Nova has not gotten hurt yet and I think the general belief was that he's be fine in time. The rotation looked like a real strength.
Now, as the Yankees approach the quarter point of the season, the rotation is in shambles. Nova blew out his elbow and needed Tommy John surgery. Michael Pineda got suspended and then hurt his back, and just yesterday we learned he'll need longer than the original 3-4 week timetable to return. On Sunday, the Yankees lost Sabathia for at least two weeks due to fluid in his twice surgically repaired right knee. The official word was knee inflammation.
Regardless of whether Al Aceves or Chase Whitley or someone else starts in place of Sabathia on Thursday, the Yankees will already be using their eighth different starting pitcher of the season. Aceves was with Triple-A Scranton ten days ago and the Orioles in Spring Training, not re-joining New York until he opted out of his contract with Baltimore when he was informed he did not make the team. Whitley is in his third year at Triple-A and was passed over in the Rule 5 Draft in December, but hey, he struck out eleven last time out. He's as good a candidate as anyone to join the rotation.
We know Nova is done for the year and Pineda has already been pushed back once. Given the nature of his injury and its proximity to his surgically repaired shoulder, expect the team to be very cautious in the coming weeks. Sabathia has shown throughout his career that he never makes excuses and will pitch through pain. He did it when he tore his meniscus in 2006 and 2010, he did when the bone spur in his elbow acted in up 2012, and he did it last September when he blew out his hamstring. Say what you want about his performance on the mound, but Sabathia has always been super accountable and a team first guy. That he finally said something about the knee indicates it was really bothering him.
"That's why I didn't want to say anything," said Sabathia to Chad Jennings, referring to the Nova and Pineda injuries. "But I think I was doing more damage to the team than helping the team by trying to hide it … I didn't know what was making it swell up. Obviously, you know, it got pretty big on me after the start Sunday and after the start last night. So of course, I was getting a little nervous …  I'm not going to make excuses or anything, but I felt it yesterday, and I just wanted to say something and let Stevie (Donohue) know."
David Phelps and Vidal Nuno have only made a handful of starts between them, and they've yet to throw even 90 pitches in a start. Part of that is not being stretched out, part of it is being ineffective. Phelps threw 87 pitches in his first start but only 70 last time out because he was getting roughed up. Nuno has thrown between 69-82 pitches in each of his last four starts, so if he's still building his pitch count, it's been a slow process. It seems more likely Joe Girardi & Co. are limiting Nuno's exposure, which makes sense considering he's been hit hard the second and third time through the lineup this year. Nuno's margin for error is pretty small as it is. Giving hitters a third look at him seems like a bad idea.
Maybe the knee injury was the cause of Sabathia's ineffectiveness and he'll return from the disabled list and be a serviceable starter, perhaps even something more. Maybe Pineda's injury was just a bump in the road and he'll return next month and dominate again. Maybe Aceves really is as good as he looked last Sunday and will solidify the starting staff. That's a lot of maybes, and when we're talking about pitchers, two of which are hurt, counting on those maybes to work out is risky business.
The pitching staff is stretched thin as it is and the Yankees are starting to run out of internal options. Trading for a starter seemed kinda silly weeks ago, but it's suddenly looking like a necessity. No one is ready to start selling pieces yet, so the team is going to have to ride out Nuno and Aceves for another few weeks. That really scares me with an inconsistent offense (especially since Carlos Beltran and Brian McCann are invisible) and a ghastly team defense (particularly on the infield). That rotation has suddenly turned into a glaring weakness and the Yankees are running out of options.