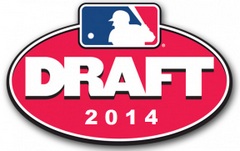 The first day of the 2014 draft is in the books and now we're moving on to day two. The Yankees selected Mississippi State LHP Jacob Lindgren with their first and only selection on day one — everything you need to know about him is right here — after forfeiting a bunch of high picks to sign free agents last winter. It was kinda boring waiting around for their pick to come up, but that's life.
Day two will cover rounds three through ten, and the Yankees have a pick in every one of those rounds. Their first selection of the day is 91st overall, or the 17th pick of the day. Their second pick of day two is 122nd overall, then things go back to normal and they'll pick once every 30 picks. The Yankees will select seven eight players today and remember, these picks are all tied to the draft pool. Expect to see some regular ol' prospects as well as some cheap college seniors picked today. The draft pool money saved on the seniors will be redirected to other players.
Here are some stray links following day one and heading into day two:
The draft resumes at 1pm ET with a half-hour preview show beforehand, and it'll all be streamed on MLB.com. Here's the video link and here's the Draft Tracker link. There won't be a liveblog today (sorry, I just don't have the time), so do all your draft talking here.