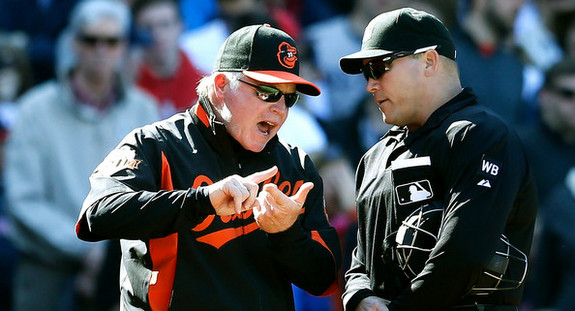 The Yankees just swept their biggest series of the season (to date), and now they begin their next biggest series of the season (to date!). The Orioles are in the Bronx for a three-game weekend set. The O's took two of three at Yankee Stadium back in April, in the third series of the year.
What Have They Done Lately?
The Orioles were off yesterday, and before that they took two of three from the Rays in Tampa. Everyone takes two of three from the Rays these days. Baltimore has played .500 ball for about two months now, and they come into the series at 37-34, a one game back of the Yankees.
Offense
The O's have hit the fourth most homers in baseball this season (78), by they are still no better than an average offense at 4.17 runs per game with a team 98 wRC+. No one gets on base in front of the power hitters. C Matt Wieters (129 wRC+) blew out his elbow and is done for the year following Tommy John surgery. OF Nolan Reimold has not played at all this year due to a back problem. That guy just can't stay healthy.
Manager Buck Showalter has three legitimate 30+ homer guys in the middle of his lineup: OF Nelson Cruz (162 wRC+), 1B Chris Davis (110 wRC+), and OF Adam Jones (113 wRC+). Cruz leads all of baseball with 22 dingers. SS J.J. Hardy (84 wRC+), meanwhile, is still looking for his first homerun of the season. Isn't that crazy? He's hit 20+ in five of his seven MLB seasons. OF Nick Markakis (113 wRC+) is having a fine year.
3B Manny Machado (66 wRC+) has not yet started to hit and frankly he hasn't hit for a while now (73 wRC+ over the last calendar year). 1B Steve Pearce (158 wRC+) and OF Delmon Young (107 wRC+) have done good work in platoon roles while OF David Lough (51 wRC+) is the defense-first fifth outfielder. IF Jonathan Schoop (65 wRC+) and IF Ryan Flaherty (65 wRC+) split time at second while C Nick Hundley (42 wRC+) and C Caleb Joseph (24 wRC+) split time behind the plate. Caleb is Corban Joseph's brother.
Pitching Matchups
Friday: RHP Hiroki Kuroda (vs. BAL) vs. RHP Ubaldo Jimenez (vs. NYY)
Remember when Jimenez erased like two and a half years worth of mediocrity with two good months late last season? Good times. The 30-year-old has a 4.86 ERA (4.74 FIP) in 14 starts and 74 innings for the Orioles this year, and there was some talk about skipping his spot this weekend following yesterday's off-day. The Orioles decided to remain on rotation though. Ubaldo has good strikeout (8.05 K/9 and 20.4 K%), homer (1.07 HR/9 and 13.4 HR/FB%), and ground ball (46.2%) rates, though his walk rate (5.33 BB/9 and 13.5 BB%) is a career high. That's really saying something for him. Lefties (.346 wOBA) have hit him harder than righties (.316 wOBA). Jimenez's velocity is down more than a mile an hour this year, so his four and two-seamers sit right around 90 these days. His splitter is now in the low-80s while his curveball and slider remain in the mid-70s and low-80s, respectively. The Yankees scored four runs in 4.2 innings against Ubaldo back in April. He walked five and struck out four. He's capable of being a total mess or totally unhittable on a given night.
Saturday: LHP Vidal Nuno (vs. BAL) vs. RHP Bud Norris (vs. NYY)
Norris, 29, has been solid in his first full season with the Orioles, pitching to a 3.73 ERA (4.44 FIP) in 13 starts and 82 innings. His peripherals don't necessarily jump out, however: 6.15 K/9 (16.6 K%), 2.85 BB/9 (7.7 BB%), 0.99 HR/9 (10.1 HR/FB%), and 42.2% grounders. He has literally no platoon split: both righties and lefties have a .309 wOBA against him this year. Norris is basically a two-pitch pitcher with two other pitches. He relies heavily on his low-90s four-seamer and mid-80s slider, throwing them roughly 80% of the time combined, but he'll also throw a handful of mid-80s changeups and low-90s two-seamers per start. They are show me pitches though. The Yankees did not face Norris when these two teams met earlier this year.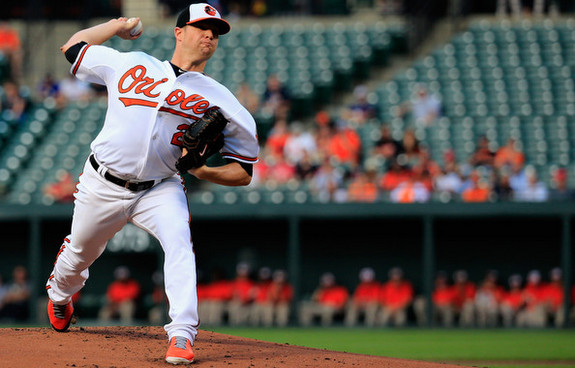 Sunday: RHP Masahiro Tanaka (vs. BAL) vs. RHP Chris Tillman (vs. NYY)
This was supposed to be a breakout year for the 26-year-old Tillman, who seemed to come into his own in the middle of last season. Instead, he has a 4.82 ERA (4.62 FIP) in 15 starts and 84 innings. His strikeout rate (6.21 K/9 and 15.4 K%) is way down, his walk rate is way up (3.75 BB/9 and 9.3 BB%), and his ground ball rate (39.4%) has remained static. Tillman is still prone to the occasional long ball (1.07 HR/9 and 9.0 HR/FB%), but nothing like the last year few years. He was positively Hughesian for a little while there. Lefties (.359 wOBA) have hit Tillman harder than righties (.321 wOBA). Low-90s four-seamers and cutters set up Tillman's mid-80s slider, low-80s changeup, and big breaking mid-70s curveball. He's lost about one mile an hour off his fastball for the second straight year. Tillman did not face the Yankees back in April.
Bullpen Status
Because they were off yesterday, Showalter's bullpen is nice and rested coming into the series. RHP Tommy Hunter (4.60 FIP) lost the closer's job to LHP Zach Britton (2.91 FIP) while on the disabled list. RHP Darren O'Day (3.29 FIP) and LHP Brian Matusz (5.28 FIP) get most of the setup work, though RHP Ryan Webb (2.64 FIP) will see high-leverage duty as well.
LHP T.J. McFarland (3.76 FIP) is more of a long man than a lefty specialist, and right now RHP Miguel Gonzalez (4.74 FIP) is in a middle relief role. He had the Yankees' number back in 2012, but the magic has worn off and he's since lost his rotation spot. Check out our Bullpen Workload page to see the status of Joe Girardi's relievers, then check out Camden Chat for everything you need to know about the Orioles.