Get ready for a weekend of hype and attention that is disproportionate to the relevance of the teams in this series. The Red Sox are in town to play three games against the Yankees, and it is always a Very Big Deal whenever these two clubs meet. In reality, this series is about a pair of teams trying to dig themselves out of holes in the AL East, one bigger than the other. The Yankees took three of four in New York and two of three in Boston against their rivals back in April.
What Have They Done Lately?
The Red Sox just wrapped up a brutal West Coast trip through Oakland and Seattle, losing five of seven and being outscoring 36-23. They are 36-43 overall with a -31 run differential. That puts them five games back of the Yankees and in fourth place in the AL East.
Offense
Boston had a powerhouse lineup last year, one that was deep with disciplined hitters who worked long at-bats and hit for extra-bases. This season they are averaging only 3.81 runs per game with a team 89 wRC+, so they are comfortably below average. Boston is currently without OF Shane Victorino (hamstring, back), 1B/OF Mike Carp (foot), and 3B Will Middlebrooks (finger). There's a chance Middlebrooks will return this series, but the other two definitely will not.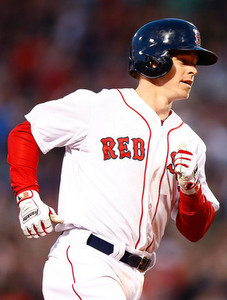 As usual, manager John Farrell's revolves around DH David Ortiz (119 wRC+). 1B Mike Napoli (136 wRC+) is his right-handed complement and UTIL Brock Holt (122 wRC+) has been stellar since taking over the leadoff spot. 2B Dustin Pedroia (97 wRC+) is having a subpar year and, at age 30, you wonder if he's hitting the early decline phase we've seen strike many second basemen. Wouldn't that be something, if Pedroia's days as an above-average hitter are already over? Crazy.
3B Xander Bogaerts (101 wRC+) has been very streaky this year and is on the downswing at the moment. SS Stephen Drew (-21 wRC+ in limited time) hasn't hit a lick since re-signing and platoon bats OF Jonny Gomes (93 wRC+) and OF Daniel Nava (76 wRC+) have been more down than up. The catching tandem of C A.J. Pierzynski (72 wRC+) and C David Ross (51 wRC+) invokes memories of Chris Stewart and Austin Romine. OF Jackie Bradley Jr. (63 wRC+) has been terrible overall but better of late after making some mechanical changes. IF Jonathan Herrera (59 wRC+) is the last guy on the bench.
Pitching Matchups
Friday: LHP Vidal Nuno (No vs. BOS) vs. RHP Brandon Workman (vs. NYY)
Workman, 25, moved back into the rotation after starting the season in the bullpen. He has a 2.88 ERA (3.36 FIP) in 34.1 innings spread across five starts and three relief appearances after a stint in Triple-A. Workman has kept the ball in the park (0.52 HR/9 and 5.9 HR/FB%), but otherwise his strikeout (7.34 K/9 and 20.4 K%), walk (3.15 BB/9 and 8.8 BB%), and ground ball rates (41.5%) are no better than okay. Lefties (.258 wOBA) have had slightly more success than righties (.239 wOBA) in small samples. Workman sits right around 90 mph with his four-seam fastball and a tick below that with his cutter. His two secondary pitchers are a big overhand curveball in the upper-70s and a mid-80s changeup. The Yankees did not see Workman in their previous two series with Boston.
Saturday: RHP Masahiro Tanaka (vs. BOS) vs. LHP Jon Lester (vs. NYY)
Believe it or not, the 30-year-old Lester is in the middle of his best season, right in time for free agency this winter. He has thrown 106 innings of 3.14 ERA (2.84 FIP) ball in 16 starts, and his strikeout (9.25 K/9 and 25.0 K%), walk (2.29 BB/9 and 6.2 BB%), and homerun (0.68 HR/9 and 7.3 HR/FB%) numbers are top notch. His ground ball rate (38.9%) is a career low, however. Lester might run into a little rough patch and see that homer rate climb at some point considering his home and divisional ballparks. His platoon split is literally zero — both lefties and righties have a .304 wOBA against him this season. Lester has really scaled back the usage of his mid-80s changeup this year, throwing only a handful per start, so he is essentially a four-pitch guy with three fastballs now: low-90s four-seamers and sinkers, mid-to-upper-80s cutters, and mid-70s curveballs. The southpaw held the Yankees to two runs in 6.2 innings in Yankee Stadium earlier this season.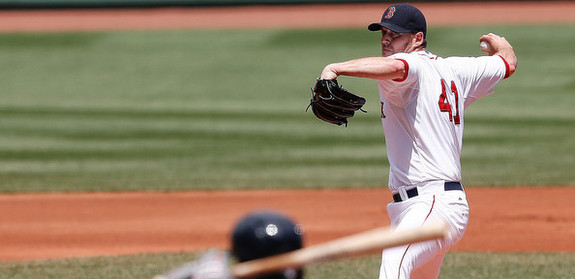 Sunday: RHP Chase Whitley (No vs. BOS) vs. RHP John Lackey (vs. NYY)
Somehow Lackey has improved upon his big return to form 2013 season. The 35-year-old has a 3.45 ERA (3.04 FIP) in 107 innings and 16 starts while walking almost no one (1.77 BB/9 and 4.8 BB%) and keeping the ball on the ground (46.1%). His strikeout (7.82 K/9 and 21.1 K%) and homer (0.76 HR/9 and 8.8 HR/FB%) numbers are good but not quite as good as the walk and grounder rates. Lackey doesn't have much of a platoon split (lefties have a .303 wOBA while righties have a .298 wOBA) and he doesn't have a changeup. I mean, he does have one, but he only throws it 1.4% of the time. One or two per start, that's it. Low-90s two and four-seamers, mid-to-upper-80s cutters, and upper-70s curveballs are Lackey's four main offerings. He has faced the Yankees twice this year and the starts were on opposite ends of the spectrum: six runs in 5.2 innings at Yankee Stadium and eight innings of one-run ball at Fenway Park.
Bullpen Status
Like the Yankees, the Red Sox were off yesterday, so their bullpen is as fresh as can be this time of year. Closer RHP Koji Uehara (2.82 FIP) has been very good but not as good as last season. He's allowed five runs this year, all on solo homers. LHP Andrew Miller (1.45 FIP) has been spectacular, RHP Junichi Tazawa (2.89 FIP) slightly less so.
The rest of the bullpen includes RHP Burke Badenhop (3.10 FIP), LHP Craig Breslow (4.50 FIP), and RHP Edward Mujica (4.73 FIP). RHP Rubby De La Rosa (3.19 FIP) just lost his rotation spot when Clay Buchholz came off the disabled list and is the long man by default. You can check up on the status of the Yankees' relievers at out Bullpen Workload page. For everything else you need to know about the Red Sox, I recommend Over The Monster.