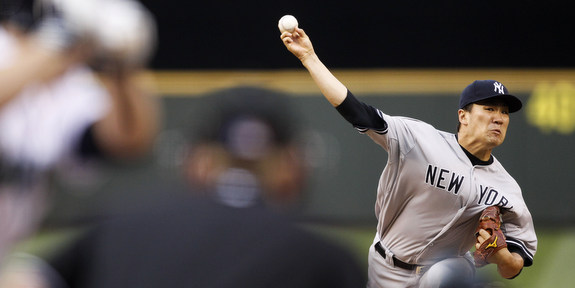 I wasn't planning to put together a thoughts post today, but my brain wasn't working particularly well this morning and I was having a tough time coming up with a decent topic for a post. So, instead, here are a few short nuggets that have been on my mind.
1. I was somewhat surprised the Yankees opted to send Matt Daley rather than Jose Ramirez down to Triple-A Scranton yesterday, when Shawn Kelley came off the disabled list. Ramirez has only thrown 14 total innings this season after opening the year on the shelf with an oblique injury, so I figured they would send him down to continue shaking off the rust. I like that they kept him though. Kelley, Dellin Betances, and Adam Warren will continue to handle setup duty, as they should, but the middle innings will all go to Ramirez. Kinda like how Joe Girardi used Betances early in the season, say, down two or three runs in the sixth and seventh innings. (I would say up four or five runs, but, well, you know about the offense.) That's how Girardi has used his young relievers over the years. Cut your teeth in middle relief, and when the time is right, you'll get high-leverage innings. Ramirez has a huge arm and he has the potential to be a real weapon in short relief. The Yankees have apparently decided now is the time to get his feet wet, with all those other quality arms in the bullpen around him.
2. You know what was great about Masahiro Tanaka's outing last night? He got pissed off after allowing the homer in the ninth inning. You could see it in his face and in his body language. There was definitely some anger behind his pitches to the final two batters. Just look at his velocity spike at the end of the game (via Brooks Baseball):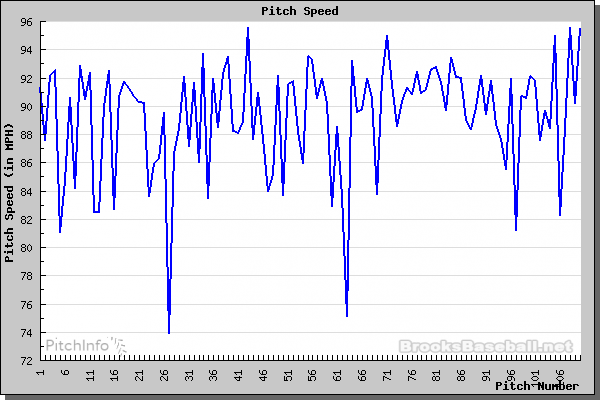 Tanaka threw 110 pitches overall and he was throwing his hardest at the end of the game. He was pretty clearly pissed about losing the shutout and he wanted to end the game with authority. As awesome as he's been on the mound getting  all those silly-looking swings and misses, the thing I love about Tanaka the most is his poise and competitiveness. We hear about players with good makeup all the time, but man, Tanaka is on another level. The guy is a stone-faced killer on the mound.
3. The Yankees clearly used last week's draft to balance out the upcoming international free agent signings. The international class is going to add a ton of risky, high-upside prospects to the system once the signing period opens next month, though the draft class was relatively light on upside and geared more towards probability. There is no such thing as a "safe" prospect, but guys like LHP Jacob Lindgren (second round) and LHP Jordan Montgomery (fourth) are high probability guys who are good bets to reach their ceilings, barring injury. The talent comes off the board very linearly in the draft these days, the best prospects go first and everyone falls in place behind them, so there weren't many high-upside guys left available when New York's top pick (55th overall) came around. Grabbing a quick to MLB guy like Lindgren makes a lot of sense considering the upcoming international signings. Adding a potential impact reliever (who happens to throw left-handed) to the organization at that spot is a great way to maximize the return on that draft slot. I mean, we're talking about the 55th overall pick. Not the 15th or even the 30th.