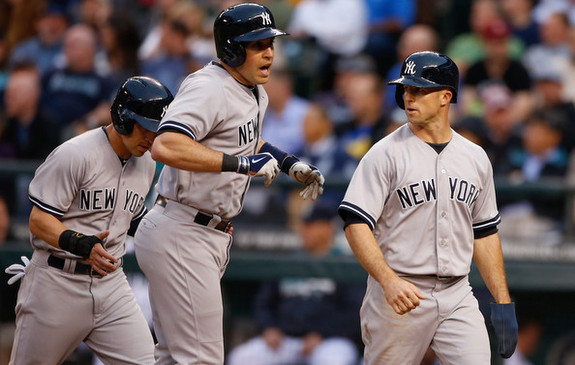 For only the second time this season, the Yankees are in position to sweep a three-game series. They won the first two games against the Pirates before dropping the finale a few weeks ago. That's it. That's the only other time this year they won the first two games of a three-game series. The Yankees last swept a series of at least three games at the very end of last season, taking three meaningless games from the Astros.
To get that elusive first sweep of 2014 tonight, the Yankees will have to beat left-hander Roenis Elias, who fanned a career-high ten in seven innings in the Bronx back in April. A little payback would be nice, but the win is the priority. The Yankees need to start bunching a few of those together. Here is the Mariners lineup and here is the Yankees lineup for the series finale:
LF Brett Gardner
SS Derek Jeter
CF Jacoby Ellsbury
1B Mark Teixeira
RF Alfonso Soriano
DH Carlos Beltran
3B Yangervis Solarte
2B Brian Roberts
C John Ryan Murphy
RHP Chase Whitley
It is cloudy, cool, and drizzling in Seattle, so the Safeco Field retractable roof might be shut. First pitch is scheduled for 10:10pm ET and can be seen on YES. Enjoy the game.