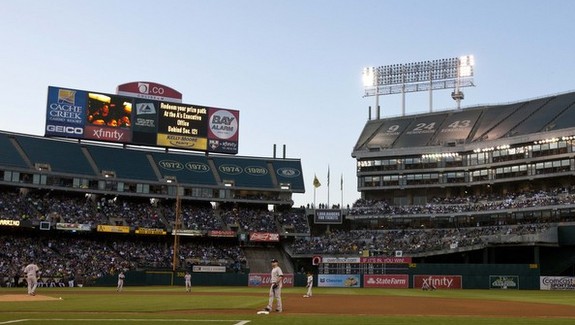 The Yankees have won five of the first eight games on this road trip (with one rainout), so this afternoon's series finale with the Athletics is the difference between an awesome 6-3 trip or a pretty good 5-4 trip. Grab a win, fly home feeling good, enjoy the off-day tomorrow. Sounds like a plan. Here is the Athletics lineup and here is the Yankees lineup:
LF Brett Gardner
SS Derek Jeter
CF Jacoby Ellsbury
1B Mark Teixeira
C Brian McCann
DH Carlos Beltran
RF Ichiro Suzuki
2B Brian Roberts Yangervis Solarte
3B Kelly Johnson
LHP Vidal Nuno
It's cloudy and cool in the Bay Area, but there is no rain in the forecast, so they won't have any trouble getting this afternoon's game in. First pitch is scheduled for 4:05pm ET. You can watch the game on YES. Enjoy.