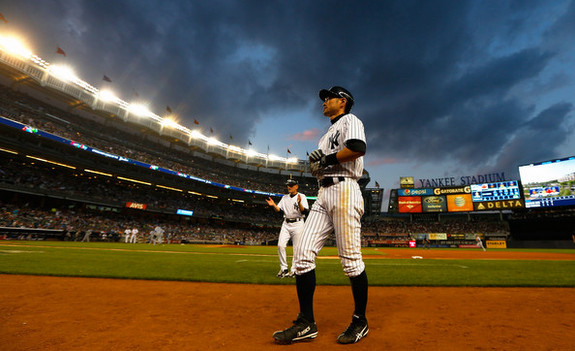 This has trap game potential. The Yankees are coming off a big three-game sweep of the first place Blue Jays, and tonight they'll face right-hander Ubaldo Jimenez, who has been one of the worst pitchers in baseball this season. Not that I expect it to happen, but the Yankees can't get caught up enjoying the sweep or underestimating Ubaldo. Those three wins mean nothing today and Jimenez can dominate if you let him get in a groove. Keep the foot on the gas against another division rival. Here is the Orioles lineup and here is the Yankees lineup:
LF Brett Gardner
SS Derek Jeter
CF Jacoby Ellsbury
1B Mark Teixeira
C Brian McCann
DH Carlos Beltran
RF Ichiro Suzuki
2B Brian Roberts
3B Yangervis Solarte
RHP Hiroki Kuroda
It's a lovely day in New York. Sunny, just the right amount of clouds, breezy but not windy. Perfect night for baseball. Tonight's game is scheduled to begin at 7:05pm ET and can be seen on My9 locally and MLB Network nationally. Enjoy the game.