Got six questions for you this week. Feels like a light mailbag. Anyway, remember to send us anything through the Submit A Tip box in a sidebar.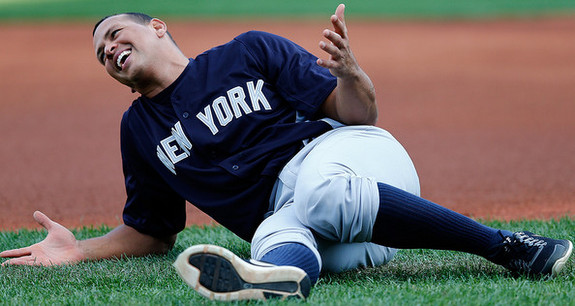 Noel asks: Looking at the way this team is constructed and the offensive woes … A-Rod? Is he welcomed back with open arms next year? None of the kids will be ready, Derek Jeter will be gone, do they go another year with him and hope he can help with some thump?
They might welcome Alex Rodriguez back, but it sure won't be with open arms. It'll be reluctantly, if anything. He'll be back only because he's still under contract too, not because the Yankees think he can help the team. They've have made it pretty clear they want nothing to do with A-Rod and would like it if he just went away forever. Can you blame them at this point?
I've said I do not expect Alex to ever play in MLB again and I'm going to stick to it. Might as well at this point. He'll turn 39 years old next month, and once the suspension is over, he will have played 59 games over the last 24 months. That's both majors and minors. Rodriguez also had the hip surgery last year, remember. So he's got close to two years of rust and a breaking/broken down body. Can he come back to hit MLB pitching? I very much doubt it, but I suppose it's not impossible. I am very anxious to see how this all plays out.
T.J. asks: Could you see the Yankees moving Yangervis Solarte to second base, full time, and going with Scott Sizemore at third? Brian Roberts isn't too bad, but he seems more like a bench player.
Solarte has played mostly third base for the Yankees, but he's actually played second base primarily throughout his minor league career. Last season he played 88 games at second and 46 at other positions. The year before it was 91 games at second and 35 at other positions. Solarte is actually on pace to play nearly as many games at third base this season (131) as he did in his entire minor league career (135). He's a second baseman playing the hot corner, basically.
If the Yankees are going to shuffle things around to find some more production, second and third bases are the spots to do it. Roberts has been alright the last few weeks but he's still the obvious guy to replace. Stick Solarte at second full-time and platoon Sizemore (who was sent to Triple-A yesterday) and Kelly Johnson at third? That could actually be pretty productive. I don't like Johnson being a guy who plays once or twice a week out of position at first base. Play him fairly regularly at third (or second) and he'll hit some dingers and steal some bases. That plan works for me. The Yankees seem committed to Roberts because he gives veteran presents though.
Scott asks: Do you think that if CC Sabathia misses a significant chunk of the season (until August or so), and when he does pitch is as ineffective as he has been, that the front office would try to make a big free agent splash a la Jon Lester/Max Scherzer? Or would it disincentivize them even further from signing a big contract despite the needs on the field?
With Sabathia and Masahiro Tanaka both on the books, I would be surprised if they went out and added another huge pitching contract. Scherzer's going to wind up with $200M or so and Lester won't be too far behind him, so we're talking about potentially three $22M+ pear year pitching contracts, one of which looks like a total albatross at this point. Obviously both Scherzer and Lester would make the Yankees substantially better, but they are both already 30 (Scherzer will be next month) with lots of regular season and postseason innings on their arms. Remember, Sabathia was 28 when he signed with New York. I'm not sure another huge dollar starter is in the cards.
I'm One asks: I understand why some are calling for the Yankees to sign Kendrys Morales, yet I don't agree. To much positional inflexibility, despite the added offense. If he does get signed and Carlos Beltran doesn't need surgery, what would you expect to be the corresponding 25-man move?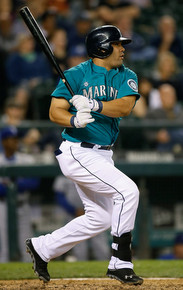 It would have to be cutting ties with Alfonso Soriano at this point, wouldn't it? He's been terrible so far and I don't think the leash should be any longer. His at-bats are flat out non-competitive. The problem with cutting Soriano is that the Yankees would be stuck playing Beltran in right field regularly, something they said they want to avoid. They don't want to risk re-aggravating the bone spur by having him throw. I can't imagine Morales will sign up for a job where he rotations between first base and DH and might only play two-thirds of the time, so this is all probably just a moot point.
Stephen asks: Here's a crazy hypothetical. Game 7, World Series. Your starting pitcher must be either Randy Johnson or Greg Maddux, as they are today. Whoever you choose can have a month to prepare. Who do you go with?
When I first read this question, I thought Stephen was asking if I would rather have Johnson or Maddux start a Game 7. I would go with Johnson because he dominated. Maddux was awesome, obviously, but in one game where anything can happen, I want the guy who can miss bats and put the ball by hitters. We've seen what Johnson can do in big game situations firsthand unfortunately, and that's the guy I'd want on my side.
Then I realize the question was asking which one I would rather have right now, as in today with both guys pushing 50. (Johnson is 50, Maddux is 48.) Johnson had back problems later in his career and relied more on the quality of his stuff, so I'd be concerned about what he has left in the tank. Can he finish his pitches and break off those nasty sliders? Maddux was all command. I feel like he could wake up in the dead of winter at 48 years old, repeat his mechanics, and paint the corners on both sides of the plate. At their peak, I'd take Johnson for a Game 7. In 2014, give me Maddux.
gehrig27 asks: Because of the injuries and bad performance there is a good possibility that no Yankee player will have at least 100 RBIs at the ends of the season. When was the last time it happened?
Mark Teixeira leads the team with 27 RBI at the moment, a rate of 0.69 RBI per healthy team game. That puts him on pace for 98 RBI over the full season when you adjust for the time he missed due to injury and all that. They had one 100+ RBI guy in both 2012 (Curtis Granderson, 106) and 2013 (Robinson Cano, 107), and before that they had at least two 100+ RBI guys from 2002-11. How times have changed, eh?
The last time the Yankees did not have a 100+ RBI guy in a non-strike season was way back in 1992. Don Mattingly led the team with 86 RBI that year. They didn't have a 100+ RBI guy in 1990 or 1991 either. Unless Teixeira stays healthy, it doesn't look like the Yankees will have someone hit the century mark this season. Solarte is second on the team with 26 RBI and he is on pace for only 71 RBI over the full season. With Teixeira's wrist figuring to be on ongoing problem, it looks like the team won't have a 100+ RBI for the first time in more than two decades.