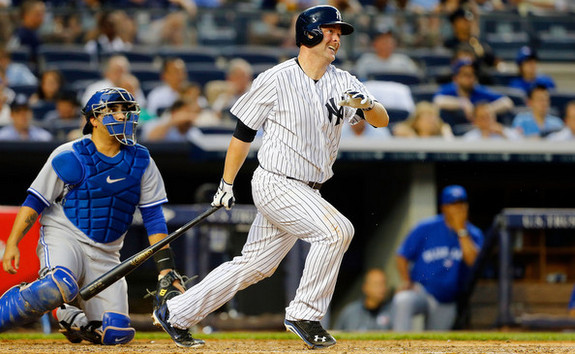 The Yankees have won the first two games against the Blue Jays this week thanks to the tried and true formula of quality pitching and timely hitting. They also did something they don't do very often these days: they hit the ball out of the park. Brett Gardner hit a two-run homer in the first game and Brian McCann hit a two-run homer in the second game. Both were cheap Yankee Stadium shots, but hey, you can only play in the ballpark they give you.
Through their first 70 games of 2014, the Yankees have hit 57 homers as a team, putting them on pace for 132 for the season. (The 2009 Yankees had 105 homers after 70 games, for comparison.) Last year's team had the worst Yankees' offense in two decades and they still managed to hit 144 dingers. This season's homer pace figures to increase now that the weather is really starting to warm up, but the fact remains that the Bronx Bombers aren't living up to their nickname at all. They lack the ability to change the game with one swing.
"We absolutely have to hit more homers," said Mark Teixeira to Joel Sherman earlier this week. "At this park, you have to score and we just are not scoring enough. If we don't believe we are going to do that, we might as well pick up and go home because winning will be very hard unless at some point we drive balls and score runs."
There are plenty of reasons why the Yankees suddenly can't hit homers. First and foremost, they flat out have a ton of non-power hitters in the lineup on a daily basis. Brett Gardner, Jacoby Ellsbury, Derek Jeter, Brian Roberts, Yangervis Solarte, and Ichiro Suzuki are not going to hit the ball out of the park with any regularity. Kelly Johnson never plays, Alfonso Soriano has no more life in his bat, and both Carlos Beltan and McCann have disappointed at the plate.
Outside of swinging a big blockbuster for Josh Donaldson and Brandon Moss (or getting A-Rod's suspension overturned!), the only way the Yankees can improve their power output in a meaningful way is by getting McCann and Beltran to turn their seasons around. McCann had an awesome game last night and maybe that's a sign he's coming around. It would be nice but we've said this before. Between the bone spur and general ineffectiveness, Beltran's been invisible since the last week of April. These two simply aren't playing as expected.
There was always a kernel of truth to the "too many homers" concept, it was just expressed in the silliest way possible. There is no such thing as hitting too many homers — a homer is literally the best possible thing a hitter can do — but the Yankees did lack offensive diversity for a few years. The speed of Gardner and Ellsbury has changed that, though now the Yankees are too far on the other side of the spectrum. They rely too much on extended rallies in an age when infield shifts and specialized relievers make picking up a simple base hit harder than ever.
The Yankees play in a small ballpark in a division full of hitter friendly ballparks, and 50 of their final 92 games will be played against AL East teams. That's the reality of their situation. They don't need to set homerun records or anything, but they need to be able to cut a deficit or increase a lead with one swing, especially in their home ballpark. This team lacks that and it limits what the offense can do. Getting Beltran and McCann on track will help, as would replacing Soriano and adding an infielder. The Yankees play with a tiny margin of error because of this power-less offense.