The non-waiver trade deadline is fiveweeks from tomorrow and there is no reason to think the Yankees won't be an active buyer leading up to July 31st. They're 3.5 games back of the AL East lead and 1.5 games back of a wildcard spot with 86 games to play. Brian Cashman has already said he expects to make some moves before the deadline because … well, duh. The Yankees need help. Rotation help, infield help, and offensive help in general.
Baseball's league-wide mediocrity — I'm sorry, "competitive balance" — means more teams are in the postseason hunt than ever before, so very few clubs are willing to throw in the towel and sell right now. One club who will definitely be a seller in the coming weeks is the Cubs, who are far out of the race and have several desirable pieces to offer. The Theo Epstein-led regime has been selling since they got there.
The Yankees and Cubs hooked up for the Alfonso Soriano trade last July (they also made smaller deals involving Brent Lillibridge and Alberto Gonzalez last season), which is the only notable deal between the two clubs since the Matt Lawton swap in 2005. I had completely forgotten Matt Lawton was a Yankee. What do the Cubbies have to offer the Bronx Bombers? Let's first look at the pitchers.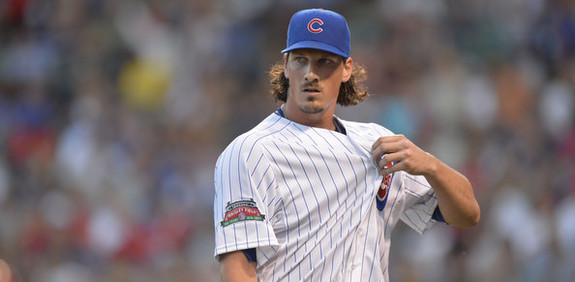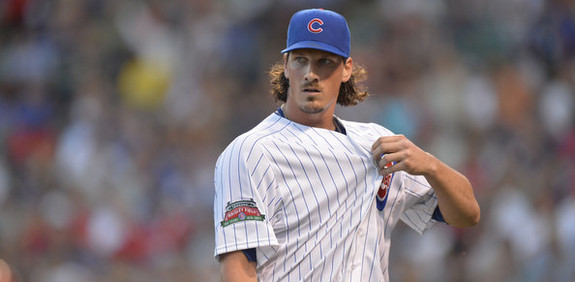 RHP Jeff Samardzija
Samardzija, 29, will be the best right-handed pitcher on the market this trade deadline. He recently rejected a five-year, $70-80M extension according to Jon Heyman, which makes sense in the wake of Homer Bailey's six-year, $105M deal. Samardzija will earn $5.345M this season and remain under team control as an arbitration-eligible player next year before hitting free agency. Whoever trades for him will be getting him for potentially two postseasons, not one.
In 16 starts and 103 innings this season, Samardzija owns a 2.53 ERA (2.89 FIP) with very good strikeout (8.48 K/9 and 22.8 K%), walk (2.71 BB/9 and 7.3 BB%), homerun (0.44 HR/9 and 6.6 HR/FB%), and ground ball (52.4%) rates. Lefties (.311 wOBA) have had a bit more success against him (.272 wOBA) than righties. Samardzija has made the jump from very good to elite on a rate basis this season, though I think it's premature to call him an ace. Let's see where that homer rate sits in a few weeks (1.04 HR/9 and 13.4 HR/FB% from 2012-13).
Samardzija has shown he can hold up under a starter's workload after beginning his MLB career in the bullpen, throwing 174.2 innings in 2012 and 213.2 innings in 2013. It's worth noting he's never been on the disabled list and, after spending time as a standout wide receiver at Notre Dame, he's pretty used to being in the limelight. The Yankees do value that. Here's a PitchFX breakdown of Samardzija's arsenal:
| | Four-Seam | Sinker | Cutter | Slider | Splitter |
| --- | --- | --- | --- | --- | --- |
| Avg. Velocity | 95.6 | 95.6 | 94.2 | 86.4 | 86.9 |
| % Thrown | 21.6% | 32.9% | 11.4% | 21.3% | 12.4% |
| Whiff+ | 119 | 117 | 130 | 105 | 122 |
| GB+ | 109 | 126 | 91 | 114 | 133 |
Whiff+ and GB+ are swing-and-miss and ground ball rates for the individual pitches relative to league average — 100 means average, the higher the better. It's like ERA+. The swing-and-miss rate on Samardzija's four-seamer is 19% better than league average. The ground ball rate on his cutter is 9% below league average. Simple enough, right?
As you can see from the table, Samardzija misses bats and gets ground balls at an above-average rate with just about his entire repertoire. He has high-end fastball velocity and I think the ability to simply reach back and throw a fastball by a hitter in a fastball count is underrated. It can help you escape a lot of jams. Samardzija has elite stuff, it really is ace-caliber power stuff, and it appears he has figured out how to turn it into ace-caliber production in his third full season as an MLB starter.
The Cubs managed to turn Matt Garza into two top 50 prospects (Mike Olt and C.J. Edwards), an MLB ready back-end starter/long man (Justin Grimm), and a near MLB ready bullpen prospect (Neil Ramirez) last summer. Garza is not only not as good as Samardzija, but he was also coming off a series of injuries (lat strain, elbow fracture) and was due to become a free agent after the season. You're kidding yourself if you think the Yankees can land Samardzija with, like, John Ryan Murphy and Nik Turley. If you want him, it's going to hurt. I don't think New York has the prospects to win a bidding war.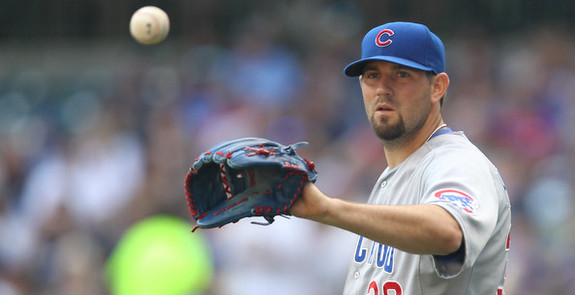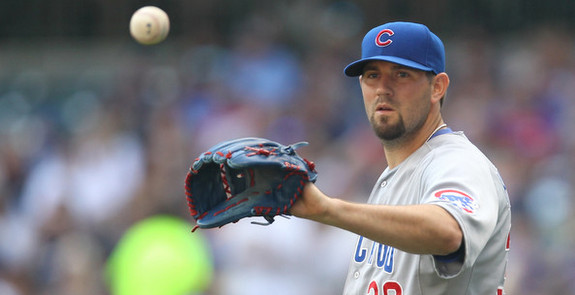 RHP Jason Hammel
Hammel has gone from an afterthought on the free agent pitching market to a suddenly desirable trade chip for few reasons, but I do think it's funny how the perception has changed in just a few months. The Cubs gave the 31-year-old Hammel a one-year, $6M contract over the winter and he's given them a 2.99 ERA (3.06 FIP) in 15 starts and 96.1 innings. His strikeout (8.50 K/9 and 23.9 K%) and walk (1.87 BB/9 and 5.3 BB%) rates are career bests while his grounder (40.1%) and homer (0.75 HR/9 and 8.2 HR/FB%) numbers are closer to his career norms.
The Cubs were able to sign Hammel so cheaply because he was pretty bad last year (4.97 ERA and 4.93 FIP) and hurt the last two years — he threw only 118 innings in 2012 due to knee surgery and 139.1 innings in 2013 because of a flexor mass strain in his elbow. He's remained healthy this year and is going to pass his innings totals in each of the last two seasons within a month. Here's the PitchFX breakdown of Hammel's stuff:
| | Four-Seam | Sinker | Slider | Curve | Changeup |
| --- | --- | --- | --- | --- | --- |
| Avg. Velocity | 93.5 | 93.6 | 84.7 | 77.4 | 86.9 |
| % Thrown | 33.5% | 25.1% | 31.9% | 6.2% | 3.0% |
| Whiff+ | 136 | 132 | 126 | 54 | 98 |
| GB+ | 72 | 87 | 111 | 68 | 113 |
After going from the Rockies to the Orioles prior to the 2012 season, Hammel reinvented himself as a sinker/slider pitcher and it led to great success (3.43 ERA and 3.29 FIP). He threw more four-seamers and fewer offspeed pitches last year, possibly due to the elbow issue, but this year he's really cranked up his slider usage while still throwing more four-seamers than sinkers. Hammel is a three-pitch guy with a show-me changeup and curveball, basically.
The Cubs traded Scott Feldman under very similar circumstances last year. They gave him that same one-year, $6M contract after he missed time with injury in previous years, then traded him after 91 innings of 3.46 ERA (3.93 FIP) ball. Hammel pitched better but his injury history is a little scarier. Feldman fetched an erratic reliever (Pedro Strop) and an inconsistent starter (Jake Arrieta) from Baltimore last summer. Hammel, who has AL East experience, shouldn't cost much more.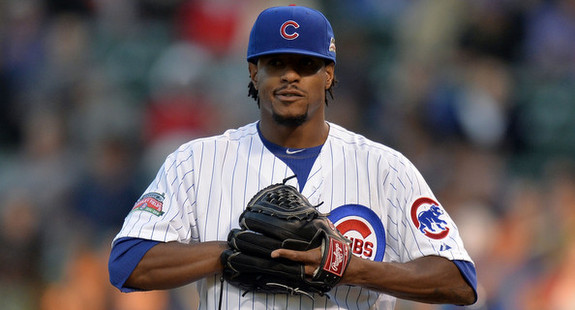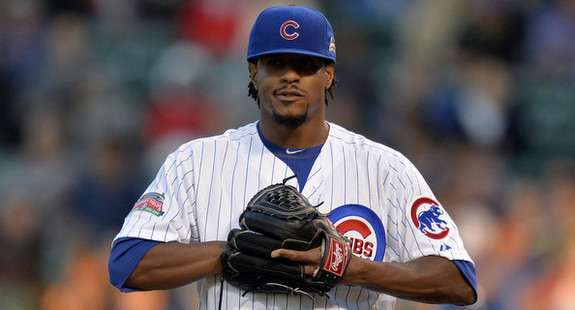 RHP Edwin Jackson
I never got the appeal of Jackson beyond his value as a workhorse. He's a classic example of a guy who has ace-caliber stuff but far from ace-caliber results. A lesser version of A.J. Burnett, basically. Burnett at least had some dominant years earlier in his career.
The Cubs bought the hype and signed Jackson to a four-year contract worth $52M two winters ago, and he's since pitched to a 5.03 ERA (3.81 FIP) in 259.2 innings. Ouch. That includes a 5.12 ERA (3.86 FIP) in 84.1 innings this year. Jackson has underperformed his peripherals in each of the last five years (4.38 ERA and 3.77 FIP since 2010) and after 850+ innings, it's not a fluke. That's just who he is. Some guys consistently outperform their peripherals (Jeremy Guthrie), some consistently underperform their peripherals. Jackson's the latter.
So far this year the 30-year-old Jackson has a career high strikeout rate (8.86 K/9 and 22.9 K%), though his walk (3.74 BB/9 and 9.5 BB%), homerun (0.96 HR/9 and 11.7 HR/FB), and ground ball (40.5%) rates are his worst in years. He is pretty durable, making at least 31 starts and throwing at least 175 innings every year since 2008. The Yankees could use an innings guy. Here's the PitchFX breakdown of Jackson's pitches because why not:
| | Four-Seam | Sinker | Slider | Curve | Changeup |
| --- | --- | --- | --- | --- | --- |
| Avg. Velocity | 94 | 93.4 | 86.9 | 79.8 | 87.3 |
| % Thrown | 46.9% | 13.8% | 28.9% | 7.2% | 3.0% |
| Whiff+ | 116 | 99 | 150 | 67 | 137 |
| GB+ | 108 | 101 | 90 | 51 | 105 |
Jackson has always had a strong fastball/slider combination, but again, he doesn't get the most out of it. There is still approximately $28M left on his contract through 2016 and I think the Cubs would trade him in a heartbeat just to save some salary. Jackson would still require some kind of prospect return because he is relatively young and he will give you innings, if nothing else. It won't be a pure salary dump.
* * *
Epstein & Co. have made it clear they prefer quality to quantity. They don't look to fill specific needs in trades, they simple hoard as much talent as possible. They've drafted (Kris Bryant) and traded for (Mike Olt and Christian Villanueva) several young third basemen in the last two years, for example. They just want talent, regardless of position. Unless the Cubs specifically target a catching prospect, I'm not sure that helps the Yankees.
Later today we'll look at the position players Chicago has the offer, though their best available talent is on the mound. Samardzija and David Price are the only two impact guys who are realistically available, though Hammel has been solid this year. I wouldn't go near Jackson, but that's just me. Do the Yankees bite the bullet and give up prospects for Hammel at the deadline when he had trouble finding a job over the winter? They might not have a choice.