The Yankees just wrapped up a nine-game road trip through two time zones and return home this week with five wins in the bank. It was a good trip, not a great trip. Stealing one of those last two games from the Athletics would have been awesome, but they are the best team in baseball. What are you going to do? Considering the injury-riddled rotation and mostly sputtering offense, winning five of nine works fine for me.
The road trip was not at all good for infielder Yangervis Solarte, who had four total hits in the nine games. All four came in back-to-back games in Kansas City. Solarte went hitless in his final 19 at-bats on the trip, though his recent slump extends further back than that — over the last calendar month he's hitting only .208/.269/.313 (60 wRC+) in 105 plate appearances. That's just bad. That's what you'd expect from … well, a journeyman infielder who signed a minor league contract.
Despite the slump, Solarte is still hitting .274/.347/.420 (113 wRC+) on the season, which is a reminder of just how excellent he was a few weeks ago. I don't think anyone realistically thought he could maintain the 144 wRC+ he posted through April or even the 131 wRC+ he posted through May. That's Josh Donaldson/Hanley Ramirez production. I'll be more than thrilled if Solarte manages to produce at a 113 wRC+ clip from here on out.
Sort through his day-by-day graphs page on FanGraphs and you can see Solarte's gradual return to Earth pretty clearly. The AVG, OBP, SLG, BABIP, and wOBA graphs are all moving in the wrong direction, the walk rate slightly less so. The strikeout, K/BB, and ISO graphs show little change. They've held steady even through this slump and that's encouraging. The one graph that stood out to me was the batted balls. Check it out: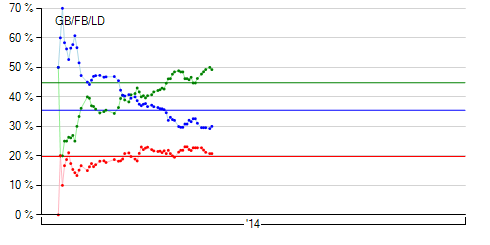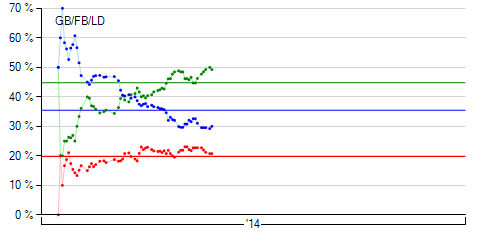 The green line is ground balls, the blue is fly balls, and the red is line drives. Solarte's ground ball and fly ball rates have been moving in opposite directions, which is sorta weird because his ISO has held steady. Usually when a hitter stops hitting the ball in the air, he stops hitting for extra bases. Maybe it's just a small sample thing. Solarte isn't fast and won't beat out many infield singles (he has three infield hits all season, including this one), so it makes sense that the increase in ground balls has led to decreased production overall.
One thing that has impressed me about Solarte — really more than anything — is his approach. His 11.6% strikeout rate is much better than the league average (20.3%) and his 9.6% walk rate is a touch better than average (8.0%) as well. He has swung at only 27.9% of pitches outside the strike zone, a tick below the 29.3% average. Has that changed at all during the slump? Here are Solarte's plate discipline stats broken down into ten-game chunks because ten is a nice round number:
| | O-Swing% | Z-Swing% | O-Contact% | Z-Contact% | Zone% |
| --- | --- | --- | --- | --- | --- |
| Games 1-10 | 27.1% | 59.2% | 78.3% | 95.2% | 45.5% |
| Games 11-20 | 34.4% | 56.3% | 74.2% | 93.3% | 47.1% |
| Games 21-30 | 21.8% | 66.7% | 73.7% | 95.7% | 44.2% |
| Games 31-40 | 20.9% | 52.2% | 66.7% | 97.2% | 44.5% |
| Games 41-50 | 29.3% | 53.3% | 82.4% | 95.0% | 56.4% |
| Games 51-62 | 33.7% | 52.3% | 83.9% | 97.8% | 48.9% |
Solarte has gradually swung at fewer pitches in the strike zone as the season has progressed, and lately he's offered at more pitches out of the zone as well. That's not really a good combination. Swing at strikes and lay off balls is a pretty good rule of thumb. Furthermore, Solarte has not only swung at more pitches out of the zone these last 22 games, but he's made more contact with those pitches as well. Unless you're a total freak like Vlad Guerrero, it's really tough to made hard contact with a pitch out of the zone. Usually the hitter is reaching and either grounding out weakly or popping the ball up.
As Joe wrote two weeks ago, it is very rare for a player to make his MLB debut at age 26 and stick around for a few years. At least rare among non-Cuban players. Dan Uggla and David Eckstein have both done it, and Solarte is more Eckstein than Uggla in terms of his high-contact, low-power playing style. Every little slump makes you wonder if this is the end — for what it's worth, Solarte has hit much better at Yankee Stadium, so coming back home this week could help jump start his bat — but Solarte has rebounded each previous time. A little less hacking at pitchers' pitches would help get him back in line this time. That might not be his only problem right now, but it is part of it.