For the 14th straight time, the Yankees beat the Blue Jays in Yankee Stadium on Tuesday night. Toronto has not won a game in the Bronx since August 2012 and they've won only two of their last 25 games in Yankee Stadium overall. Crazy. Tuesday's series opening win came by the score of 3-1.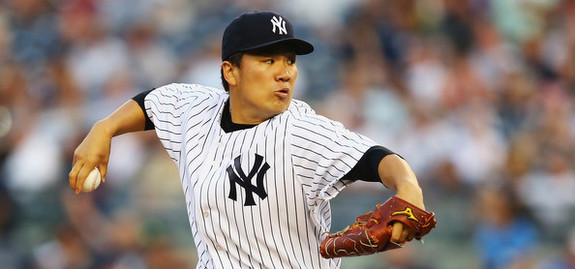 Second Look? No Problem
In his very first MLB start, Masahiro Tanaka allowed a solo homer to Melky Cabrera, the first batter he faced. In his second career start against the Blue Jays, Jose Reyes hit his first pitch out of the park for a leadoff homer. Two starts against Toronto, two leadoff dingers. Other than that, there was no indication seeing Tanaka once before helped the Blue Jays hitters. Maybe he should change it up and throw a first pitch splitter next time out to keep them honest.
Anyway, the Reyes homer was the only run Tanaka allowed on Tuesday night. He held the Jays scoreless over the next six innings, striking out ten while allowing two walks and five hits. It was his fifth double-digit strikeout game of the season, second most in baseball behind David Price's six. Tanaka did not allow a runner to reach third base following the homer and only one made it as far as second. He is down to a 1.99 ERA on the season. On June 17th. In the AL East. Pitching his home games in Yankee Stadium. He could give up leadoff homers all year for all I care if he keeps this up.
Three Runs Is Enough
Brett Gardner's first-inning at-bat was very indicative of how rookie Blue Jays hurler Marcus Stroman's night would go. The Yankees' leadoff hitter grounded out to second — Munenori Kawasaki made a nice play on a ball to his right — but not before fouling off seven pitches as part of a 12-pitch at-bat. The Yankees forced Stroman to throw 98 pitches in 3.2 innings, fouling off 25 of those 98 pitches. Nineteen of those 25 fouls came in two-strike counts. Hughesian.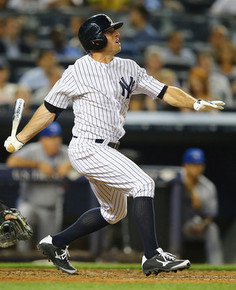 The Yankees made Stroman work all right, but it wasn't until Kelly Johnson doubled into the right-center field gap with one out in the third that they recorded their first hit. Gardner followed that with a two-run homer, his second dinger in as many games. It was a total Yankee Stadium cheapie off the bottom of the right field foul pole. Gardner went deep in the final game against the Athletics and hit two balls against the Mariners that would have been out in the Bronx (one just foul, one to the wall at Safeco Field). He's showing some pop lately. I dig it.
The two runs were all the Yankees would score off Stroman, but getting into the bullpen early in the first game of the series is a positive. They went 1-for-8 with a walk against the young righty the first time through the order and 3-for-7 with two walks thereafter. A Jeter infield single, a Jacoby Ellsbury ground ball, an Aaron Loup wild pitch, and a Mark Teixeira single back through the middle created New York's third run of the night in the fifth inning. The Yankees did not have a hit after Teixeira drove in that run but three runs were all they needed. They even had one to spare.
Jeter continued his torrid stretch with two hits, and he's now 12-for-27 (.444) with two walks and one strikeout since the start of the Mariners series. Johnson had two hits (why isn't he playing more?) while Gardner and Teixeira had one apiece. The five through eight hitters went a combined 0-for-12 with three walks (Brian Roberts and two by Carlos Beltran). I don't think three runs will be enough to beat the Blue Jays in the final two games of the series, but Tanaka is the kind of pitcher who can make that stand up.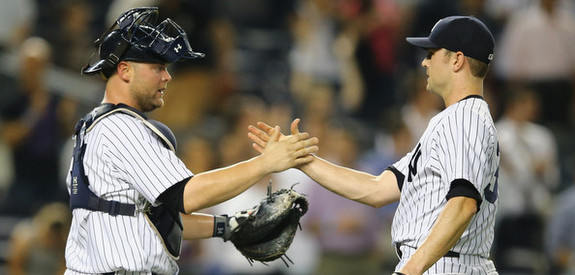 Goliath & David
Tanaka was very good, but the Jays have a tough lineup and they did push his pitch count up to 104 after only six innings. Rather than try to squeeze another few outs out of him, Joe Girardi went to Dellin Betances for the seventh inning and it was the right move, both at the time and in hindsight. Betances retired the side on eight pitches in the seventh before doing the same on 13 pitches in the eighth. He cut right through Jose Bautista and Edwin Encarnacion, striking them both out on nine pitches combined. Those two were 1-for-7 (flare single to right by EE) with five strikeouts on the night. Mercy.
I love that Girardi stuck with Betances for the eighth inning for two reasons. One, he is the team's best reliever and I want him facing Bautista and Encarnacion. Two, he only threw eight pitches in the seventh and has shown he can work multiple innings per outing. Use him for the two innings and leave Adam Warren and Shawn Kelley fresh for Wednesday's game. Perfect. Loved the way Girardi used Betances. David Robertson got the ninth inning and pitching around a Gardner-aided triple for his 17th save. He struck out two and now 36 of his last 47 outs are strikeouts. Gardner slid for a Kawasaki line drive, missed it, and it rolled to the wall for the triple. A rare defensive misplay by Brett.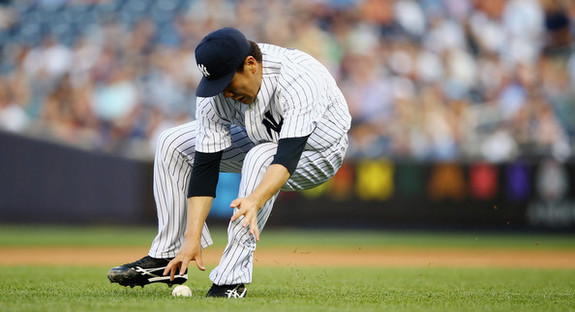 Leftovers
In addition to the awesome pitching, Tanaka also made two stellar defensive plays. They were nearly identical — hard-hit ground balls back up the middle that he slowed down with his glove, then hustled to grab from just behind the mound and fired to first for the out. The first ball literally knocked his glove off. Tanaka's gonna end up winning Rookie of the Year, Cy Young, MVP, and Gold Glove this year. At all nine positions. He's that good.
It appeared Brian McCann was hit by a pitch when he squared around to bunt in the fifth inning, but the Yankees elected not to review it for whatever reason. Replays made it look like it hit him on the way by. That would have made it first and second with one out, but instead McCann struck out and it there was a runner at first with two outs after the at-bat. Not sure why bench coach Tony Pena gave Girardi the "don't challenge" signal. Maybe they didn't see the same replay angle they showed on YES.
Jeter scored the team's third run and it was the 1,900th run scored of his career. That is the 11th most in history. He'll jump past Alex Rodriguez (1,919) and into the top ten relatively soon. Stan Musial (1,949) would be next and that seems like it'll be doable before the end of the season. It'll be close. The win was Girardi's 600th as Yankees manager, by the way.
Last, but certainly not least, this week is HOPE Week. The Yankees honored Career Gear on Tuesday, an organization that "provides professional clothing, mentoring and life-skills to help men in poverty become stronger contributors to their families and communities." Here's the Career Gear website and here's the HOPE Week video archive.
Box Score, WPA Graph & Standings
For the box score and video highlights, go to MLB.com. FanGraphs has some other stuff and the updated standings can be found at ESPN. The Yankees have climbed to within 3.5 games of first place with five more games against the Blue Jays coming up over the next week. Plus, you know, there are still more than 90 games left in the season.

Source: FanGraphs
Up Next
Same two teams on Wednesday night, in the middle game of this three-game set. Rookie Chase Whitley and grizzled veteran Mark Buehrle will be the pitching matchup. Head over to RAB Tickets if you impulsively want to catch the game live.