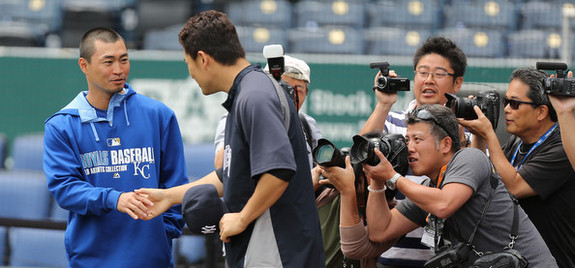 The Yankees were able to get to Seattle a few hours early last night thanks to the rainout in Kansas City. I'm not gonna lie, getting a night away from the struggling offense was pretty nice. It can get mighty frustrating when you have to watch it game after game. Here are some miscellaneous thoughts a few hours before the series opener against the Mariners.
1. The Diamondbacks surprisingly designated Trevor Cahill for assignment yesterday, and I say surprisingly because there is still roughly $18M (!) left on his contract through next year. Teams are usually reluctant to eat that kind of money, but bravo to Arizona for recognizing a sunk cost and being willing to improve their team. Cahill is only 26 and he was good as recently as last year (3.99 ERA and 4.26 FIP in 146.2 innings), so someone will surely give him a job once he clears waivers and becomes available for the pro-rated portion of the league minimum. The Yankees should be looking to replace Vidal Nuno, though it's worth noting Cahill lives and dies by the ground ball. (He had a 17.1% strikeout rate and a 57.8% ground ball rate from 2011-13.) As you've surely noticed, ground balls and the Yankees' infield do not mix well. That said, he's almost certainly better than Wade LeBlanc — Cahill had a 3.04 ERA (2.87 FIP) with 26.5% strikeout rate and a 47.5% ground ball rate in 23.2 relief innings for the D-Backs after being demoted to the bullpen a few weeks ago — and if the Bombers can convince him to come to New York, they should do it. Pitchers usually don't come to the AL East and Yankee Stadium to rebuild value unless it's a last resort though. (For what it's worth, Nick Piecoro says GM Kevin Towers made it sound like Cahill agreed to go to the minors when he clears waivers.)
2. Shawn Kelley's second rehab game went fine last night by all accounts, so he is expected to be activated off the 15-day DL in time for tomorrow's game. I assume either Matt Daley or Jose Ramirez will be sent to Triple-A Scranton to clear a roster spot. Doesn't really matter either way. The important thing is that the back-end of the bullpen is getting some much needed help, so Joe Girardi will be able to take it a bit easier on Dellin Betances and Adam Warren in front of David Robertson. We're in mid-June now and Betances and Warren are still on pace for 94 and 89 innings this season, respectively, and it seems like all that work has started to catch up to them of late. Girardi has already indicated he won't necessarily stick Kelley in the eighth inning right away — did you realize he's been out for a month already? time flies — which makes sense. I love Betances in his current fireman role and both Kelley and Warren seem to be at their best when they start an inning clean and only throw exactly one inning. The bullpen's about to get a pretty big boost and it is definitely needed right now.
3. Speaking of bullpens, just about every reliever I wanted the Yankees to sign this past offseason has flopped, namely Jose Veras, Grant Balfour, and Brian Wilson. Others like Eric O'Flaherty, Joel Hanrahan, and Jesse Crain have yet to pitch this year. Boone Logan has been on the disabled list twice and Joe Nathan has completely melted down for the Tigers. Like, spectacularly. The only two free agent relievers who signed biggish contracts and have been good so far this season are Joaquin Benoit and Joe Smith. I thought the Yankees needed to sign a pretty good reliever this winter after losing Mariano Rivera to retirement, but instead Betances has stepped up to fill the void. The Yankees replaced an elite reliever with another elite reliever from within. Obviously Betances is not Mo, he's got a long way to go before being mentioned in the same breath as Rivera, but the relief crew hasn't missed a beat this year. It's been pretty impressive to watch. Every year Girardi & Co. seem to unearth a new weapon.
4. You've probably seen it by now, but if not, Manny Machado had a little meltdown against the Athletics this weekend. Two meltdowns, really. First he got in Josh Donaldson's face because he felt he was tagged too hard (really?), then he threw his bat at … someone on the other team. It looked like he tried to throw it at the pitcher but it wound up going towards the third baseman, who was not Donaldson at the time. Here's the video of the tag play and here's the video of the bat throwing. The Orioles threw up and in at Donaldson twice in the series, and the Athletics threw inside at Machado right before he threw the bat. I'm guessing Machado and Fernando Abad (who threw at Machado) will both be suspended some length of time this week. Anyway, this an unnecessarily long way of pointing out Machado is hitting .254/.288/.381 (81 wRC+) over the last calendar year. The fans at Camden Yards booed him following each one of his at-bats during last night's 0-for-4. Boy that honeymoon sure is over, huh? Machado got lumped in with Mike Trout and Bryce Harper as part of the next wave of superstars, but he was always a notch below those two because of his general lack of plate discipline. Now the kid is throwing fits because he didn't like the way he was tagged. Maybe it's time for a little wake up call stint in the minors? Don't get me wrong, I'd take Machado on the Yankees in a heartbeat, but he's part of the problem right now for Baltimore, not part of the solution.