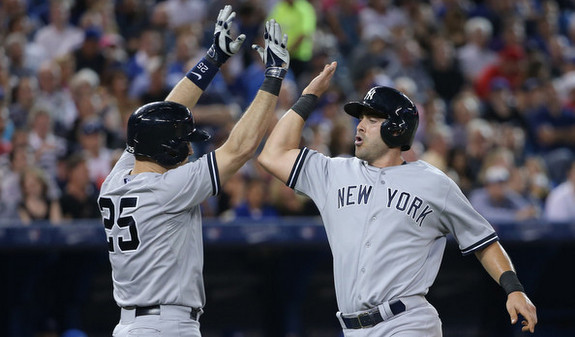 The Yankees won the series finale against the Blue Jays last night and now sit only 2.5 games back of first place in the AL East. They were 4.5 games back at the start of that hugely important nine-game stretch against the Jays and Orioles, so they did make up some ground in the standings. Apparently the Yankees did not get home until early this morning because their flight out of Toronto was delayed due to bad weather, so good thing they have the day off. Here are some miscellaneous thoughts.
1. It's pretty obvious the Yankees need help to seriously contend for a playoff spot, right? I think we can all acknowledge that. They are still right in the mix of the playoff hunt, but they need help and they need help soon. They can't wait around for CC Sabathia and Michael Pineda to get healthy. Brian McCann and Carlos Beltran have had almost half the season to get going at the plate and it's just not happening. At some point the Yankees need to act and that time is rapidly approaching. Making a move now to boost the offense and rotation probably means having to overpay, but that's life. The Yankees dug this hole for themselves and aren't in a position to show patience to get the best possible value, not unless they want to hurt their chances to contend. They acted quickly to sign Jacoby Ellsbury after determining Robinson Cano wasn't coming back and they had no problem tacking that third year onto Beltran's contract. Trading for a pitcher now rather than at the deadline means four or five fewer starts of Vidal Nuno. Getting an infielder now means about 120 fewer plate appearances from the three-headed Brian Roberts/Yangervis Solarte/Kelly Johnson monster. Something has to happen and soon.
2. Like last season, the Yankees have remained in the postseason race improbably. They own a 40-37 record despite a -34 run differential, a run differential that suggests they should really have a 35-42 record. Last season the team managed an 85-77 record despite a -21 run differential (79-83 pythag. record). So, since the start of the 2013 season, the Yankees have won eleven more games than expected based on how many runs they've scored and allowed. That's a pretty significant difference, no? Where is it coming from? Chalking it all up to good luck is lazy at best and intellectually dishonest at worst. There's always going to be some element of luck involved in baseball, that's just the nature of a game built around a round ball and a round bat and a big swath of grass, but there is more going on than that. Is it the strong late-inning bullpen? The veteran know-how? Joe Girardi's managerial skills? The magic of the pinstripes? It's probably all of that and more, right? I don't know the answer but there's some reason the Yankees have a knack for winning more than they should. "They're amazing," said one rival exec to Jayson Stark when asked about the Yankees and their run differential recently. "It's like they're incapable of finishing under .500."
3. As Joel Sherman pointed out the other day, Masahiro Tanaka is lined up to start on Sunday, July 13th, the final game before the All-Star break. Obviously a rainout(s) could throw a wrench into that. This is significant only because if Tanaka does start that game, he will not be eligible to pitch in the All-Star Game. The Collective Bargaining Agreement says anyone who starts that Sunday can't pitch in the game. They can be named to the roster (and are then obligated to attend and be introduced on the baselines and all that), but they would be inactive and replaced by another pitcher. This happened with Sabathia a few years ago.Tanaka will surely make the All-Star roster and I am totally cool with him not pitching. I mean, it would be neat to see him out there in the game, but the big picture wins out here. I want Tanaka to get the extra rest — his velocity did drop a bit in his last start, by the way — and not waste bullets in an exhibition game. Same with Dellin Betances. I hope he gets selected for the roster but would be totally fine if he doesn't pitch. The Yankees are going to need those two in the second half if they plan to make a run at a postseason spot.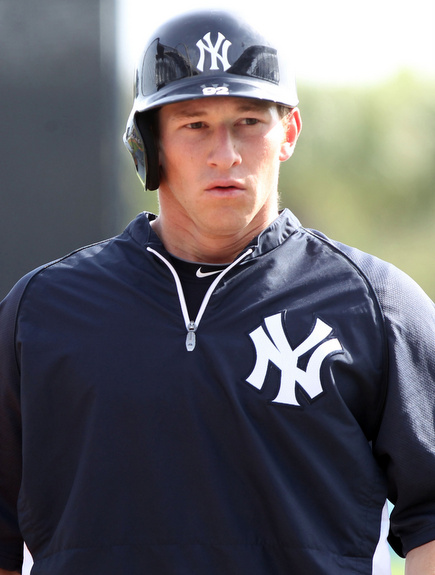 4. The other day we learned outfield prospect Slade Heathcott will miss the rest of the season following yet another knee surgery. It's his second knee surgery in the last year and third since high school. He's also had two shoulder surgeries. Overall, Heathcott will have played in only 230 of 576 possible regular season games from 2011-14 once the season ends. It's impossible to develop when you're missing that much time in your early-20s. The Yankees drafted Slade in the first round of the 2009 draft, when he was a raw but very athletic and toolsy high schooler. He was going to need time and work to turn those tools into baseball skills, but he has not been able to do that because of the injuries. I mean, he has 1,349 career plate appearances. That's a little short of three seasons worth for a guy who was drafted five years ago. Heathcott is on the 40-man roster — the Yankees protected him from the Rule 5 Draft this past winter — and I assume he'll stay there for the time being, but I wouldn't be surprised if they pulled the release and re-sign trick with him (similar to David Adams and Nik Turley) if they need a 40-man spot later this summer. Heathcott will turn 24 in September and at some point it's time to simply move on and focus on the development of  healthy players.
5. I really dig the new Homerun Derby format. Here is is, if you haven't seen it. Long story short, there are now five players per league in the Derby, and the three who hit the most dingers in each league advance to the second round. The player with the most gets a bye to the third round while the other two go head-to-head. The winners of the third round in each league meet in the finals. There are only seven outs per player now, not ten. It should spice up the competition a bit since there is an incentive (extra rest) to hitting the most homers in the first round. Troy Tulowitzki and Jose Bautista are the captains this year. Mark Teixeira is the only Yankee who even remotely belongs near the Homerun Derby and I don't see Bautista picking him. Jose Abreu has disappointingly said he's not interested, but Giancarlo Stanton said he wants in, and that's really the only guy I'm dying to see in the event. And Adam Dunn too. How has that guy never been in a Homerun Derby? For the first time in a long time, I'm actually kinda excited to watch. Kudos to MLB for the format change.