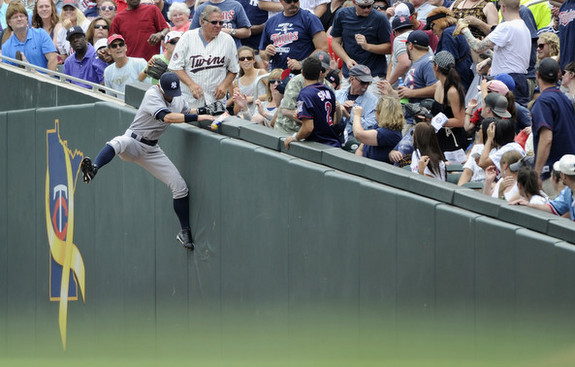 The Yankees took the first two games of this four-game weekend series in Target Field before dropping yesterday's game on a walk-off error. I can't even get mad about that game. You could see the loss coming a mile away. The Bombers have a chance to take three of four and win the series against the Twins this afternoon though, and that's the most important thing. I'll take three wins out of every four games from now until the end of time. Here is the Twins lineup and here is the Yankees lineup:
LF Brett Gardner
SS Derek Jeter
CF Jacoby Ellsbury
1B Mark Teixeira
C Brian McCann — his sore foot made it through batting practice fine
DH Carlos Beltran
2B Brian Roberts
RF Ichiro Suzuki
3B Kelly Johnson
RHP Hiroki Kuroda
The weather report makes it sound like an uncomfortable day in Minneapolis — temperatures around 90 with a bunch of humidity. There is also some rain in the forecast later this afternoon. Scattered thunderstorms, hopefully nothing that delays the game. First pitch is scheduled for 2:10pm ET and you can watch on YES locally and TBS nationally. Enjoy the game.
Roster Moves: In case you missed it earlier, the Yankees designated Alfonso Soriano for assignment and called up Bruce Billings to help the overworked bullpen. They also traded Vidal Nuno to the Diamondbacks for Brandon McCarthy (and cash!).