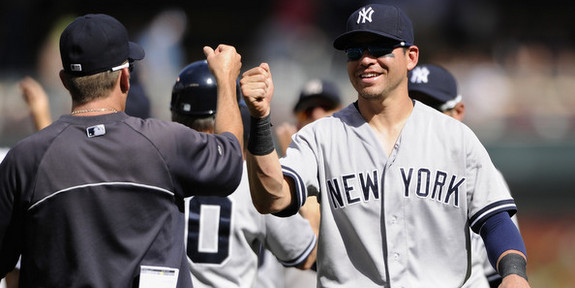 I feel like the Yankees are just trying to survive until the All-Star break. The pitching staff is a wreck, especially the bullpen, and there are a few position players banged up as well. Brian McCann's foot has been bothering him, Mark Teixeira's knee gave him trouble not too long away, Carlos Beltran's elbow is still a thing, so on and so on. They could use four straight days off in the worst way.
The Yankees play the first of the final seven games of the unofficial first half tonight in Cleveland. Shane Greene has been called up from Triple-A Scranton to make the spot start, which was necessitated by the Brandon McCarthy/Vidal Nuno trade. (Nuno was scheduled to start tonight.) If Greene pitches well, he could very easily stick around for more than just the one spot start. Hopefully he gives the Yankees a reason to keep him. Here is the Indians lineup and here is the Yankees lineup:
LF Brett Gardner
SS Derek Jeter
CF Jacoby Ellsbury
1B Mark Teixeira
DH Brian McCann
2B Brian Roberts
RF Ichiro Suzuki
3B Kelly Johnson
C Frankie Cervelli
RHP Shane Greene
It is overcast and very humid in Cleveland, and there are supposed to be on and off light showers pretty much all night. Nothing heavy that will delay the game, but the conditions won't be perfect. First pitch is scheduled for 7:10pm ET and you'll be able to watch on YES locally and ESPN Nationally. Enjoy the game.
Injury Update: Carlos Beltran is day-to-day with swelling in his right knee. The team is hopeful it's nothing serious, but Beltran had surgery on the knee in 2010 and missed most of the season.
Roster Move: As expected, the Yankees have called up Greene to make the spot start. There is no need for a corresponding move because technically McCarthy has not yet reported the team. They will need to drop someone from the roster when McCarthy is added tomorrow.