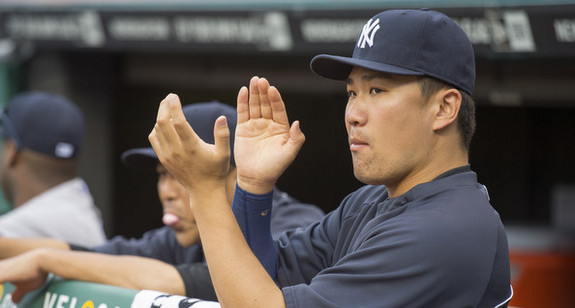 It's the best day of the week. Masahiro Tanaka is making his penultimate start of the unofficial first half and he has a chance to give the Yankees their third straight win (and fifth in the last six games). It's a good night for a win. Here is the Indians lineup and here is the Yankees lineup:
LF Brett Gardner
SS Derek Jeter
CF Jacoby Ellsbury
DH Mark Teixeira
C Brian McCann
2B Brian Roberts
RF Ichiro Suzuki
1B Kelly Johnson
3B Zelous Wheeler
RHP Masahiro Tanaka
It's hot and humid in Cleveland, but there is no rain in the forecast. There was earlier today. First pitch is scheduled for a little after 7pm ET and you can watch on YES. Enjoy the game.
Injury Updates: Carlos Beltran's knee feels "a lot better" and he is available to pinch hit tonight … Brandon McCarthy has officially reported to the team. He is wearing No. 38, if you're curious. Bruce Billings was optioned to Triple-A Scranton in a corresponding move … Shane Greene is still listed with the starters on the lineup card while Chase Whitley remains listed with the relievers. Between that and Billings (the other long man) being sent down, it's likely Greene will make another start.