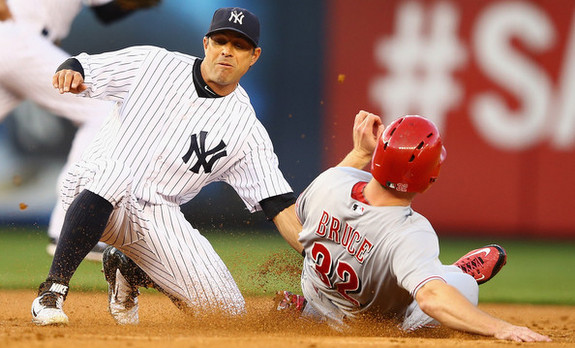 Do you know how long it's been since the Yankees last won consecutive games at Yankee Stadium? The last time it happened was when Carlos Beltran hit the walk-off homer against Zach Britton and the Orioles. That was before Yangervis Solarte got sent to the minors. It was the day after the Red Sox released Grady Sizemore. The Blue Jays were still in first. Yeah, it's been a while.
Last night's series opening win over the Reds was basically a blueprint for how the Yankees will have to win in the second half — production from the big money position players, solid enough starting pitching, and shutdown relief work. This is Captain Obvious stuff, I know. Do it again this afternoon, bank another win, take another step towards returning the postseason. Here is the Reds lineup and here is the Yankees lineup:
LF Brett Gardner
SS Derek Jeter
CF Jacoby Ellsbury
1B Mark Teixeira
C Brian McCann
DH Carlos Beltran
RF Ichiro Suzuki
2B Brian Roberts
3B Kelly Johnson
RHP Brandon McCarthy
It's cool and overcast in New York, but there is no rain in the forecast. At least nothing heavy. Maybe some drizzle at some point, but that's it. This afternoon's game is scheduled to begin at 1:05pm ET and you can watch on YES locally and MLB Network nationally, depending on where you live. Enjoy the game.
Derek Jeter Update: The Yankees announced they will honor Jeter with a pre-game ceremony on Sunday, September 7th. Here is the official release, though no details have been announced. Just the date. Based on Mariano Rivera's ceremony last year, this thing is going to be massive.