Just when I thought these Yankees couldn't get any worse, they go and do something like this … AND TOTALLY REDEEM THEMSELVES! Seriously, that was the worst best game of the year. I loved it and hated it at the same time. The Yankees won but really, we all still lost in a way. The final score was 2-1 in 14 innings.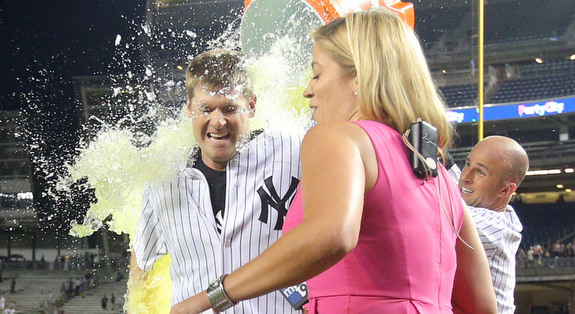 The New Guy
Just as we all expected when we woke up Tuesday morning, Chase Headley delivered a walk-off single to give the Yankees the win over the Rangers in the second game of their four-game series. New York acquired their new third baseman from the Padres in the afternoon, he joined the team after flying in from Chicago, arrived at Yankee Stadium in the second inning, pinch-hit in the eighth, and still managed to get four at-bats. Pretty hectic day, I imagine.
Before Headley could earn his True Yankee status, his new teammates had to rally to tie the game in the bottom of the 13th. Catcher turned first baseman J.P. Arencibia took David Huff deep for a solo homer in the top half of the inning, and it really did feel like the end of the game. The Yankees looked so inept for 17 innings dating back to Monday that scoring a run felt like impossible. Naturally, after struggling against no names all night, they pushed across the tying run against Joakim Soria, the best available pitcher on the Rangers' staff.
Brett Gardner led off the 13th inning with a pure hustle double to right, using his speed to barely beat out Shin-Soo Choo's throw. The play was really close. Derek Jeter bunted Gardner up to third and, for whatever reason, Texas elected to pitch to Jacoby Ellsbury with first base open. He singled to right to knot the game up. Ellsbury's come up with a ton of huge hits this season so far. At least it feels that way. He advanced to third on Carlos Beltran's single but was stranded when Brian McCann banged into an odd 3-6-3 double play. It appeared Arencibia let the ball drop in rather than catch it for one out.
Anyway, the 14th inning rally started with another double, this one a one-out ground-rule job by Brian Roberts. I'm not sure if he would have gotten to second base on the play without the ball going over the wall. Thankfully it did. Frankie Cervelli followed with a ground ball single to right, though it was hit hard enough that Roberts had to hold at third. Headley followed up with the walk-off single, a nice little piece of hitting the other way on a sinker on the outer half. This game felt like it was never going to end. Pretty awesome that the new guy got to show off some #hitvelo and contribute directly to the win.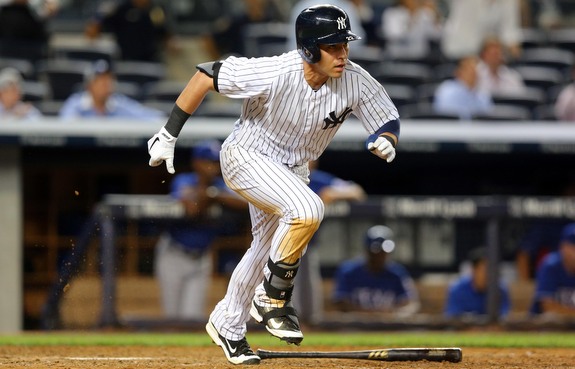 Nick, Not Pedro
One day after getting shut down by someone named Miles Mikolas, the Yankees managed three singles and one walk in 5.1 innings against rookie Nick Martinez. He retired 14 of the final 16 batters he faced and took the ball into the sixth inning despite being on a 65-ish pitch count in his first start off the disabled list. I imagine Headley was probably sitting in the dugout hoping he could go back to the Padres to play with a team that could score runs. (I kid, I kid.)
The Yankees didn't get their first base-runner to second base (!) until Derek Jeter doubled to left with one out in the ninth. He was stranded after Ellsbury was intentional walked and Beltran hit into a 6-4-3 double play. Two two-out walks (Gardner and Jeter) were wasted in the 11th when Ellsbury grounded out. Two singles (Beltran and McCann) and an intentional walk (Roberts) loaded the bases with one out in the 12th, but the Rangers escaped the jam when Cervelli lined out to Adrian Beltre at third and Headley grounded out. It was remarkable. They were finding new and interesting ways to not score each inning.
Before Soria blew the save, the Yankees managed only six hits and five walks in 12 innings against a parade of mostly replacement level arms. Between Martinez and some relievers, 23 of 25 Yankees made outs from the first through ninth innings. That's unbelievable. There was some hard contact against Martinez in the first two innings but nothing after that. The Yankees rolled over on a lot of weak grounders or popped up hittable pitches until Jeter doubled in the ninth. This offense, man. It makes you want to pull your hair out sometimes.
The Return of Ace Whitley
The pitching line is fantastic — 6 IP, 7 H, 0 R, 0 ER, 0 BB, 6 K 8/2 GB/FB — and Chase Whitley was far better than he had been in his previous four starts, but the Rangers definitely bailed him out with some shoddy base-running. Whitley put the leadoff man on base in the first, second, third, fourth, and seventh innings, though Texas had a man thrown out at third trying to advance on a ball in the dirt in the third, then had another runner thrown out at home in the fifth. It was a soft ground ball back up the middle that Roberts fielded but was unable to throw to first for the out, yet for whatever reason Robinson Chirinos chugged on home after rounding third. He was out at home by a mile.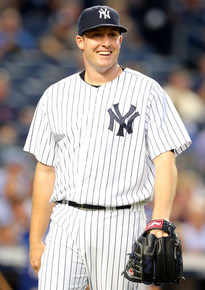 Whitley was a little shaky but ultimately he kept runs off the board and that's all that matters. Given all the injuries, there are no style points for the team's rotation. Get outs however you can. Six relievers held the Rangers hitless for six innings (only one walk) after Whitley until Arencibia homered leading off the 13th. Adam Warren (two outs), Dellin Betances (three outs), David Robertson (six outs), and Shawn Kelley (three outs) were all pretty awesome. Jeff Francis, who I had totally forgotten was on the roster, pitched a scoreless 14th for the win. I have to think the Yankees will bring up a fresh arm tomorrow. I'm just not sure who.
Leftovers
Jeter's double was the 535th of his career, passing Lou Gehrig for the most two-baggers in Yankees history. He went 1-for-4 with a walk on the night. Gardner (two hits, two walks), Ellsbury (two hits, one walk), Beltran (two hits), and Roberts (two hits, one walk) all reached base multiple times. Kelly Johnson went 0-for-4 before leaving the game with a groin injury.
McCann had a weird night at the plate. He went 1-for-6 but there's a story behind it. McCann hit a ball to the wall in his first at-bat that Leonys Martin caught and re-caught on the way down after it plopped out of his glove mid-jump. Next time up he smashed a line drive that Arencibia robbed with a leaping catch. Later in the game, he lifted a jam shot bloop into the triangle in left field that fell in because three Rangers defenders had communication issues. McCann hit two balls on the screws and got nothing. Then he got jammed and got a hit on a weak bloop. Baseball, man.
And finally, I was disappointed to see Questlove leave the game after the 13th inning, though I can't say I blame him. It looked like he was going to hang around all night. The B-list celebrity who turned the season around?
Box Score, WPA Graph & Standings
MLB.com is the place to go for the box score and video highlights. FanGraphs has some other stats and the updated standings are at ESPN. The Orioles won and the Mariners lost, so the Yankees remain four games back of the top spot in the AL East and climbed to within 1.5 games of the second wildcard spot.

Source: FanGraphs
Up Next
The Yankees and Rangers will continue this four-game series on Wednesday night, when David Phelps squares off against Yu Darvish. That should be fun. (I'm not sure if that's the right word.) Head over to RAB Tickets if you watch to catch that game or any of the other four games left on the homestand.