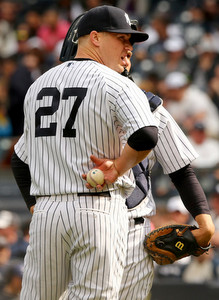 I was only partially paying attention, but did hear Michael Kay mention last night that the Yankees lead the league in relief appearances of more than four outs this season. They have 80 such relief appearances, seven more than the White Sox. That's basically one relief appearance of 4+ outs per game at this point of the year. Last season they only had 101 such outings, for comparison.
On an individual level, Dellin Betances leads baseball with 22 relief appearances of at least four outs while Adam Warren is tied for fourth with 15 such appearances. (Ex-Yankees property Tommy Kahnle and Dan Otero rank second and third, coincidentally.) Betances and Warren are on pace for 96 and 86.2 innings this season, respectively, at a time when only 12 relievers have thrown 86+ innings in a season since 2009.
Joe Girardi has been very good at keeping his relievers fresh and controlling their workload in recent years, but it does seem both Betances and Warren may be starting to wear down a bit these last few days. Warren struggled in back-to-back outings last week (and last night, but he escaped the jam) and Betances just hasn't looked as sharp. This could just be a case of two relievers going through rough stretches at the same time, obviously.
"I know when I have to give them days off, and I understand that," said Girardi to Chad Jennings following last night's game. "Betances has been a starter in his career and has logged a lot of innings, and so has Warren. But there's times where you just say, 'You know what? I have to give them two days and get them back recharged.'"
Shawn Kelley's return from the disabled list early last month was supposed to make life easier on Betances and Warren, though he has put 14 men on base and allowed five runs in seven innings of work since returning. He loaded the bases with one out on two singles and a hit batsman in last night's game before escaping with two strikeouts. Yeah, the end result was a zero on the scoreboard, but again Kelley was shaky. He hasn't been able to move back into a late-inning role just yet.
Between the general bullpen workload and Kelley's recent ineffectiveness, not to mention the season-long inability to find a decent sixth reliever and long man, the Yankees could find themselves in the market for a relief pitcher or two at the trade deadline. In fact, Ken Rosenthal reported yesterday that New York will "seek to add another reliever to increase their depth and reduce the burdens on Betances and Warren," so this isn't just my crazy idea.
Now, obviously, bullpen help is a secondary concern at this point. The Yankees need rotation and lineup help much more desperately than they do another reliever, especially considering their internal options. Even with Preston Claiborne on the Triple-A Scranton DL they still have interesting hard-throwers like Danny Burawa and Diego Moreno in the minors. Matt Daley is still around as well, plus acquiring a starter could push someone like Chase Whitley into a relief role.
The Yankees received some fine bullpen relief work in May (3.53 ERA and 2.85), but the relievers worked hard and had to throw 94.1 innings. (They threw 79.1 innings in April and 80 in May, for comparison.) The bullpen's overall performance suffered last month (4.28 ERA and 4.18 FIP), possibly as a result of that workload. Getting rotation help and more length from the starters will lighten the load on the relievers, but at this point the Yankees could also wind up having to add another bullpen arm before the deadline.