The losing streak has suddenly hit three games. That happened quick, no? It would be easier to swallow if the first two losses didn't come against a direct wildcard competitor and the third against the worst team in baseball. The Yankees came from ahead to lose Monday's series opener to the Rangers by the score of 4-2.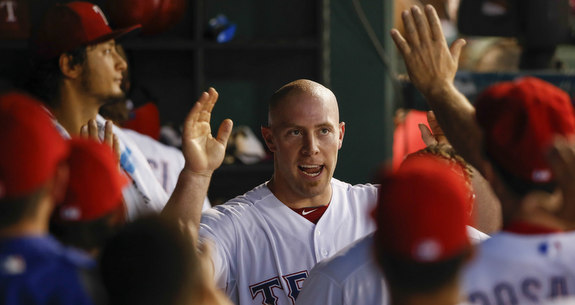 All With Two Outs
This game started out pretty well for the Yankees. Brett Gardner hit two solo homers off Yu Darvish (more on that in a bit) and David Phelps was cruising for the first four innings, pitching around a two-out single/error combination in the first before retiring ten of the next 12 batters he faced. He was in total control of the game against an abysmal last place team … and then the fifth inning happened. It all came crashing down in the blink of an eye.
Chris Gimenez started that fifth inning off with a single, and he moved to second on Rougned Odor's ground ball. Phelps got Shin-Soo Choo to fly out for the second out and everything looked to be fine because hey, Elvis Andrus stinks. At least at the plate. Instead, he laced a first pitch single to left to score Gimenez. Fine, whatever. Get the next guy. Nope. Alex Rios singled to center to put men on the corners. Then bam, Adrian Beltre doubles into the corner to score the game-tying run. Phelps walked someone named Jim Adduci (I think that's him in the photo above) on four pitches to load the bases, then he threw possibly the worst 0-2 pitch in baseball history to J.P. Arencibia, who singled back up the middle to score two runs.
In the span of 14 pitches, Phelps went from having a two-run lead with a man on second with two outs to being down two runs with men at first and second and two outs. Five straight batters reached base with two outs in the inning, and the final two runs scored thanks to that awful 0-2 pitch to Arencibia. It was basically a flat cutter down the middle. A batting practice fastball. Arencibia has zero plate discipline whatsoever and Phelps had three chances to get him to chase something out of the zone. Instead, he grooved a fastball.
All told, Phelps allowed the four runs on eight hits and a walk in six innings of work. He struck out three and threw 66 of his 96 pitches were strikes (68%). That fifth inning ruined everything. Phelps was cruising right along like he had in his last eight starts or so.
Brett Owns Yu
Gardner hit two homers off Darvish! Go back to the game last week and he took him deep three times in the span of four at-bats. What in the world is that about? The first came on a 1-0 fastball in the third inning and the second came on a hanging 2-2 slider in the fifth. That one was a bomb out to center, just to right field side of the grassy knoll. The two blasts gave the Yankees a two-zip lead before Phelps coughed it all up.
Gardner joined Mike Trout and Brandon Moss as the only MLB players to take Darvish deep four times in his career. Both Trout (40) and Moss (26) did it more than twice as many plate appearances (11) as Gardner. I dunno, sometimes a guy throws just your speed and you pick the ball up real well out of hand. Gardner seems to have Darvish down pat. He was a one-man wrecking crew.
Oh-Fer
Gardner may have done all the damage against the Darvish, but the righty didn't exactly shut the Yankees down. I mean, he did on the scoreboard, but they had base-runners. They had a runner on second with two outs in both the first (Carlos Beltran struck out) and third (Brian McCann struck out), runners at first and second with two outs in the fourth (Brian Roberts struck out and Ichiro Suzuki grounded out), and runners at second and third in the seventh (McCann struck out). McCann had no chance against Darvish. He was completely lost all night.
That seventh inning rally was their best chance to get back into the game, though the Yankees did put two men on base against lefty Neal Cotts in the eighth inning. Pinch-hitter Mark Teixeira came off the bench to single with two outs, his first game action in eight days. I guess batting practice went fine before the game. Pinch-hitter Zelous Wheeler popped up to end the threat, however. The Yankees took a big fat 0-for-6 with runners in scoring position. I love the guy, but relying on Gardner to hit dingers to generate offense ain't gonna work.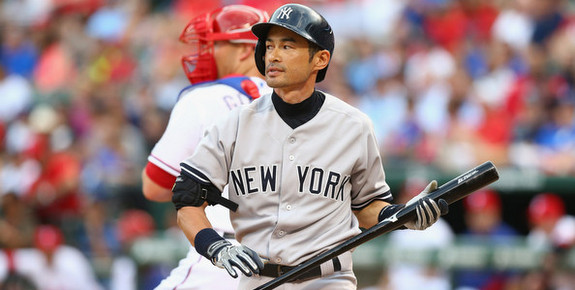 Leftovers
Jacoby Ellsbury pinch-hit for Zoilo Almonte leading off the ninth inning and for the life of me I can not understand why he didn't bat instead of Wheeler in the previous inning, with the tying run on base. I know Joe Girardi wanted to get him the day off, but was the half-inning off his feet that important? Ellsbury has hit lefties (128 wRC+) better than righties (98 wRC+) this year, so I hope it wasn't a platoon thing. I dunno. That was weird.
Gardner and Jeter had six of the team's eleven hits (three each). They were on base seven times and the only runs scored when Gardner drove himself in. Beltran had two hits and the trio of Texeira, Chase Headley, and Frankie Cervelli had one apiece. Jeter drew the only walk — the Yankees now have a 6.2% walk rate in their last 28 games as a team (over 1,000 plate appearances), which is awful — and stole the only base.
Shawn Kelley and Matt Thornton were the only relievers used after Phelps. Kelley got squeezed and walked a guy with two outs in his second inning of work for their only-base-runner. The bullpen gave the offense a chance to get back into the game, which proved to be a fruitless endeavor.
And finally, Jeter first tied and then passed Carl Yastrzemski on the all-time hit list with his first and second hits of the night. The Cap'n is now in sole possession of seventh place on the all-time list with 3,421 career hits. Next up is Honus Wagner at 3,430 hits and that's probably Jeter's ceiling. Passing Tris Speaker for fifth place all-time ain't gonna happen. He's at 3,514 hits.
Box Score, WPA Graph & Standings
Head over to MLB.com for the box score and video highlights. You can find some more game stats at FanGraphs and see the updated standings at ESPN. The Orioles were off and the Blue Jays demolished the Red Sox, so the Yankees are now 4.5 games back of the top spot in the AL East and two games back of the second wildcard spot.

Source: FanGraphs
Up Next
It'll be these same two teams again on Tuesday night. Brandon McCarthy and Nick Martinez will be the pitching matchup. Hopefully the Yankees will hit Martinez now that they've seen him once before. Color me skeptical.