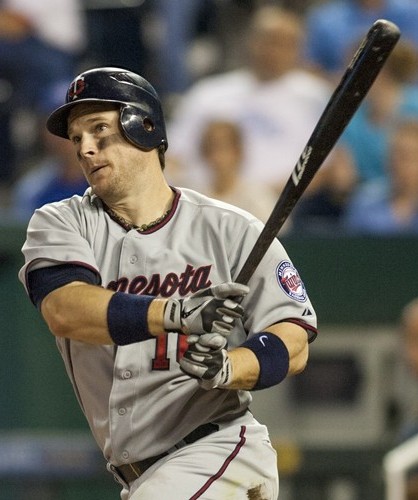 The non-waiver trade deadline is now one week and one day away, and we've got a pretty good idea of which teams will be sellers and which will be buyers. The Yankees, like or not, will be buying. Yesterday's Chase Headley trade confirmed that. They're 1.5 games out of a playoff spot in Derek Jeter's final season and selling just isn't something they've done during the Steinbrenner era. Rotation help is a clear need, ditto an upgrade in right field. Possibly second base too, though they might be able to solve that internally.
At 47-53, the Twins have the ninth worst record in baseball, and GM Terry Ryan recently told Rhett Bollinger he is planning to listen to trade offers for his veteran players over the next eight days. "We're in a tough spot right now and we've been in a tough spot for four years, so you have to listen. And that's what we do," said Ryan. Outside of Brian Dozier, hometown guys Joe Mauer and Glen Perkins, and probably the resurgent Phil Hughes, I'm not sure Minnesota has any untouchables.
I've been splitting these Scouting The Market posts up into position players and pitchers by team, but the Twins have an amazingly thin roster, so I'm going to lump all of their trade chips together into one post. Prying Dozier and his right-handed pop/above-average defense at second base loose would be an amazing get for the Yankees, but I just don't see it. Here's a look at the Twins players who are actually available and possible fits for the Yankees.
OF Josh Willingham
The 35-year-old Willingham has consistently been an above-average hitter since breaking into the league full-time in 2006 — his 117 wRC+ in 2007 was his lowest from 2006-12 — and his best season came in 2012, his first in Minnesota. He hit .260/.366/.524 (142 wRC+) with 35 homers that year, which was the first covered by his three-year contract worth $21M. In hindsight, the 2012-13 offseason was the perfect time to trade him. His value was never getting any higher.
Willingham dropped down to .208/.348/.368 (102 wRC+) with 14 homers in 471 plate appearances last season while missing a month and a half with cartilage damage in his left knee. This year he is sitting on a .212/.358/.412 (116 wRC+) batting line with nine homers in 215 plate appearances around a hairline fracture in his left wrist that sidelined him for almost two months. (He suffered the injury on a hit-by-pitch.) As the batted ball data at Baseball Heat Maps shows, the average distance of the balls Willingham has hit in the air is holding steady, which is encouraging: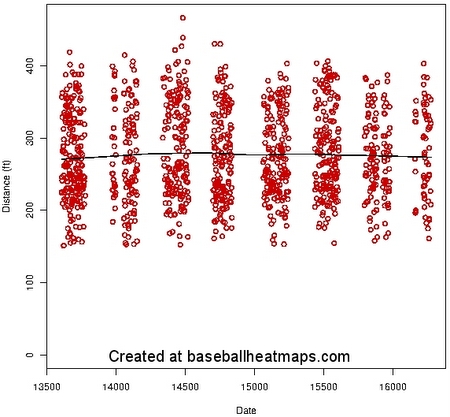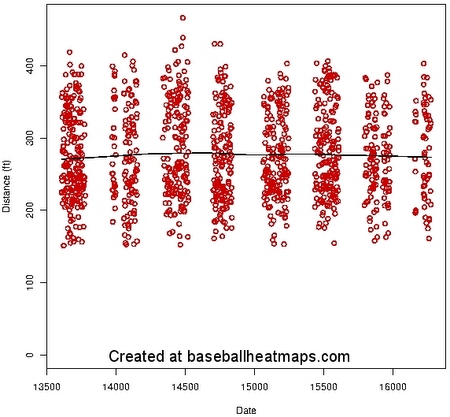 The Yankees have only gotten 16 homers out of their right-handed hitters this season and right-handed power is Willingham's best tool. He might not ever hit 35 homers like he did two years ago again, but his .200 ISO is in line with his career average (.214). He's actually hitting more balls in the air than ever before (29.1% grounders), which helps explain his career worst .250 BABIP. Fly balls are often easy outs. Willingham has always drawn a ton of walks (16.7% this year and 12.0% career) and, frankly, that's something the Yankees need in addition to his righty pop. He isn't going to hit for much average, but if healthy he'll hit the ball out of the park and still get on base at a respectable clip.
Willingham has played left field exclusively the last five years, which is a problem. He has only 264.1 career innings in right and they all came way back in 2009. The Yankees would be asking him to play an unfamiliar position by sticking him in right. Willingham's contract is a non-issue since he's in the final season of his deal and similar rental outfielders like Ryan Ludwick and Shane Victorino have not cost much in recent years, so the left field/right field thing is the only problem. He'd be a fantastic addition to the lineup. It's just a question of where he'd play.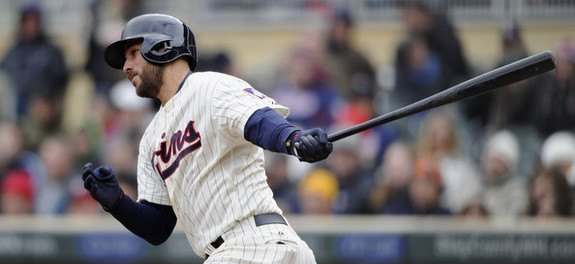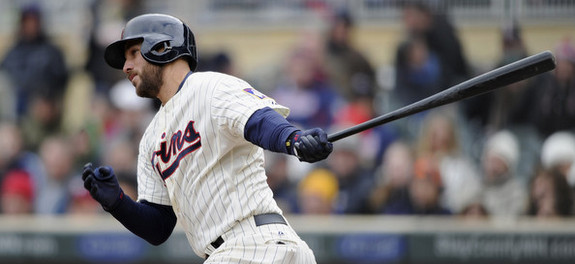 3B Trevor Plouffe
Plouffe, 28, made a name for himself by hitting 24 homers two years ago even though it came with a less than impressive .235/.301/.455 (105 wRC+) batting line. Leg and wrist problems limited him to 14 homers and a .254/.309/.392 (93 wRC+) line last year, though this season he's rebounded to hit .243/.315/.413 (102 wRC+) with seven homers and an already career-high 29 doubles in 355 plate appearances. Plouffe did miss time with a ribcage/oblique problem last month.
Like Willingham, Plouffe's calling card is his right-handed power. He owns a .170 ISO this year and a career .171 ISO, which is solidly above-average, though he has actually hit for more power at home in spacious Target Field (.187 ISO) than on the road (.153 ISO) over the years. The spray charts show Plouffe does the most damage when he pulls the ball to left, which fits well with Target Field but not Yankee Stadium. Teaching a guy to go the other way to hit for power is not something that is easy or can happen overnight.
The various defensive stats say Plouffe is a below-average defender but not a disaster at third base, though that position is no longer a problem with Headley on board. He also has experience at first base, second base, and in the two corner outfield spots, so there would be ways to get him into the lineup, plus he'd give the team third base protection next year. Plouffe is what he is, a low batting average third baseman with some power and just enough walks (7.5% career) to get on base three out of ten times. He's making $2.35M this year, his first of four years of arbitration-eligibility as a Super Two, so there's a good chance he'll be a non-tender candidate soon. Mark Reynolds was traded for two Triple-A relievers at a similar point in his career, and he hit 44 homers the year before the trade, so yeah. The price shouldn't be high.
RHP Kevin Correia and RHP Samuel Deduno
The Yankees need some innings, right? Well, these two can given them. I'm not saying they'll be quality innings, but they'll be innings. The 33-year-old Correia has a 4.76 ERA (4.35 FIP) in 20 starts and 113.1 innings this year, and over the last few seasons he's been consistent 4.40-ish FIP guy who misses zero bats (4.29 K/9 and 10.8 K%) but limits walks (2.30 BB/9 and 5.8 BB%). His ground ball rate (41.2%) isn't anything special either. Correia would be a pure rental (owed another $2M or so), but, in addition to not being very good, he doesn't really fit what the Yankees look for in a pitcher, namely grounders and/or strikeouts.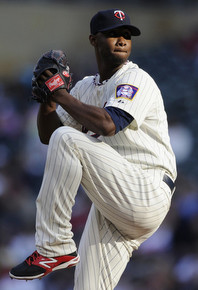 Deduno, 31, has been a swingman for Minnesota this year, pitching to a 4.32 ERA (4.05 FIP) in 73 innings across eight starts and 13 relief appearances. Last season he managed a 3.83 ERA (4.04 FIP) in 108 innings as a full-time member of the rotation (for half the year). Unlike Correia, Deduno has some bat-missing ability (7.15 K/9 and 18.1 K%) and really excels at getting grounders (55.2%) thanks to his heavy upper-80s sinker. The pitch runs all over the place (4.07 BB/9 and 10.3 BB%) and he backs it up with a hard low-80s curveball. The Yankees just brought in Brandon McCarthy for his ground ball heavy ways and adding Deduno would be along the same lines, though he doesn't offer the same name value. Both Deduno and (especially) Correia figure to come cheap. Deduno is still in his pre-arbitration years, by the way.
Miscellaneous Relievers
The Twins seem to have a knack for rostering relievers I've never heard of. Their primary setup men ahead of Perkins are righty Casey Fien (2.34 ERA and 3.23 FIP) and lefty Caleb Thielbar (2.81 ERA and 3.26 FIP), who bounced around waivers and signed out of an independent league, respectively. Lefty Brian Duensing (2.35 ERA and 3.90 FIP) has been around a while and been used in every role imaginable, but this year he's settled in as a one-inning reliever. Not necessarily a matchup guy either. Veteran retread Matt Guerrier (3.86 ERA And 3.92 FIP) and long man Anthony Swarzak (4.34 ERA and 3.37 FIP) don't excite anyone. Meh. I don't think you could convince me any of these guys would be a real help going forward, but more pitching never hurt anyone.
* * *
Willingham is the best fit for the Yankees among players on the Twins roster who figure to actually be available, though acquiring him would mean someone would have to play out of position in right field. It would either be him or Brett Gardner. That's not ideal. His right-handed power would be a huge help for the offense though. Plouffe is an expensive utility man who can hit the ball out of the part and, as always, the Twins really don't have many interesting pitchers. They continue to shoot themselves in the foot with that "okay stuff, no strikeouts, pitch-to-contact" profile. I'd be all for a Willingham trade if I only knew how they'd get him into the lineup defensively.