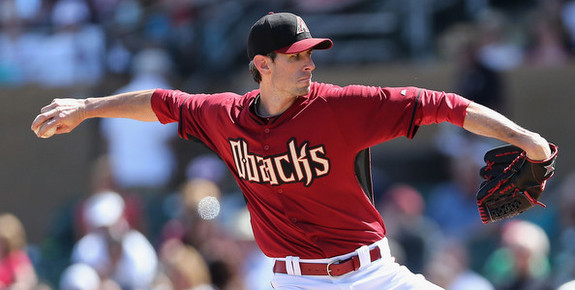 The Yankees have added some much-needed rotation help, and it came very cheap. The team announced they have acquired right-hander Brandon McCarthy from the Diamondbacks in exchange for lefty Vidal Nuno. Buster Olney says Arizona will pay half of the $4.1M owed to McCarthy through the end of the season. The Yankees will pay the $1M assignment bonus in his contract.
Arizona comes into today with baseball's worst record at 36-53, and GM Kevin Towers has made it clear in recent days that they will look to deal veterans for young players in the coming weeks. The D'Backs traded lefty reliever Joe Thatcher and outfielder Tony Campana to the Angels just yesterday. I'd expect them to make more moves before the trade deadline. McCarthy is due to become a free agent after the season, so this is a pure rental for the Yankees. It seems like a salary dump for the D'Backs more than anything.
"Quality stuff. Pounds the strike zone. Lots of ground balls, which helps at our Stadium," said Brian Cashman to Joel Sherman when asked about the deal. "[David] Huff was better than we had and McCarthy was better than what we had, so we improve when we can."
McCarthy, who turns 31 tomorrow, has a 5.01 ERA and 3.79 FIP in 18 starts and 109.1 innings this year. Homeruns have been a big problem (1.23 HR/9 and 20.0 HR/FB%) and that doesn't figure to change in Yankee Stadium, but his strikeout (7.63 K/9 and 20.0 K%), walk (1.64 BB/9 and 4.3 BB%) and ground ball (55.3%) rates are all solid. Clearly the Yankees are hoping his .345 BABIP and 66.7% strand rate return to his career norms (.296 and 70.5%, respectively) and he pitches closer to his FIP than ERA the rest of the season.
I wrote about McCarthy as a possible trade target just the other day. He is going to give up some homers, that's inevitable, but the D'Backs are one the few clubs with a worse team defense (.669 defensive efficiency) than the Yankees (.682), so New York's porous infield and all their shifts might actually be an upgrade for him. Either way, Nuno set the bar rather low (5.42 ERA and 5.15 FIP). All McCarthy has to do is chew up innings every fifth day to be an upgrade, and that's not necessarily a guarantee given his worrisome injury history. Here's a wrote I few days ago:
The biggest concern with McCarthy, by far, is his injury history. He has stayed healthy this season but has otherwise visited the disabled list with a shoulder problem at least once every year from 2007-13. Only once since 2006 has McCarthy thrown more 135 innings in a season (180.2 in in 2011) and this year he is already at 104 innings. Maybe he'll stay healthy, but, given his history, you have to think a disabled list stint is coming at some point.
Nuno, 26, opened the season as the long man and was initially pushed into the rotation by Ivan Nova's elbow injury in April. He remained a starter as CC Sabathia (knee) and Michael Pineda (shoulder) went down with their injuries. The Yankees plucked Nuno out of an independent league a few years ago, got about a hundred replacement level innings out of him, then turned him into a half-season of McCarthy. Not bad at all.
McCarthy last started on Thursday and, according to Dan Barbarisi, he told reporters in Arizona he will start for the Yankees on Wednesday. In that case the Yankees will need someone to make Nuno's scheduled start tomorrow. Bruce Billings, who is currently in the clubhouse after being scratched from last night's start with Triple-A Scranton, will not make that start according to Joe Girardi. He's there to help the bullpen. Shane Greene is scheduled to start for Triple-A tomorrow and seems like the obvious choice to make the spot start. Masahiro Tanaka can then start on Tuesday on normal rest.
I think it's important to note that while McCarthy figures to be an upgrade over Nuno, perhaps a substantial one, this move alone won't put the Yankees over the top. It can't be their only move if they truly want to contend. They need help at third base and in right field, plus another reliever to ease the burden on Dellin Betances and Adam Warren would help as well. Another starter shouldn't be off the table either. Sabathia and Pineda aren't coming back any time soon and Chase Whitley has hit the wall and hard. The Yankees got better today, but hopefully the McCarthy trade is not the only move they make.