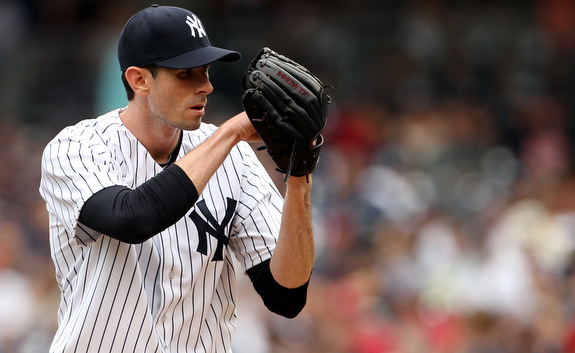 When the Yankees swung what was essentially a minor trade to add Brandon McCarthy two weeks ago, it was easy to scoff at the deal. The big right-hander had a 5.01 ERA and a 1.23 HR/9 at the time of the trade, numbers that weren't any better than the 4.89 ERA and 1.59 HR/9 Nuno put up in his 14 starts, especially considering the difference in leagues. The Yankees desperately needed pitching and it appeared they acquired a band-aid, not a difference maker.
The 31-year-old McCarthy came with a track record though, something Nuno lacked. He pitched to a 3.29 ERA (3.22 FIP) with the Athletics from 2011-12, and while some of that is certainly related to pitching in the spacious O.co Coliseum, McCarthy also famously reinvented himself as a sinker-cutter pitcher after delving into sabermetrics. "I didn't want to suck anymore," he told Eddie Matz last April, so his focus shifted to limiting walks and keeping the ball on the ground. The cutter and sinker better allowed him to do that.
McCarthy signed a two-year contract worth $18M with the Diamondbacks during the 2012-13 offseason and, for whatever reason, Arizona asked him to shelve the cutter. This isn't completely unheard of, there are a few cutter averse teams out there (the Orioles took it away from top prospect Dylan Bundy even though it is his best pitch), but it is weird. "It wasn't something I totally agreed with," McCarthy told Josh Thomson over the weekend, but I guess if the employer tells the employee to do something, he does it. Here is his pitch selection over the last few years:
| | Cutter | Sinker | Curve | Four-Seam + Changeup |
| --- | --- | --- | --- | --- |
| 2011-12 with Athletics | 41.3% | 36.1% | 18.9% | 3.7% |
| 2013-14 with D'Backs | 23.6% | 49.2% | 20.1% | 7.1% |
| 2014 with Yankees | 18.5% | 52.5% | 15.0% | 14.0% |
There was a definite change in pitch selection when McCarthy joined the Diamondbacks. He had almost a 50/50 split between the cutter and sinker while in Oakland but was throwing roughly twice as many sinkers as cutters in Arizona. Obviously his sample size with the Yankees is two starts and that's nothing, but it's worth noting he threw more cutters in those two starts (37 total) than he did in his final eight starts with the D'Backs combined (36). The pitch was nonexistent during the end of his tenure with Arizona.
"I feel like myself again. [The D'Backs] didn't want me throwing it any more. They wanted more sinkers away, but I feel like I need that pitch to be successful," said McCarthy to John Harper over the weekend. "The Yankees came to me right away and said, 'We need to bring the cutter back into play.' They obviously looked back and saw, 'when he's good he was throwing cutters. When he's not, he wasn't.' I was glad to hear it because I was going to tell them that anyway. It's been frustrating because I felt like I've been throwing better this season than any other year."
The Yankees had some insight into McCarthy before the trade even though he's never played with anyone on the current roster or under someone on the coaching staff. Minor league pitching coordinator Gil Patterson held the same role with the Athletics while McCarthy was there, and in fact he once told Susan Slusser that McCarthy's cutter grip was unlike anything he'd seen before. Patterson works with the team's pitching prospects but I'm sure he was consulted before the trade given their existing relationship. It'd be foolish not to ask his opinion.
McCarthy does not need the cutter to be a put-away pitch or any kind of dominant offering, it just has to be another option. Something to bust lefties inside and something to keep hitters off the sinker. A different look, basically. McCarthy does need the pitch to be more than an average at best pitcher though. He clearly believes that, if nothing else. The cutter gives him another weapon and it's hard to believe the D'Backs took it away from him in the first place. The Yankees are very smart to let McCarthy use his cut fastball and reintroducing that pitch might have landed them an above-average pitcher at a journeyman price.