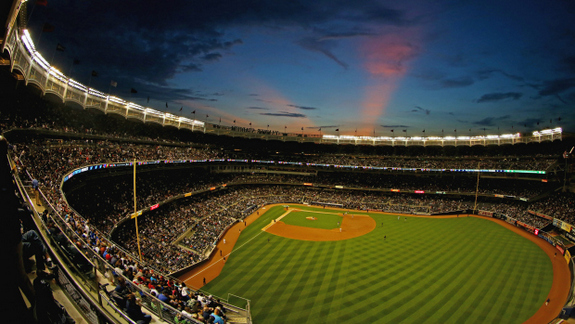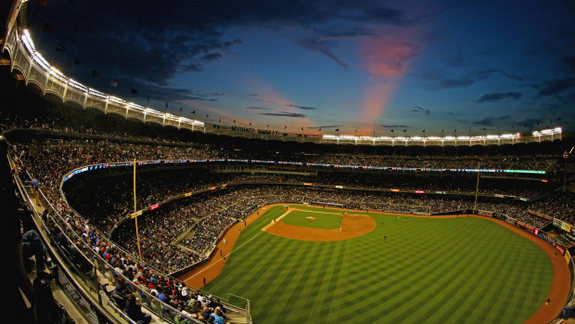 From 2009-13, no team in baseball had more wins (258) or a better winning percentage (.637) in their home ballpark than the Yankees. They dominated in Yankee Stadium, outscoring their opponents by more than one full run per game (1.002 runs per game, to be exact) in the Bronx over that five-year stretch. The team had a home field advantage and knew out to use it.
That home field advantage has not existed in 2014. The Yankees came into the All-Star break at a mediocre 47-47 overall due in part to their inability to win consistently at Yankee Stadium — they are 18-23 at home and have been outscored 192-147 in the process. That's an average of 1.10 runs per game. They have the fifth lowest home winning percentage (.439) in baseball and they've also been out-homered 58-47 on their own turf. That's just not something that should happen. A team should be built for its home park.
Earlier this week, Buster Olney (subs. req'd) subjectively ranked the remaining schedules of each contender, putting the Yankees tenth out of 17 teams. (Tenth most difficult remaining schedule, seventh easiest, that is.) That ranking is based primarily on the New York's 41 remaining home games, the most in baseball. Here is Olney's blurb:
10. New York Yankees
Home/away: A whopping 41 games at home (including the first 10 games after the All-Star break); 27 on the road.
Games against teams with records of .500 or better: 34
Schedule notes: The Yankees' rotation injuries will hurt them, but if playing many games at home provides any kind of an advantage, manager Joe Girardi's team will certainly have it. The Yankees also have six games left in July against Texas, and three in August against the Houston Astros.
Big finish: After a seven-game homestand against the Jays and Orioles, the Yankees close out their regular season in Boston.
Beyond the Box Score says the Yankees have the second easiest remaining schedule among AL teams in terms of opponent's winning percentage. If you prefer a more analytical approach, Jeff Sullivan used projected WAR to analyze the remaining schedule and found the Yankees have the toughest second half schedule in the AL. Not by much, but the toughest based on his method nonetheless. That's not reassuring.
Anyway, it should be obvious where I'm going with this: the Yankees need to play better at home in the second half. It's a must if they want to at least challenge for a postseason berth and not throw in the towel on Derek Jeter's final season. The schedule works in their favor in that they have so many remaining home games, so the opportunity will be there. Now they have to hold up their end of the bargain and capitalize.
Now, it's not just one reason why the Yankees have struggled at home. They average only 3.56 runs per game with a team 94 wRC+ in Yankee Stadium, both below-average and middle of the pack. On the other hand, they allow 4.66 runs per game at home with a team 4.15 FIP, which is awful. Both are among the bottom five marks in the league. They're not scoring enough runs and they're allowing too many runs. Losing Baseball 101.
There are two problems here, the run creation and run prevention, which is true for the team overall. The offense actually seems like it'll be easier to fix. A big part of that is getting both Brian McCann and Carlos Beltran going, something that has to happen if the team wants to contend anyway.  The pitching … well that's a different matter. Masahiro Tanaka's injury is a devastating blow and there's no way to replace him. Brandon McCarthy is a good fit for Yankee Stadium as an extreme ground ball pitcher, plus new rotation Shane Greene is a big ground baller as well. Another trade feels inevitable.
The Yankees have been hit hard by injuries (especially pitching injuries) this year and they were able to tread water through the first half. Continuing to tread water is not good enough though. If the Yankees want to push for a postseason berth — and there are no indications they will do anything but that right now — they have to starting playing better immediately. That starts at home in Yankee Stadium. Their first ten games after the All-Star break are in the Bronx and that is the perfect time to turn the home field disadvantage around.