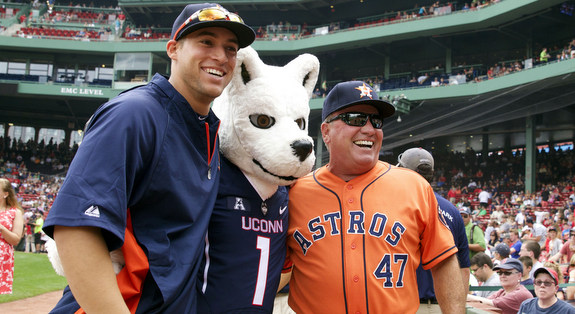 After a six-game turned five-game because of a rainout road trip, the Yankees are back home in the Bronx for a six-game homestand. They're going to face two really bad teams and winning four of the six is the bare minimum at this point if they want to get back in the postseason race. The Astros are in town for three games starting tonight. The Yankees lost two of three in Houston way back in April, the very first series of the season.
What Have They Done Lately?
Like the Yankees, the Astros were off on Monday. They split a four-game series with the Red Sox up in Fenway Park over the weekend and have lost eight of their last 13 games overall. Houston is 52-73 with a -91 run differential in 2014, both the third worst marks in baseball. To their credit, Houston has already won more games this year than they did last year (51-111).
Offense
Manager Bo Porter's club averages 4.01 runs per game with a team 97 wRC+, so they're just a touch below-averageoffensively. Better than the Yankees (3.94 and 92, respectively), anyway. The Astros are currently without OF George Springer (125 wRC+) and OF Alex Presley (82 wRC+) due to quad and oblique injuries, and neither will return this series. Bummed we won't see Springer. UTIL Jesus Guzman (56 wRC+) is out with a back problem but could be activated off the disabled list sometime this week.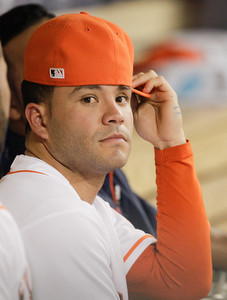 The Houston lineup revolves around 2B Jose Altuve (131 wRC+), who leads the league in average (.339) and steals (46). His reputation outweighed his production the last few years — I'm convinced it's because he's really short, similar to how Melky Cabrera was overrated while with the Yankees because he had a cool name — but he is definitely performing like a true star right now. 1B/OF Chris Carter (127 wRC+) strikes out a ton (30.4%) but he has ten homers and a 186 wRC+ over the last 30 days. OF Dexter Fowler (129 wRC+) just came off the disabled list a week ago. Altuve, Carter, and Fowler are the stars of the show with Springer injured.
The rest of Porter's lineup includes former first rounders C Jason Castro (94 wRC+) and 3B Matt Dominguez (72 wRC+). Castro has had a disappointing follow up to last summer's breakout year. OF Robbie Grossman (94 wRC+) and OF Jake Marisnick (53 wRC+) both see time in the outfield and 1B Jon Singleton (87 wRC+) plays first. He signed a five-year, $10M extension before ever playing in a MLB game. I bet the lefty swinger takes advantage of the short porch at least once this week. IF Gregorio Petit (100 wRC+ in very limited time) and IF Marwin Gonzalez (96 wRC+) share time at shortstop. 1B/OF Marc Krauss (78 wRC+) and C Carlos Corporan (88 wRC+) fill out the bench.
Pitching Matchups
Tuesday: LHP Chris Capuano (vs. HOU) vs. LHP Brett Oberholtzer (vs. NYY)
Oberholtzer, 25, has gone down to Triple-A a few times this year despite a solid 3.87 ERA (3.68 FIP) in 17 starts and 104.2 innings at the MLB level. He excels at limiting walks (1.89 BB/9 and 5.0 BB%) and does keep the ball in the park (0.77 HR/9 and 5.9 HR/FB%), but both his strikeout (5.68 K/9 and 14.9 K%) and ground ball (37.0%) numbers are unimpressive. Righties (.326 wOBA) have hit him a bit harder than lefties (.300 wOBA), and he's been more successful on the road (.305 wOBA) than at home (.330 wOBA). Oberholtzer is a classic finesse southpaw, sitting right around 90 mph with his fastball while throwing both his changeup and curveball in the low-80s. He held the Yankees to three runs in 5.2 innings back in April.
Wednesday: RHP Michael Pineda (vs. HOU) vs. RHP Scott Feldman (vs. NYY)
The Astros finally decided to spend some money this past offseason, and most of it went to the 31-year-old Feldman. He got three years and $30M. Feldman has a 4.45 ERA (4.40 FIP) in 22 starts and 129.1 innings this year — he missed time with a biceps injury — even though his walk (2.78 BB/9 and 7.1 BB%), homer (0.84 HR/9 and 8.4 HR/FB%), and ground ball (44.7%) rates are more or less in line with his career norms. His strikeout rate (4.94 K/9 and 12.6 K%) is way down though, plus he has minimal platoon and home/road splits. Feldman is primarily a low-90s sinker/upper-80s cutter/mid-70s curveball pitcher, though he will throw the occasional mid-80s splitter that serves as his changeup. The Yankees did not score in 6.2 innings against the right-hander on Opening Day.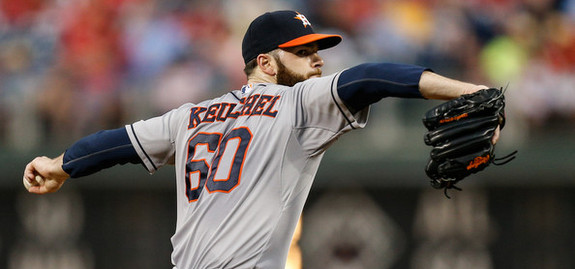 Thursday: RHP Brandon McCarthy (vs. HOU) vs. LHP Dallas Keuchel (vs. NYY)
Keuchel, 26, has broken out in a huge way this season, pitching to a 3.11 ERA (3.31 FIP) in 23 starts and 156.1 innings. His strikeout (6.91 K/9 and 18.8 K%), walk (2.30 BB/9 and 6.3 BB%), and homer (0.58 HR/9 and 10.6 HR/FB%) rates are lower than the league averages, and his 61.8% ground ball rate is the highest in baseball by roughly five percentage points. Also, as Mark Simon notes, Keuchel has the tenth lowest hard-hit ball rate in baseball, so he's getting a ton of weak contact on the ground. That's a great way to keep runs off the board. Righties (.311 wOBA) are a bit more successful than lefties (.286 wOBA), though he does not have a significant home/road split at all. Keuchel gets all those weak grounders with upper-80s two and four-seam fastballs, plus he'll mix in some mid-80s cutters. An upper-70s slider is his top secondary pitch and he'll also throw a handful of upper-70s changeups per start. He's basically a two-seamer/slider pitcher who will show a four-seamer and changeup. The Yankees did not see Keuchel when these two teams met in April.
Bullpen Status
The Astros spent some money on relievers this year, and ex-Yankee RHP Chad Qualls (3.11 FIP) has taken over as closer. RHP Jesse Crain has not pitched at all in 2014 due to continued arm problems and RHP Matt Albers has missed most of the season with a shoulder issue. Veterans LHP Tony Sipp (2.87 FIP) and ex-Yankee RHP Jose Veras (4.92 FIP) are Qualls' primary setup men, though RHP Josh Fields (2.17 FIP) will see important innings as well.
The rest of Porter's bullpen includes RHP Jake Buchanan (4.36 FIP), LHP Kevin Chapman (7.88 FIP in very limited time), LHP Darin Downs (3.29 FIP), and RHP Mike Foltynewicz (5.26 FIP in very limited time). Foltynewicz is a top prospect who was called up not too long ago and he throws very, very hard. Like every other team these days (it seems), the Astros are carrying eight relievers at the moment. Both of these teams were off Monday, so the bullpens are as fresh as it gets in mid-August. Check out our Bullpen Workload page for details on Joe Girardi's bullpen, then check out Astros County and Crawfish Boxes for the latest and greatest on the Astros.
Update: The Astros activated Guzman off the disabled list and sent Downs to Triple-A, the team announced. There you go.