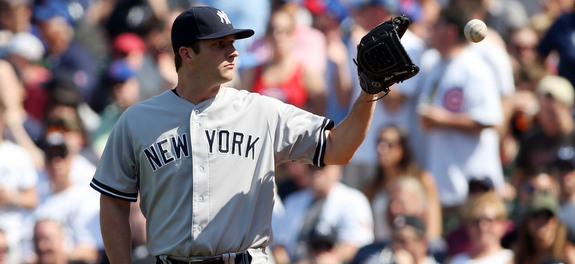 When Chris Davis hit that two-run homer off Chris Capuano last night, it gave the Orioles a 4-3 lead that felt a whole lot bigger than one run because of how ineffective the Yankees' offense has been. Scoring has been a big problem, so when Adam Warren and Chase Whitley combined to let the O's blow things open in the later innings, the game was over. The Yankees might not score as many runs in the series as Baltimore did on Monday.
The offense was again a huge issue last night, especially considering two of the team's three runs were gift-wrapped by some defensively hilarity. The bullpen was also an issue, which has been the case more and more often in recent weeks. Last night was an extreme example, obviously, but the bullpen has now allowed at least one run in each of the last four games and in 15 of 24 games since the All-Star break. The bullpen overall has a 3.91 ERA (3.99 FIP) since the break, which doesn't sound awful, but the AL average is 3.63 ERA (3.68 FIP).
The Yankees have had a revolving door in the last spot or two of the bullpen all season, and guys like Chris Leroux and Alfredo Aceves and Matt Daley have put a dent in the team's overall bullpen numbers. Joe Girardi has a top heavy bullpen this year led by the two elites in David Robertson and Dellin Betances. Adam Warren was an excellent supporting piece at various points, but that has not been the case lately. In fact, he's been part of the problem these last few weeks.
Obviously last night was a total nightmare. Three runs on a single, a double, and a homer in one inning of work, giving Warren a 6.97 ERA (5.65 FIP) in 10.1 innings in the All-Star break. Take it back to May 15th (arbitrary!), which immediately follows a stretch in which he threw multiple innings five times in eleven days, and he has a 4.75 ERA (3.60 FIP) in 36 innings. Warren has walked six batters and struck out only five in his last 6.1 innings and he just looks worn down. He's not locating well or finishing his pitches; his breaking balls are cement mixers more often than not.
Shawn Kelley had a disaster outing against the Indians on Friday night (four runs in one-third of an inning) but otherwise has allowed just one run since the break. He looked a little rough when he first came off the disabled list back in June, but Kelley has sorted it out of late and should clearly be ahead of Warren on the bullpen pecking at this point. I really like Warren as a one-inning, air-it-out reliever, but I just don't see how Girardi can use him as a high-leverage guy right now. He's not equipped to help the team in that capacity at this point in time.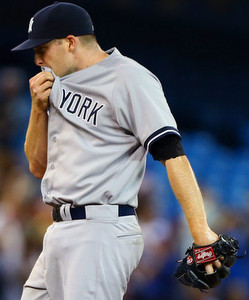 The Yankees are carrying eight relievers — it's a necessity more than overkill right now given the state of the rotation — but the last few spots are for spare arms in case of blowouts. Daley, Bryan Mitchell, and Leroux have cycled in and out of the last bullpen spot just within the last week. Soon Esmil Rogers will take over. Rich Hill (and David Huff) is keeping the left-handed specialist position warm until the Yankees deem someone like Tyler Webb or Jacob Lindgren big league ready, and Chase Whitley is flat out unusable. Four runs in two-thirds of an inning last night, ten runs in 6.1 innings since moving into the bullpen, and 30 runs in his last 28.1 innings overall. I don't see why he belongs on the MLB roster at this point.
That eight-man bullpen is effectively a three-man bullpen with a lot of filler mixed in. Robertson, Betances, and Kelley should be Girardi's top choices for important innings — it seems like Huff has worked his way into the Circle of Trust™ as well, but yuck — simply because no one else is pitching well. Warren shouldn't see big innings because he hasn't shown us anything recently to make us think he's reliable. I don't know if it's fatigue or something else, but it's happening. The Leroux, Whitley, and Hill group is there to steal outs whenever they can, basically. Sometimes you get lucky, most of the time you don't.
At the moment, you could make a pretty strong case Rogers is the fourth best reliever in the Yankees' bullpen. I'm talking about this very moment in time. There is definitely an argument to be made that Rogers is better able to help you win a game on August 12th than Warren or Whitley or whoever. The Yankees aren't getting a lot of length from their starters and the offense has been stagnant, so the bullpen has had to work a lot and these emergency type arms have been forced into important situations. That's a problem. Girardi's bullpens have been very good over the years, but the combination of a bad offense and a short rotation has this relief crew teetering on the edge of disaster whenever someone other than Betances or Robertson enters the game.