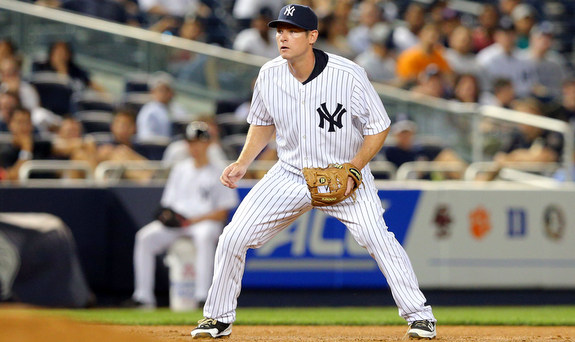 Heading into the trade deadline, it was clear the Yankees needed to beef up their offense. They were getting very little from right field and second base in particular, plus third base became a black hole as soon as Yangervis Solarte returned to Earth. The Yankees needed to do something to add to their lineup, something more than wait for Brian McCann and Carlos Beltran to turn their seasons around.
Improving the offense wasn't their only need at the trade deadline. The Yankees also needed to upgrade their infield defense because it was disastrous. Truly one of the worst infield defenses I have ever seen and it would have been a lot worse if not for the club's emphasis on shifting to compensate for the lack of range. The bad defense was the most consistent part of the team too — every day the infield would cost them. It was amazing to watch, really.
The Yankees are locked into Derek Jeter at short and Mark Teixeira at first for better or worse, though there was nothing standing in way of acquiring upgrades at second and third bases. Acquire those upgrades is exactly what they did, swinging a deal for Chase Headley last month and bringing in Stephen Drew just before the trade deadline. Headley has long been a solid gloveman and while Drew would be playing out of position at second base, his athleticism and quickness made him a decent bet to outperform Brian Roberts.
Headley's bat hasn't been anything special yet (86 wRC+ in 58 PA), but he has been outstanding in the field. He gobbles up everything hit his way and seems to really excel at going to his right for backhanded stops. Drew has been with the team for only five games, and while he hasn't done much with the bat either (64 wRC+ in 18 PA), he's looked pretty comfortable at second. We haven't gotten much of a look at him, of course, but Roberts was bobbling routine plays towards the end of his time with the Yankees. Drew hasn't done that.
With some help from the indispensable Baseball Savant, here is a quick and dirty look at how the Yankees have fared at turning ground balls into outs this season. Real basic stuff, how many grounders are being converted into outs with no adjustment for hit quality or hit location or anything like that. Obvious sample size caveats apply:
| | Total Grounders | BABIP | Grounders Per Error |
| --- | --- | --- | --- |
| Before Headley Trade | 1,164 | .255 | 28.4 |
| Since Headley Trade | 198 | .227 | 66.0 |
| Since Drew Trade | 67 | .194 | 67.0 |
The AL average is a .250 BABIP on ground balls this season, so the Yankees were just a touch worse than that before acquiring Headley. Even with all the shifts and whatnot, they were still a bit below-average because of the general lack of range and sure-handedness they had around the infield. It felt a lot worse, to be honest.
Since acquiring Headley though, that has dropped to a .227 BABIP, much better than the league average. The infield has also cut their rate of making an error — errors aren't the best way to measure defense, but I'm mentioning them because the Yankees did seem to have a knack for getting to the ball and failing to make the play for much of the year — basically in half. That isn't all because of Headley, but he is a big part of it. Solarte was sneaky bad in the field and Kelly Johnson never looked comfortable at the hot corner (or first base, for that matter).
The infield defense has improved even more since Drew arrived, though it has been less than a week, so who really knows. The numbers do match up with the eye test though, and that's always cool. You don't need to be a trained scout to see how improved defensively the infield has been the last few weeks. Headley is a tremendous upgrade over what the Yankees had at the hot corner for most of the year. Drew looks comfortable at second and has been better than Roberts.
Going from below-average defenders to above-average defenders at two of the four infield spots is a big, big deal. The Yankees had a weirdly built roster earlier in the season in that their best defensive players (Brett Gardner and Jacoby Ellsbury) were marginalized by a pitching staff that focused on getting ground balls to avoid cheap homers at Yankee Stadium. Thanks to the Headley and Drew additions, the Yankees now have an infield defense better suited for the strength of the pitching staff, and their impact in the field has been obvious.