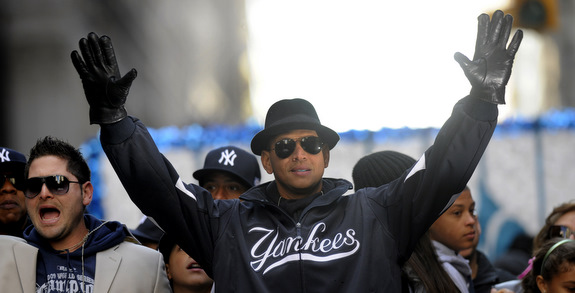 One year ago today, MLB announced Alex Rodriguez's record 211-game suspension for his ties to Biogenesis. It was the same day he made his season debut after having hip surgery. A-Rod appealed the ban, played out the rest of the season, and eventually had it reduced to 162 games. I'm pretty sure he is still the best right-handed hitter in the organization right now. The Yankees could use him.
Anyway, the DEA arrested Anthony Bosch for conspiracy to distribute anabolic steroids today. He's the former Biogenesis chief who cooperated with MLB and sang like a bird as soon as they agreed to pay his legals bills and not sue him. You can read up on the whole mess right here. The most important thing is that T.J. Quinn says new names will emerge and more suspensions are likely on the way. I have so little interest in reliving this stuff. Beat David Price and win tonight's game. That's all I want to think about. Do it for A-Rod. Here's the Tigers lineup and here's the Yankees lineup:
LF Brett Gardner
SS Derek Jeter
CF Jacoby Ellsbury
1B Mark Teixeira
DH Carlos Beltran
C Brian McCann
3B Chase Headley
RF Martin Prado
2B Brendan Ryan
RHP Hiroki Kuroda
It's nice and hot in New York. Blue skies, no rain, really nice summer night for baseball. First pitch is scheduled for just after 7pm ET and you can watch on YES locally and MLB Network nationally. Enjoy the game.