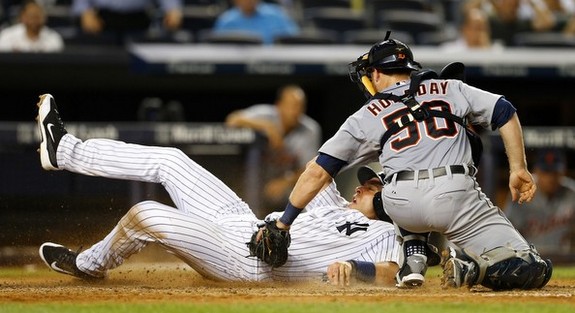 Mark Teixeira's hand got stepped on as he slid across home plate last night, and following the game he needed three stitches to close the wound. X-rays came back negative. Teixeira told Vince Mercogliano the cut was "really, really bad" and he thought he saw bone. I know Tex has become increasingly brittle over the years and a pinkie injury is easy to laugh at, but I'm pretty sure that if you stepped on my hand with metal cleats, I'd curl up in the fetal position at home plate and retire on the spot.
Hopefully the Yankees rally around the injury and go out and win this afternoon's series finale against the Tigers. Do it for Teixeira's pinkie. Here is the Miguel Cabrera-less Tigers lineup and here is the Yankees lineup:
LF Brett Gardner
3B Martin Prado
CF Jacoby Ellsbury
DH Carlos Beltran
1B Chase Headley
SS Stephen Drew
C Frankie Cervelli
RF Ichiro Suzuki
2B Brendan Ryan
RHP Shane Greene
It's a nice and pleasant day here in New York. A little cloudy with temperatures in the low-80s, and there is no rain or anything in the forecast. The clouds are supposed to go away in a few hours, in fact. This afternoon's game is scheduled to begin a bit after 1pm ET. You can watch on YES locally and, depending on where you live, MLB Network nationally. Enjoy the game.
Injury Update: Masahiro Tanaka (elbow) played catch again, this time from both 60 and 90 feet. Everything went well and he'll continue moving forward with his throwing program.