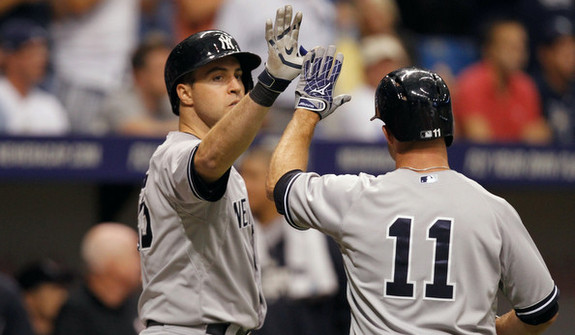 The Yankees have played 15 series against AL East opponents this year and so far they've won five. Five! They split one and lost the other nine. They've only won one of their last eight AL East series as well. That explains why they are closer to last place (6.5 games) than first place (seven games).
Yesterday's win snapped a five-game losing streak and gives the Yankees a chance to clinch a rare series win over an AL East rival this afternoon. Hiroki Kuroda is starting on extra rest after showing clear signs of fatigue in his last two or three starts, particularly once his pitch count gets up to around 80. Hopefully the extra rest does him some good. Here is the Rays lineup and here is the Yankees lineup:
LF Brett Gardner
DH Derek Jeter
CF Jacoby Ellsbury
1B Mark Teixeira
RF Carlos Beltran
C Brian McCann
3B Chase Headley
SS Stephen Drew
2B Martin Prado
RHP Hiroki Kuroda
It's another rainy day in St. Pete. The Tropicana Field dome was definitely a big help this weekend. First pitch is scheduled for 1:40pm ET and you can watch on YES. Enjoy the game.