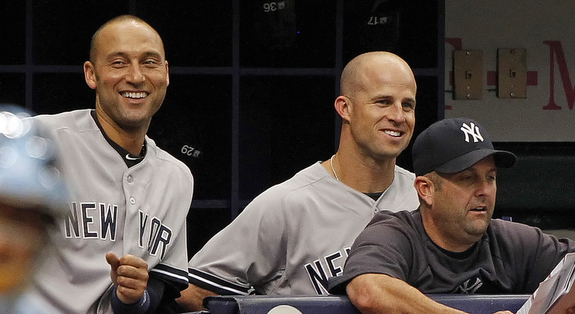 The Yankees and Astros could not be any more different. One team has a huge payroll, the other has a laughably small payroll by 2014 standards. One has one of the oldest rosters in the league, the other has one of the youngest. One is actually trying to contend and doing whatever they can to win, the other is content with losing and stockpiling prospects for a future than may never come.
After winning two straight over the Rays this past weekend, the Yankees have some renewed hope that their postseason chances are not completely shot. They are three games back of the second wildcard spot with 39 games to play after tonight. If they're going to make a run, it has to start with a beatdown of a lowly Astros at home this week. Here is Houston's lineup and here is the Yankees lineup:
LF Brett Gardner
SS Derek Jeter
CF Jacoby Ellsbury
1B Mark Teixeira
DH Carlos Beltran
2B Martin Prado
C Brian McCann
3B Chase Headley
RF Ichiro Suzuki
LHP Chris Capuano
It's starting to feel a little like fall in New York. The temperature is hovering around 80 even though it's nice and sunny and there are no clouds in the sky. There is no rain in the forecast tonight either. Tonight's game is scheduled to begin at 7:05pm ET. You can watch on My9. Enjoy.