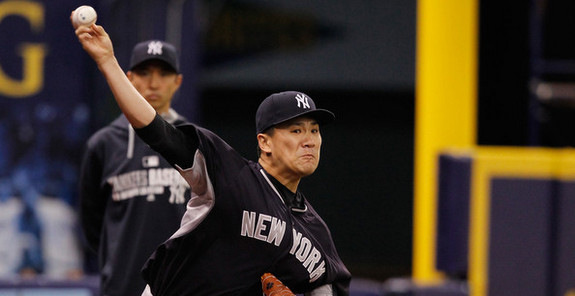 Got some injury updates to pass along on the off-day. Well, two injury updates and one suspension update, technically. They all come courtesy of Chad Jennings, George King, and Mark Feinsand.
Masahiro Tanaka (elbow) will throw some breaking balls (but not splitters) during his next bullpen session this week. He's already thrown some curveballs and sliders on flat ground. "He played catch [Sunday] and he will be scheduled for another bullpen next week," said Joe Girardi. "I am not sure what day it is. His next bullpen he will start to spin some stuff. He will throw some fastballs and some breaking balls … I am not sure he will throw a split. They talked about him spinning some curveballs. I am not sure he will throw a slider or what else he is going to throw."
David Phelps (elbow) will be re-evaluated today. If all goes well, he could start throwing later this week. The original plan when he was placed on the disabled list called for Phelps to be shut down completely for at least two weeks, and today marks two weeks. Hopefully Phelps' elbow checks out fine and he doesn't need much more than a rehab game or two before rejoining the team.
This technically isn't an injury update, but I guess it fits here. Alex Rodriguez has been working out in Miami and Los Angeles in preparation for a return next season. He's hitting and performing fielding drills. You know, just in case you thought he was sitting on the couch these last few months.