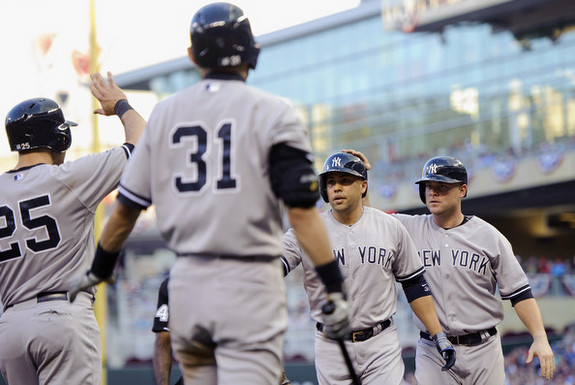 Tigers right-hander Rick Porcello was pretty sharp Tuesday night, and as a result the Yankees failed to draw a walk for the tenth time this season. That is still well short of last year's 17 walk-less games, but it matches 2012's total and is way more than they had in any year from 2002-11 — they averaged 4.6 walk-less games per year during that stretch and never had more than seven. Last night was their fourth walk-less game in August alone.
Before the season, I expected the offense to improve on last season's subpar walk rate because of their offseason additions. Carlos Beltran and Brian McCann in particular came into the season with strong career walk rates. Instead, the Yankees have essentially the same walk rate this year (7.6%) as last year (7.7%). Their unintentional walk rate (7.3%) is more or less the same as well (7.2%). The AL average this year is a 7.8% walk rate.
The Yankees as a team have their lowest walk rate since the dismal 1990 club that lost 95 games, averaged 3.72 runs per game, and walked in only 7.1% of their plate appearances. Offensive levels have changed over the years though, so a 7.6% walk rate in 2014 is not the same thing as a 7.6% walk rate in 2000 or 1990. Here's how the Yankees' walk rate has compared to the AL average since that 1990 season. This works the same way as ERA+ — a 100 BB+ is average and the bigger the number, the better.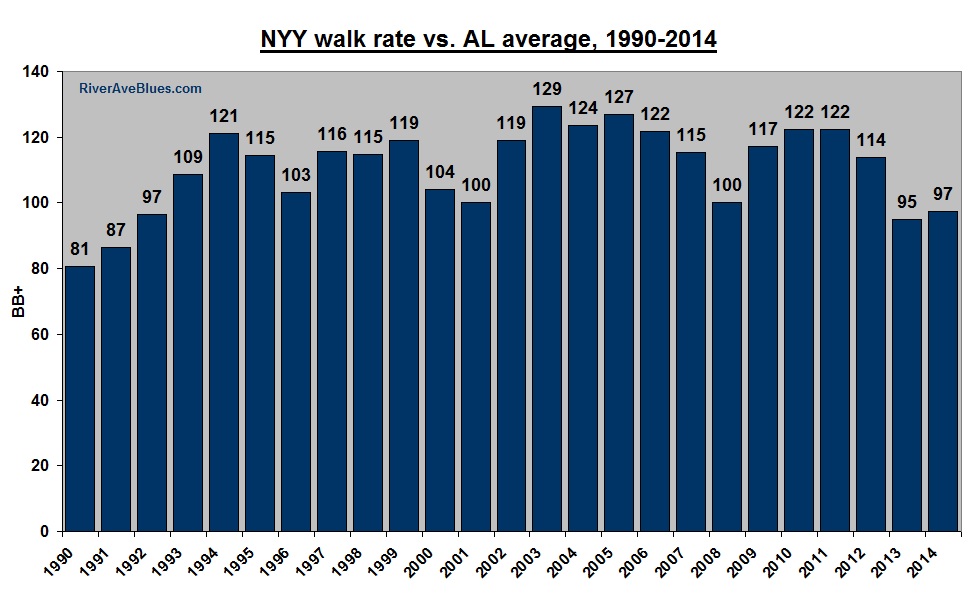 The Yankees have essentially the same walk rate as last year but they're slightly better relative to the league average. They're still below average overall though. It's hard not to notice the club missed the postseason the last two times they posted a below league average walk rate and are on pace to do the same this year, but this is one of those "correlation does not equal causation" situations. A below average walk rate doesn't automatically equal no postseason for this or any team.
Fewer walks does mean fewer runs though. That is obvious and an indisputable fact. It is harder to get a base hit right now than at any point in the last 42 years — the AL is hitting .254 overall this year, the lowest league batting average since 1972 (.239!), the year before the DH was implemented — because of things like infield shifts, specialized relievers, more hard-throwers, in-depth scouting reports, and an acceptance of strikeouts as a trade off for power. All of that and more makes picking up a base hit difficult in this age.
Walks are another way to create offense — a walk is almost never as a good as a hit and no hitter goes to the plate looking for a walk, they just take them when they come — and the Yankees excelled at drawing them for the better part of the last two decades. These last two years have been much different, though at least last season we could fall back on the injury excuse. Missing Mark Teixeira and Curtis Granderson for a chunk of the 2013 season in particular took a big bite out of the team's walk total. This year? No such excuse.
Both Beltran (7.7%) and McCann (6.3%) are walking at a rate far below their career averages (10.3% and 9.2%, respectively), so they're part of the problem. Neither guy as done much damage when swinging the bat in general and they've compounded the problem by drawing fewer walks as well. In fact, let's take a quick look at the career and 2014 walk rates of the lineup regulars (the trade deadline guys just got here):
| | 2014 BB% | Career BB% | Diff. |
| --- | --- | --- | --- |
| Carlos Beltran | 7.7% | 10.3% | -2.6% |
| Jacoby Ellsbury | 8.6% | 7.1% | +1.5% |
| Brett Gardner | 9.5% | 10.2% | -0.7% |
| Derek Jeter | 5.8% | 8.6% | -2.8% |
| Brian McCann | 6.3% | 9.2% | -2.9% |
| Ichiro Suzuki | 6.0% | 5.9% | +0.1% |
| Mark Teixeira | 11.9% | 11.4% | +0.5% |
Beltran, Jeter, and McCann have all seen their walk rates take a big tumble this year, compared to their career averages. Only Ellsbury has seen a substantial improvement. Gardner's drop in walk rate is at least offset by his selectively aggressive approach and newfound power skills. The team is drawing fewer weeks this year and it's easy see where the drop is coming from.
The Yankees are struggling to score runs for a lot of reasons this year, particularly because of the disappointing Beltran and McCann. Ellsbury's been very good but he isn't an impact hitter, last night's two homers notwithstanding. His value comes from his all-around game, not offensive dominance. Teixeira's doing exactly what he's done the last few years, Jeter and Ichiro are on the wrong side of 40, and Gardner has been the lone offensive surprise. The Yankees have lost the two things that make them the Yankees, that trademark power and patience.