Got a nice and big nine-question, seven-answer mailbag for you this week after skipping it last week. Blame the trade deadline. Use the Submit A Tip box in the sidebar to send us questions, comments, links, complaints, whatever. We get a ton of questions each week, so don't take it personally if yours is not picked.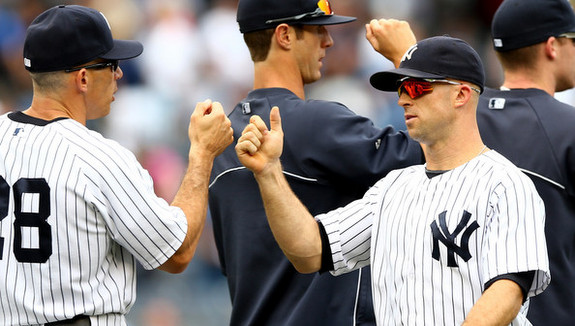 nycsportzfan asks: Do you think Joe Girardi could win Manager of the Year even if they don't make the postseason?
Joe asks: Where is Brett Gardner in the AL MVP voting? No way he wins the award itself but he has to get some votes, no?
Might as well lump these two together. I think Girardi would have a serious chance to win Manager of the Year if they make it to the postseason, but he'll probably be an afterthought if they miss again. Bob Melvin and Mike Scioscia seem to be the front-runners at the moment, and I'm sure Buck Showalter will get a ton of love if the Orioles win the AL East. John Gibbons would also get plenty of votes if the Blue Jays sneak into the postseason. If Girardi carries this team into the postseason after all the injuries, I have to think he'll get a ton of consideration for the award.
As for Gardner, I doubt he'll finish top ten in the MVP voting, maybe not even top 20, but there are always weird down ballot votes every year and he seems like a prime candidate to receive a few. Gardner has not only been the team's best player this year, he's also been one of the most productive outfielders in the league. Unless the Yankees completely flop and fall way out of the race these next few weeks, I definitely expect Gardner to get a handful of MVP votes. He'll never win, but hey, just getting votes is cool.
Joel asks: Can you tell us what percentage of his at-bats Gardner gets to two strikes? I think it's very high, and I think his batting average with two strikes is close to his batting average.
Prior to yesterday's game — I'm not waiting around for Baseball Reference to update overnight, sorry — Gardner had gone to a two-strike count in 288 of his 475 plate appearances, or 60.6%. The AL average is 50.4%. In fact, Gardner leads baseball in two-strike plate appearances. Matt Carpenter is second at 287 and Mike Trout is third at 285. No one else is over 280. Gardner has hit .188/.278/.290 in two strike counts this year, and while that sounds terrible, it works out to a 124 OPS+ because the league as a whole has hit .180/.249/.267 with two strikes. Hitting in those situations is mighty tough.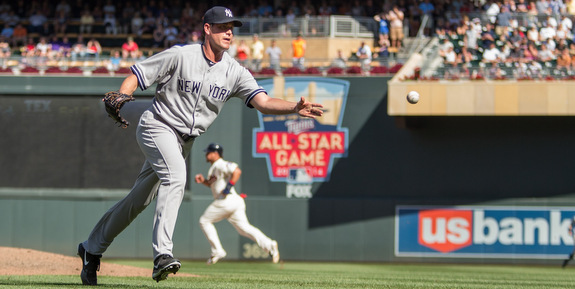 Mark asks: In the simplest terms possible, could you explain the difference between the July and August trade deadlines? I think I have a grasp, but I would like clarification. Thanks in advance
John asks: I've been thinking – with the trade waivers period starting up – what would happen if a guy with a no-trade clause was claimed on waivers? Would he have to go to that team? E.g. what if Matt Thornton had a no-trade? Could the Yankees have just let the Nats take him?
Combining two more questions again. After July 31st, any player on the 40-man roster has to go through trade waivers in order to be traded. Trade waivers are completely revocable — if a player is claimed, he can be pulled him back and nothing happens. The player can be traded anywhere if he clears waivers, but if he is claimed, he can only be traded to the team that claimed him (within 48 hours). If a team tries to slip a player through trade waivers a second time, they are irrevocable. A team can also dump the player on the other team if he is claimed, like the Yankees did with Thornton. Players have to be in an organization on August 31st to be eligible for the postseason roster. No exceptions. That makes August 31st almost like a second trade deadline.
The no-trade clause stuff is interesting because there really isn't an answer. MLB and the union have been arguing about this for years. A no-trade clause is technically a no-assignment clause, and both trades and waiver claims are assignments (as are demotions to Triple-A, etc.). The union says a no-trade clause should allow a player to block going to another team on waivers while MLB argues otherwise. The only time I can remember this even remotely being an issue was when the White Sox claimed Alex Rios from the Blue Jays a few years ago, but Rios agreed to go to Chicago and it was a non-issue. Most guys who have no-trade clauses have contracts other teams don't want, so they are rarely claimed off waivers anyway.
Ryan asks: If you take a few of those early blowout losses out, what is their run differential? Probably closer to a slightly above .500 team?
The Yankees are currently 60-54 despite a -23 run differential, which says they should be something closer to 54-60. It seems like they win nothing but close games these days. In a one week stretch from April 18th through April 25th, the Yankees lost games by the score of 11-5, 16-1, and 13-1. That's a -33 run differential right there, so in the other 111 games of the season, the Yankees are at +10. It doesn't really work like that though, we can't just ignore select games because they don't fit a narrative. For example, if we remove their biggest blowout wins (7-0, 14-5, 10-2), they have a -47 run differential on the season. I believe the Yankees' win-loss record better reflects their talent level than their run differential, but the numbers don't lie. They are the record of what actually happened on the field.
Leigh asks: I know he has only thrown a handful of innings (and he isn't on the 40-man roster), but do you think there is a chance we see Jacob Lindgren contribute as a LOOGY in September?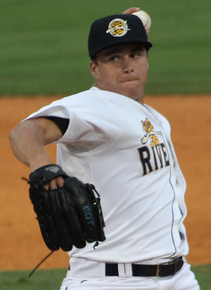 Yes, definitely. I was on the fence up until the Thornton deal (this question was sent in before that), but now I think it's pretty much a lock as long as Lindgren doesn't get hurt or completely blow up the rest of the month. I don't think you draft a pure reliever in the second round and pay him a seven-figure bonus to not get him to the big leagues as quickly as possible. You take him because you think he can help very soon, and Lindgren has done everything he's needed to do in the minors. I'll be very surprised if he isn't up in September at this point.
Greg asks: What can we expect from this year's class of September call-ups?
In addition to Lindgren, pretty much everyone who is on the 40-man roster and has already been up at some point this year will be back in September. A third catcher is standard and the Yankees will probably call up both John Ryan Murphy and Austin Romine, so make it four catchers. Extra arms like Bryan Mitchell and Matt Daley are a given, ditto Preston Claiborne if he returns from his shoulder injury in time. Zoilo Almonte and Zelous Wheeler are other obvious call-up candidates. My hunch is Manny Banuelos will be called up but Gary Sanchez will not.
Tyler Austin, Danny Burawa, Mason Williams, Mark Montgomery, Branden Pinder, and Nick Goody are among the prospects who will be Rule 5 Draft eligible after the season, though I would be surprised if the Yankees got a head start on things and called any of them up in September. The only time they've done that in recent years was with Murphy and Romine, and only because they needed to get a third catcher on the roster. Lindgren, Murphy, Romine, Mitchell, Daley, Almonte, Wheeler, Banuelos, and Claiborne (if healthy) seem likely to join the club when rosters expand in September. There always seems to be a surprise call-up or two every year, both those are the guys I expect to see brought back.
Mike asks: Who do you see the Yankees sending to the Arizona Fall League?
Teams send either six or seven players to the AzFL each year, usually three position players and either three or four pitchers. All Double-A and Triple-A players are eligible and each team can only send one Single-A player. No players with a full year of service time are allowed, though the league has granted exemptions for young players coming off injury. The AzFL rosters are officially announced at the end of August, so not too far off now.
Players who missed time with injury during the regular season are the standard AzFL fodder, so I think Ramon Flores (ankle) and Goody (coming back from Tommy John surgery) are prime candidates to go to the desert. Banuelos is another as long as he feels well and his innings total is not an issue. Aaron Judge would make sense as the Single-A player if he's physically up to it. It's a long season and he might be worn down come October. If not, Eric Jagielo could go after missing more than a month with an oblique injury. The last two or three spots are usually fringe prospects for the taxi squad — they are only eligible to play Wednesday and Saturday, so they are never top prospects — the team wants to see a bit more. Taylor Dugas, Tyler Webb, Nick Rumbelow, and Jaron Long could fit that bill.