That was a great win. The Yankees' third in a row and fourth in the last six games, coincidentally. They beat the Tigers by the score of 2-1 in the opener of their four-game series Monday night. The Bombers have now played 15 straight games decided by no more than two runs, extending the franchise record.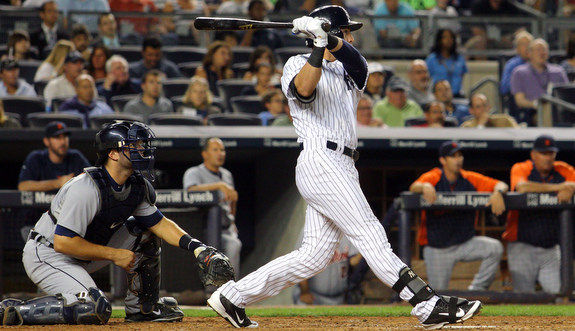 The Four (Or Five) Run Inning That Wasn't
The Yankees had one of their best offensive innings in a long time — best against a decent or better pitcher, anyway — in the top of the fourth, and all they got out of it was two runs because apparently the Tigers play defense now. That wasn't always the case these last few years. It took the Yankees all of nine pitches to load the bases with no outs against Max Scherzer, as Ichiro Suzuki, Brett Gardner, and Derek Jeter all singled. Jeter failed to get a bunt down twice before slapping a bloop to right. I prefer the bloop to the bunt.
So that set the Yankees up with the 3-4-5 hitters due to bat with the bases loaded. Can't ask for a better situation than that, right? Jacoby Ellsbury jumped all over a 1-0 pitch and hit a rocket to center field, one of the hardest balls he'll hit all season, and his reward was … a sac fly. Ezequiel Carrera made a marvelous diving catch going back on the ball, reeling it in at the warning track. It was unbelievable. So unbelievable that I'm going to embed the video instead of trying to describe it:
Your browser does not support iframes.
Can't even be mad about that. Just a great, great catch. Catch of the year type stuff. If Carrera doesn't make the catch, that's at least two and probably three runs right there. Maybe an inside-the-park grand slam. Instead, the Yankees got one run. Ellsbury's been slumping hard of late but he's also run into some really bad luck too. Remember that Mookie Betts catch the other night? Dude's been robbed of two potential inside-the-park homers in the last four days.
Anyway, the Yankees still had runners on the corners with one out after that, but it quickly became runners at the corners with two outs after Carlos Beltran's soft line drive to second. Ian Kinsler caught it maybe six inches off the ground and I was worried he was going to intentionally let it fall in so he could turn the double play. Thankfully that didn't happen. Brian McCann provided the big hit of the inning with a single to right, over the shift, scoring the team's second run and again putting men at the corners.
Chase Headley grounded out to end the inning, at least that's what the box score will say, but in reality it was a very nice sliding grab by Kinsler going to his left. He fired to first and the throw beat Headley by about a half-step. That close to another run. The Yankees had a really great inning against Scherzer. Four hits, a rocket to the warning track, and another ball that almost snuck through for a run-scoring single. They could have easily scored four or five runs that inning. Instead, they got two. Stupid defense.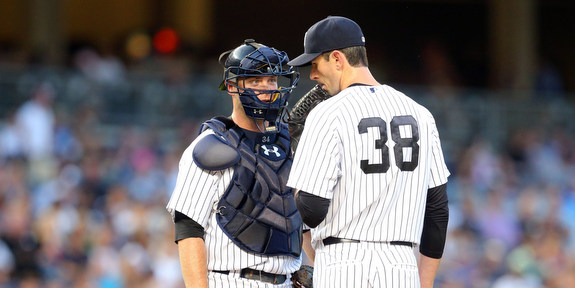 Brandon The Bulldog
This definitely qualifies as a gritty and gutty effort from Brandon McCarthy. Left it all out on the field. Gave the team everything he had. All of those cliches. McCarthy threw 116 pitches in 5.2 innings and they were tough, stressful pitches. He faced 25 batters and the Tigers had a man on base for 12 of those at-bats, including seven with a runner in scoring position. This was a major grind against one of the better offensive clubs in the game.
And yet, the only run McCarthy allowed came after an error (Martin Prado threw a ball high and pulled Headley off the bag), a stolen base, and a soft line drive to left in the fifth inning. The run was unearned. McCarthy's best escape job came in the second inning, after the Tigers loaded the bases with one out. A double (Victor Martinez), a single (J.D. Martinez), and a walk (Don Kelly) set the threat up. McCarthy stranded all three runners with a pair of strikeouts — Alex Avila swung through a fastball over the plate and Eugenio Suarez got caught looking at a curveball. That was some serious battling by McCarthy.
The Tigers threatened again in the sixth inning thanks to a Martinez leadoff single and a Kelly two-out single. McCarthy sandwiched two strikeouts between the singles, and Joe Girardi came out to talk to him after the second. It looked like he was going to call for Matt Thornton to get the left-and-left matchup against Kelly — the Tigers would have presumably pinch-hit the righty Nick Castellanos — but he left McCarthy in and Kelly singled on a ground ball through the right side. Thornton came in and got Avila to hit a weak grounder to first to end the inning.
All told, McCarthy held the Tigers to that one unearned run in those 5.2 innings. He allowed five hits and walked two while recording all 17 of his outs on the infield. That's broken down into eight strikeouts, eight ground outs, and one line drive at Prado at third base. The outfielders didn't record a single out while the tall right-hander was on the mound (they recorded three outs total all game). McCarthy now has a 2.08 ERA in five starts with New York. He's been an absolute godsend. I know his shoulder injury history is scary, but don't they have to try to re-sign him after the season?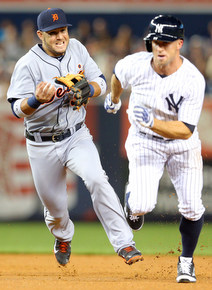 Blown Chances
The Yankees did leave their fair of runners on base, though at least they did it against Scherzer this time. It's annoying when they do it against a crummy pitcher. Runners on first and second with two outs in the first turned into nothing because McCann flew out to end the inning. The Yankees have not scored a first inning run on something other than a Gardner leadoff homer in 13 games now, since the first game of the four-game series against the Rangers. Remember, Gardner reached base leading off the first inning all three games up in Boston.
The fourth inning rally died a more unconventional death. Prado singled to left with one out, stole second on what looked like a botched hit-and-run (Ichiro swung and missed), then got stranded at third on Gardner's single to right because Gardner got caught in a rundown between first and second. Third base coach Robbie Thomson held up Prado — it was going to be a very close play at the plate but I think you have send him there under the assumption that a) it'll take a perfect throw to get him at the plate, and b) runs will be at a premium against Scherzer — but Gardner made the turn around first and continued to run to second because he thought the throw was going home. Blah.
One inning later, the Yankees had runners at corners with one out, but Scherzer escaped the jam when McCann banged into a 4-6-3 double play. Kinsler made another really good play going to his left, scooping the ball up before turning and firing to second for the first out. Like I said, I really miss the days when the Tigers didn't care about defense. The Yankees had Scherzer on the ropes all night, but Detroit's defense robbed them of the knockout blow on multiple occasions.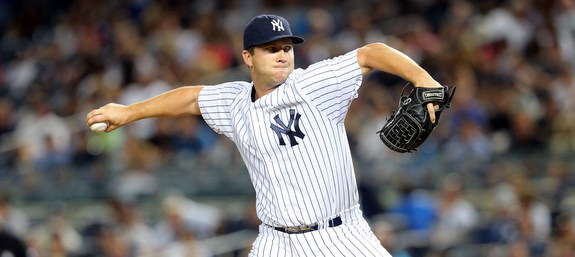 This Is How You Bullpen
Because of their recent workload, it appeared neither Dellin Betances nor David Robertson would be available for this game. That left just about everyone wondering who would close even though the seventh and eighth innings still needed to get got. Thornton retired his lefty to end the sixth, then Adam Warren come on to face the 9-1-2 hitters in the seventh. Andrew Romine struck out and Kinsler flew out, but Carrera whacked a double to right to bring Miguel Cabrera to the plate with the tying run at second. The two-time reigning AL MVP … grounded out weakly back to Warren on the first pitch. That was not at all expected. Ain't complainin'.
Warren threw only 12 pitches and I thought he would go back out for the eighth, but no, Shawn Kelley came on. Martinez helped him out big time by swinging at a 3-0 pitch leading off the inning, a swing that resulted in a weak tapper to first for an easy out. Kelley finished the frame on nine pitches after a fly ball and a strikeout. That meant he was coming out for the ninth, right? Nope. Turned out Robertson was available the whole time. He struck out two in a flawless ninth — after being wild and looking like a mess on Sunday, naturally — for his 30th save in 32 chances. Four relievers combined to retire ten of the eleven batters faced to preserve that one-run lead. Just how they draw it up every morning.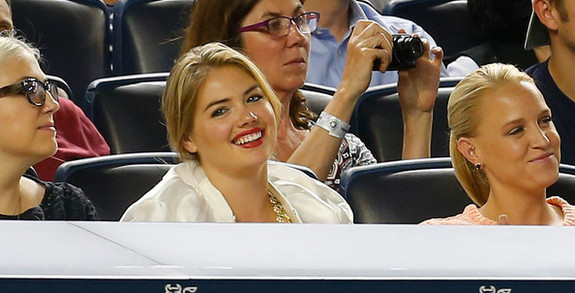 Leftovers
Mark Teixeira was a late scratch due to lightheadedness, which meant Headley played first and Prado played third. Might be best to reverse that in the future. Headley had two whole innings of experience at first prior to this game — his unfamiliarity with the position showed when he ranged far to his right and cut Stephen Drew off at second to field the inning-ending grounder in the sixth — while Prado has over 350. Prado at third and Headley at first is a defensive downgrade at two positions. Prado at first and Headley at third is a downgrade at only one position.
Gardner and Ellsbury both had two hits, plus Ellsbury had that no-doubt extra-base hit taken away by Carrera. It seems like he's starting to climb out of his little slump, thankfully. Beltran's ten-game hitting streak came to an end but he did draw two walks. Headley had a hit and a walk and, after tearing the cover off the ball the last two days, Drew failed to reach base. The Yankees did go 3-for-8 with runners in scoring position despite blowing a few prime scoring chances.
Last, but certainly not least, the win was the 700th of Girardi's managerial career. Six-hundred-and-twenty-two of those wins have come with the Yankees. Congrats, Joe.
Box Score, WPA Graph & Standings
For the box score and video highlights, head over to MLB.com. FanGraphs has some other game stats and the updated standings are at ESPN. The Orioles won while the Blue Jays, Mariners, and Royals all had off-days, so the Yankees are five games back in the AL East and only one game back of Toronto for the second wildcard spot. FanGraphs has their postseason odds at 18.1%.

Source: FanGraphs
Up Next
Same two teams on Tuesday night, when David Price makes his first start with the Tigers. Just in case you were wondering, yes, the Yankees will in fact be the first team in history to face three former Cy Young winners in three straight games. (They get Justin Verlander on Wednesday.) Anyway, Hiroki Kuroda will be on the mound against Price. Head over to RAB Tickets if you want to catch that game or any of the other five games left on the homestand.