So much for starting the homestand off on the right foot after those two wins in Tampa, huh? A rare David Robertson meltdown led to a 7-4 Astros win in Tuesday night's series opener. The Yankees are now 1-3 against Houston this year.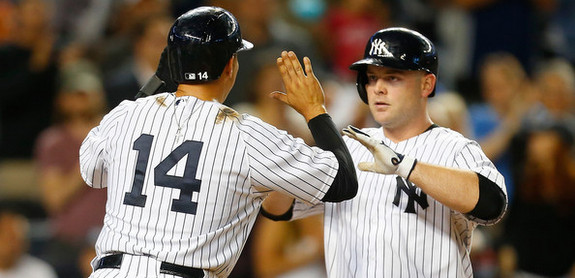 From 0-2 to 2-0
As usual, the Yankees traded zeroes with [insert opponent here] for the first three innings of Tuesday's game. They should just start every game in the fourth or fifth inning with the score 0-0 the rest of the season. It would save so much time. Mark Teixeira (strikeout) and Carlos Beltran (fly out) were quickly retired in the bottom of the fourth, but Martin Prado followed with a first pitch single and Brian McCann followed that with a two-run homer into the second deck in right. Brett Oberholtzer hung an 0-2 breaking ball right out over the plate. It was a cookie. Those were two of the five men the Yankees put on base in the first five innings.
Birthday Boy
For his 36th birthday, Chris Capuano have himself a no decision. His bullpen tried to give him a loss. Adam Warren, specifically. Capuano did what he's done since he arrived in New York, specifically using his array of changeups and curveballs and other soft stuff to keep the Astros completely off balance through four innings, striking out six in the process. Houston had a base-runner in each of those four innings but only one (Gregorio Petit's ground rule double in the third) made it as far as second base.
Capuano gave up a run in the fifth inning on Petit's double and Robbie Grossman's soft single to right, which kinda sucked because a) there were two outs and bases empty before the mini-rally, and b) McCann had just given the Yankees a 2-0 run in the previous half-inning. But, one run in five innings of work isn't bad by any stretch. You'd take that from your … 11th? 12th? I've lost count at this point … starter every time out. Dexter Fowler's leadoff stand-up triple in the sixth is when things started to fall apart.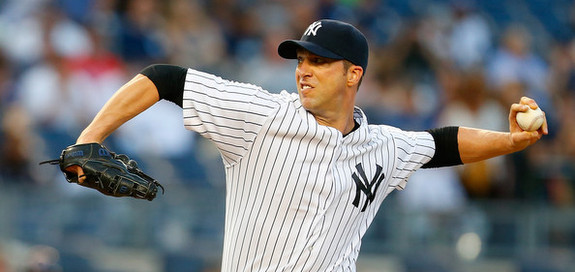 Jason Castro drove in Fowler with a simple ground out to tie the game, which, I mean, fine. Hard to strand a guy after a leadoff triple. But then Matt Dominguez singled. Then Jon Singleton singled. Then Joe Girardi came out of the dugout to get Capuano with his pitch count at a season-high 103, opting to go with struggling Warren. Warren got the second out of the inning on a weak ground ball that hit him, but he hung a slider to pinch-hitter Marwin Gonzalez, who pulled it to right for a two-run single. Ichiro Suzuki completely misplayed the ball but there wouldn't have been a play at the plate anyway.
Warren stranded the runner and got the third out, but the damage had been done. The 2-1 lead was suddenly a 4-2 deficit, and all four runs were charged to Capuano. His final pitching line — 5.1 IP, 8 H, 4 R, 4 ER, 2 BB, 8 K — looks worse than he pitched, if you know what I mean. Some shoddy bullpen work could gave given him a lead and did bloat his ERA. On his birthday, no less. Jerks.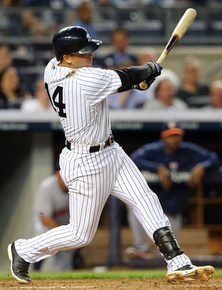 Rally To Tie
You gotta hand it to them, as soon as the Astros had that big three-run top of the sixth to take the lead, the Yankees answered right back to tie the game in the bottom half. Jacoby Ellsbury started things off with a first pitch single — he's a much better leadoff hitter than number three hitter, no? — and he took second on a stolen base/balk. He got a great jump and had the base stolen, but Oberholtzer balked, so it didn't matter. Sucks if you own Ellsbury in fantasy, but it accomplished the same thing.
Teixeira struck out and Beltran walked, putting the tying run on base with one out. Astros manager Bo Porter opted to stick with the left-handed Oberholtzer against the right-handed Prado, who took five straight pitches to work the count full. One of the strikes was way off the plate should have been called a ball, but it's a good thing it wasn't. Prado yanked Oberholtzer's 94th and final pitch of the night into the left field corner for a game-tying two-run double. It nearly hopped over the wall for a ground-rule double, which would have cost the Yankees a run. Thankfully it stayed in play and the game was tied.
The Yankees didn't get Prado in from second with one out because that's what they do. Just be happy they got the two runs. Ellsbury led off the bottom of the eighth with an infield single before stealing second and getting to third on a throwing error. The throw literally hit his leg as he slid into second and bounced into the outfield. Unfortunately, Beltran grounded right to shortstop with the infield in and Ellsbury was thrown out at home on the contact play. What can you do? This team can't score runs and a speedy runner like Ellsbury could have forced a young infielder like Gonzalez to rush his throw, but alas. Wasted opportunity.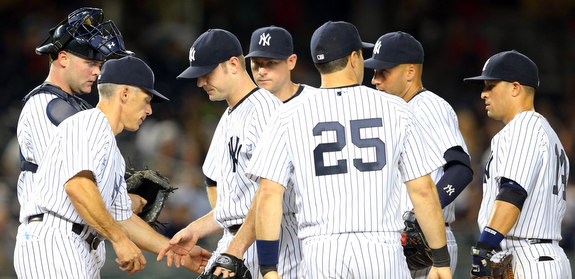 Meltdown
Robertson picked a really, really bad time to have his first terrible outing in about two and a half months. The score was still knotted up at four when he took over in the ninth inning, and he did get a quick first pitch out to start the inning, but things unraveled from there. Robertson walked Grossman on five pitches — he stole second, though that really didn't matter given the outcome — then walked Jose Altuve after being ahead in the count 0-2. The Astros had men on first and second with one out.
In between the Altuve at-bat and the Chris Carter at-bat that followed, Robertson threw seven straight balls. The Astros turned Carter lose 3-0, Robertson grooved a fastball right down the middle, and Carter hit it a mile to left field for a three-run homer. No-doubter, gone on contact. The game was over because the offense sure as hell wasn't scoring three runs in the ninth to tie. If you rank the players on the roster 1-25 based on how much of a problem they are, Robertson would be … 25th? Maybe 24th behind Dellin Betances? He's been awesome this year but stunk in this game.
Leftovers
Ellsbury and Prado both went 3-for-4 while the rest of the lineup went 3-for-27 (.111). McCann homered, Teixeira singled, and Ichiro singled. Ichiro actually slipped when he took his stride and put his front foot down, but he still got the barrel on the ball on found a hole for a base hit. The guy's bat control is ridiculous. Beltran drew the only walk. Brett Gardner and Derek Jeter both went 0-for-4 as the one-two hitters.
Between the Warren and Robertson calamities, Shawn Kelley and Betances retired six of seven batters faced with two strikeouts apiece. Betances allowed a dinky little ground ball single through the shift. Rich Hill came on to replace Robertson in the ninth, allowed the two lefties he faced to reach base (single and walk) and struck out the two righties. Of course.
I'm not normally one to complain about the strike zone (it is what it is), but Paul Emmel seemed to have a particularly big zone, especially the outside corner to righties. The PitchFX data confirms it. It completely changed Chase Headley's at-bat with Prado at second in the seventh, turning what should have been ball four in a 3-1 count into a 3-2 count. Changed everything. Headley struck out on the next pitch.
And finally, Jeter did the Ice Bucket Challenge before the game on Tuesday. The video is above. I'm sure there's a perfectly good reason for doing it on the carpet in the middle of the clubhouse. Anyway, the hug with Masahiro Tanaka is the best part.
Box Score, WPA Graph & Standings
For the box score and video highlights, go to MLB.com. You can find some more game stats at FanGraphs and the updated standings at ESPN. The Orioles won, so the Yankees are now 8.5 games back in the AL East. They're in second place too. This division was there for the taking if someone wanted to go on an extended run, and Baltimore took advantage. The Mariners won as well, meaning the Yankees are now four games back of the second wildcard spot. FanGraphs has their postseason odds at 6.6%.

Source: FanGraphs
Up Next
Same two teams on Wednesday night, when Michael Pineda and Scott Feldman meet in the middle game of this three-game series. Hoping to see some big things out of Big Mike. If you want to catch that game or any of the other four games left on homestand, RAB Tickets can get you in the door.