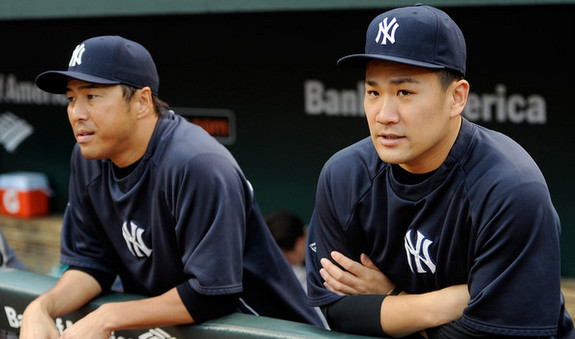 The Yankees have struggled to piece together a decent rotation for much of the season. At one point arguably the five best starting pitchers in the organization were on the disabled list, and for a big chunk of the summer they were without CC Sabathia (knee), Michael Pineda (shoulder), and Ivan Nova (elbow). Masahiro Tanaka (elbow) went down right before the All-Star break. Pineda has since returned but the other guys are all still on shelf and only Tanaka has a chance of returning before the end of the season.
Finding five quality starters has been a struggle at times, though the Yankees have a decent group right now. Pineda joins young Shane Greene and veterans Hiroki Kuroda, Brandon McCarthy, and Chris Capuano in the rotation, which isn't the most intimidating fivesome in the league, but they've been no worse than solid these last few weeks. It would be nice if they pitched a little deeper in the game once in a while — Greene is the workhorse at this point, no? — but what can you do? Take what you can get. Those guys done more than any of us could have reasonable expected, really.
Rosters expand in only ten days now, at which point the Yankees will surely call up some extra players to help out in the final month of the season. Extra arms like Bryan Mitchell, Matt Daley, and (if healthy) Preston Claiborne will be back, and they may be joined by Manny Banuelos as well. Jacob Lindgren or Tyler Webb could replace Rich Hill, though that's not adding another pitcher to the roster. Once rosters expand and the Yankees have extra bodies lying around, it actually makes sense to implement a six-man rotation for the final month of the regular season. Here are some reasons.
Control Workloads
Fatigue is always a concern this late in the season, especially for young pitchers and older pitchers. Kuroda has faded late in each of the last few seasons — he's again showing signs of fading this year — and scaling back on his workload these last five weeks wouldn't be a bad idea. I know Kuroda is likely in his final few weeks with the team, but he's been a damn good Yankee these last three years and you take care of your people. He gave the club everything he had and they should reciprocate by taking it easy on him in September even if he won't wear their uniform in 2014.
The 25-year-old Greene is actually in great shape with his innings total. In fact, he might not throw enough innings this season. He is at 109.2 innings total right now (MLB and Triple-A) after throwing 154.1 innings last season, the most in the farm system. The final weeks of the season probably get him up to 150 or so for the year. Ideally you'd like to see him get up to 170-180 innings this year, but still, we're talking about a guy who was in High-A and Double-A last year. Major League innings are a different animal. They're more intense and take more out of you. The raw innings total only tells you so much. Easing Greene towards those 150-ish innings is in no way a bad idea.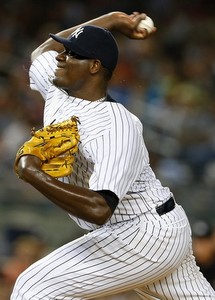 Injury Concerns
Needless to say, the rotation is still loaded with injury concerns. Pineda has made two starts after missing more than three months with a back/shoulder issue, and he didn't even get stretched all the way during his rehab assignment. Given his injury history, taking it easy on him these last few weeks makes an awful lot of sense. Same goes for McCarthy, who has been healthy this year but has a long history of shoulder problems. If the Yankees intend to try to re-sign him after the season — and they should absolutely try to bring him back — then they have every reason to do whatever they can to keep him healthy in September.
And then there's Tanaka, who threw his second bullpen session yesterday as he works his way back from a partially torn elbow ligament. Everything is going well so far — he even threw some breaking balls and splitters yesterday — so much so that he might face hitters in live batting practice for his next throwing session. The hope is Tanaka will return in September to make a few starts, and if he does, using a six-man rotation would be a fine way to take it easy on that elbow. They were trying to get him extra rest whenever they could before he got hurt. There's no reason that should change once he returns, right?
Busy Schedule
The Yankees will play their final 38 games of the season in only 39 days. They do have two off-days (September 1st and 8th) but also one doubleheader (September 12th). They close the season out with 21 games in 20 days. There will be no opportunity to give the rotation an extra day of rest here or there the last three weeks of the season — at least not without more rainouts, which would only lead to more doubleheaders — so playing it safe with guys like Greene and Tanaka and Pineda will be tough. The six-man rotation would give everyone an extra day of rest each time through the rotation automatically. They won't have the opportunity to give them that otherwise.
* * *
Though the Yankees are bringing David Phelps back from his elbow injury as a reliever, they'll still have Mitchell and Esmil Rogers as sixth starter candidates until Tanaka returns. Maybe even Banuelos, if he's physically up to it after missing close to two full seasons. That would be fun. Expanded rosters in September ensure there will be plenty of extra arms available in case someone gets knocked out early or anything like that. There's no worry about overworking the bullpen.
Let's face it, the team's postseason odds are tiny — 4.3% according to FanGraphs and 3.1% according to Baseball Prospectus — so it really doesn't matter who they run out there as the sixth starter. The important thing is getting guys like Tanaka and Pineda extra rest down the stretch, not winning every last ballgame. A six-man rotation isn't all that practical before September, but it's plenty easy to implement once rosters expand and winning is a secondary concern. It makes a lot of sense for the Yankees to use six starters in the season's final month given the injury and workload issues on the roster.