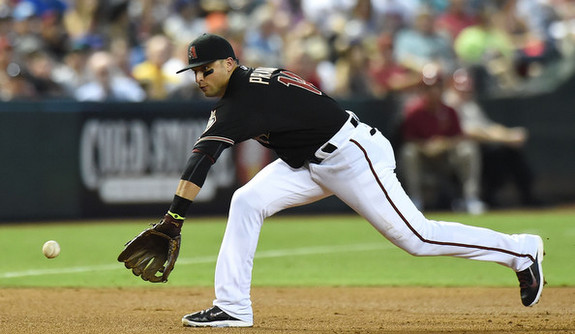 I know Friday morning is usually the mailbag slot, but c'mon, yesterday was the trade deadline. It wasn't just any ol' trade deadline either, it was the most active and unpredictable trade deadline in a long time. Lots of big names were moved, and, somewhat surprisingly, there were a lot of big leaguer-for-big leaguer trades. Only a handful of prospects changed hands. Seems like teams are finally starting to come around on the idea of prospects being overrated. MLB players are where it's at. Here's a recap of all the deadline moves and here are some scattered thoughts.
1. I feel too many people view the trade deadline as binary these days, that teams should either buy or sell with nothing in between. That's not reality though. There is always a middle ground and that's the way the Yankees went. They made small upgrades and hugged their prospects at the same time. They acquired four no-doubt upgrades in Brandon McCarthy, Chase Headley, Stephen Drew, and Martin Prado, and they did so at amazingly minimal cost (and got cash back!). All they gave up were two fringe big leaguers in Vidal Nuno and Yangervis Solarte, two mid-range prospects in Peter O'Brien and Rafael DePaula, and the replaceable Kelly Johnson. I mean, how do you not love that? I don't know if those moves will be enough to put them over the hump and into the postseason, in fact I'll so as far as saying it is unlikely they will be, but those are clear upgrades that do not damage the short or long-term health of the franchise. Those are four quality players acquired for nothing the Yankees will miss. Amazing.
2. Now, that said, it's pretty obvious they still need some pitching. At the very least an innings eater just to, well, eat innings. Someone who can spare the bullpen that extra inning or two every fifth day. The Yankees in position to take on salary in an August waiver trade and I think they will at some point. Cliff Lee re-injured his elbow last night and that makes him a non-option — not just for the remainder of this year either, if he doesn't pitch at all the rest of this season I don't see how they could go after him in the winter with all that money left on his contract — but other August trade candidates are John Danks, Scott Feldman, Kevin Correia, Bartolo Colon, Chris Young, Colby Lewis, A.J. Burnett, and James Shields. (How fantastic would a Shields rental be?) I'm not saying the Yankees should go after those guys specifically, just that there should be some pitching options this month, especially as more and more clubs fall out of the race. Win or lose, postseason or no postseason, they need some arms to avoid running their valuable pitchers into the ground.
3. Here's the upcoming free agent class. There are very few position players listed there I prefer over Prado at his fair value contract and that's not something to be overlooked. The Yankees got out ahead of the market by extending Brett Gardner before he hit free agency — how amazing does that deal look right now? — and trading for Prado saves them from bending over to sign some meh free agent to plug a hole over the winter, whether it be an outfielder or an infielder or whatever. Free agency is not what it once was, the solution to every problem is not out there in the form of an above-average player every offseason because teams are signing all of their best players to multi-year extension. Trading for those guys is now the way to acquire talent. Prado isn't a sexy name and frankly I don't think he's anything more than a league average player, but league average is valuable and it's one less thing to worry about this winter.
4. Drew is obviously auditioning to replace Derek Jeter next season. You realize that, right? I know he'll be playing second base these next two months, but the Yankees and everyone else knows he can play shortstop without a problem. They get to see how he handles New York, how he fits in the clubhouse, how well he can take advantage of Yankee Stadium's short right field porch, stuff like that. That's not nothing. Sometimes a player just isn't a good fit (see: Carl Crawford and the Red Sox) and usually you don't find that out until after he's signed. The same applies to Headley, really. The Yankees will get to know him these next few weeks and see firsthand how well he fits the team. If they like what they see, they could look to sign him during the exclusive negotiating period and avoid a bidding war on the open market.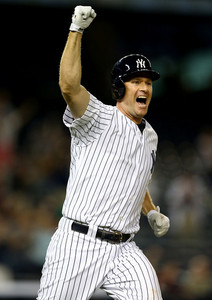 5. When Spring Training opened, the candidates for the non-shortstop and non-first base infield positions were Johnson, Solarte, Brian Roberts, Eduardo Nunez, Scott Sizemore, and Dean Anna. Every single one of them is gone. Johnson (trade), Sizemore (release), and Roberts (designated for assignment) were all jettisoned yesterday, Solarte (trade) was moved a few weeks ago, Nunez (trade) was moved back in April, and Anna (waived) was dropped from the roster last month. Pretty amazing that none of them survived the season and Solarte managed to be the best of that bunch. If nothing else, Headley and Drew will be big upgrades defensively — I'm pretty confident Drew will out-defend Roberts on pure athleticism even though he's never played second as a pro — over that Island of Misfit Infielders. Headley's already helped with the bat and Drew might. With Roberts gone and Ichiro Suzuki glued to the bench, the Yankees have a bonafide starting caliber Major League player at every position for the first time since 2012. It really is the little things in life that make you happiest.
6. This is a minor point but one worth mentioning: the DePaula and O'Brien trades did help clear up some organizational logjams. I'm pretty sure DePaula will be Rule 5 Draft eligible this winter, so that saves the Yankees a 40-man roster spot. He would have been a borderline protect/expose candidate like Jose Campos this winter, and, as they've shown the last few years, the Yankees almost always protect those borderline guys and it limits roster flexibility. Trading DePaula helps that situation. Moving O'Brien also ends the daily lineup/position juggling at Double-A Trenton. Gary Sanchez can catch everyday, Tyler Austin can play first base everyday, and the trio of Mason Williams, Jake Cave, and Ben Gamel can play the outfield everyday. Plus the DH spot stays open. Thunder manager Tony Franklin had to wedge O'Brien into the lineup somewhere these last few weeks, but that's not an issue anymore.
7. I think you can make a very strong argument the three best (healthy) starting pitchers in the AL East were traded yesterday as Jon Lester (Athletics), David Price (Tigers), and John Lackey (Cardinals) were shipped to other divisions. That's pretty remarkable. Four of New York's five Opening Day rotation starters are on the disabled list while the Red Sox traded four-fifths of their Opening Day rotation (Lester, Lackey, Jake Peavy, Felix Doubront) in the last week or so. I don't really know where I'm going with this, I just thought it was interesting. Two years ago this division housed top notch pitchers in Lester, Price, Shields, CC Sabathia, and Hiroki Kuroda. Now the best healthy pitcher in the division is … Alex Cobb? Chris Archer? Mark Buehrle? Marcus Stroman? Yeesh.
8. I really like Drew Smyly — I even wrote a post about the Yankees potentially trading for him back in the day — but man, that is an underwhelming return for Price. Friend of RAB and Rays fans Tommy Rancel is one of the smartest baseball dudes I know and even he agrees the return was light. Smyly's good and Franklin should have some sort of MLB career, but that's it. That Willy Adames kid is an 18-year-old project in Single-A. Where's the young stud big leaguer or elite prospect? That trade was made to fill needs and not acquire the most talent possible, and acquiring the most talent is what I think you have to do when trading someone of Price's caliber.
9. The Red Sox did fine in their trades assuming Allen Craig hasn't permanently forgotten how to hit. I'm interested to see what happens with Yoenis Cespedes next year. They don't get the standard six years of team control over him — his contract stipulates that he has to be non-tendered after his fourth year, and because he has to be non-tendered, they can't make him a qualifying offer and recoup a draft pick. Will they really let him walk after next season for nothing? Or will they re-sign him into his 30s, something they've been hesitant to do with other players and refused to do with their homegrown ace? If not, will they be looking to trade him at the deadline next summer? That'll be fascinating.