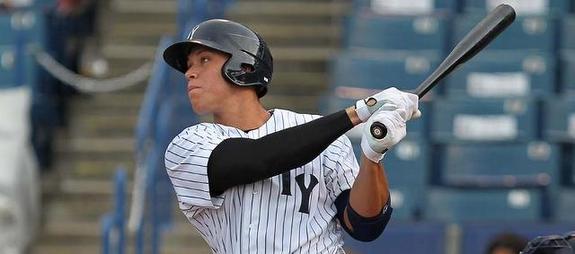 After the nightmare that was 2013, the Yankees' farm system rebounded to have a strong but not really great year in 2014. It was more of a normal season than anything. There were a few surprises, a few disappointments, a bunch of injuries, and several comebacks. Pretty typical year for a minor league system, and, for the Yankees, a typical year meant a huge step up from last season.
The team's seven domestic minor league affiliates combined to go 387-373 (.509) this summer, so after having their consecutive winning season streak snapped at 30+ years last year, they got turned things around quickly. None of the four full season affiliates qualified for the postseason, however. Only the two Rookie GCL Yankees squads did. The system did not have at least one league champion for only the third time in the last eight years.
As a reminder, this annual awards post has nothing to do with prospect status. This is all about recognizing 2014's notable performances in the farm system. Pure production with future outlook taking a backseat. These are also my awards and my opinions, so you're welcome to disagree. There is no right answer with stuff like this. Here are my 2007, 2008, 2009, 2010, 2011, 2012, and 2013 awards posts. So, without further delay:
Minor League Player of the Year: 2B Rob Refsnyder
From start to finish, the best and most consistent player in the system this year was Refsnyder. The 23-year-old opened the year with Double-A Trenton, hit .342/.385/.548 (159 wRC+) with 19 doubles and six homers in 60 games, then was promoted up to Triple-A Scranton. Refsnyder hit .296/.386/.453 (135 wRC+) with 19 doubles and eight homers in 77 games with the RailRiders, giving him an overall .317/.385/.495 (~145 wRC+) batting line. The team's fifth round pick in the 2012 draft led the farm system in batting average (min. 400 PA), doubles (38), and total bases (255) while placing second in hits (163). He also cut his error total from 25 in 108 games last season to 12 in 122 games this season. Refsnyder put himself on the map a year ago and this year he proved he was no fluke. He's played his way into big league consideration just two years after being drafted and asked to change positions.
Minor League Pitcher of the Year: RHP Luis Severino
It's been quite a while since the Yankees had a young pitcher tear up the minor leagues and shoot up three levels in one year. You have to go back to Joba Chamberlain and Ian Kennedy in 2007. Severino, 20, started the season with Low-A Charleston and ended it with Double-A Trenton, throwing 113.1 total innings across 24 starts. He pitched to a 2.46 ERA (~2.41 FIP) with 127 strikeouts and only 27 walks, a 4.70 K/BB that ranked second best in the system among pitchers with at least 100 innings. At one point from late-May through late-July, Severino had a 1.84 ERA with 71 strikeouts and 15 walks in 58.2 innings across three different levels. He was so good that he only made four starts with High-A Tampa before being promoted up to the Thunder. Severino did more than just establish himself as the best pitching prospect in the system, he emerged as one of the top pitching prospects in all of baseball. Honorable Mention: RHP Jaron Long
Minor League Hitter of the Year: 1B Kyle Roller
The season started a little late for the 26-year-old Roller due to a minor injury, but once he returned to the field in mid-April, he started hitting and simply never stopped. Roller put up a mammoth .385/.456/.808 (241 wRC+) line with nine homers in 21 games for Double-A Trenton before being moved up to Triple-A Scranton, where he hit .283/.378/.497 (143 wRC+) with 24 doubles and 17 homeruns in his final 104 games of the year. The combined line is .300/.391/.550 (~160 wRC+) with 30 doubles and a system-leading 26 homers in 125 games. (Well, technically Pete O'Brien led the system with 33 homers, but he's been traded away.) Roller hit five homers in the span of ten games not once, but twice this year. He mashed all summer long. Right from his first game (1-for-4 with a homer and a walk) until his last (2-for-3 with a double). Honorable Mention: Refsnyder, OF Aaron Judge
Breakout Player of the Year: OF Aaron Judge
It's weird to call one of last year's first round pick the Breakout Player of the Year, but Judge proved to be an even better and a more advanced hitter than expected. The 22-year-old started his pro career with Low-A Charleston, hit .333/.428/.530 (167 wRC+) with 15 doubles and nine homers in 65 games, then moved up to High-A Tampa and hit .283/.411/.442 (149 wRC+) with nine doubles and eight homers in 67 games. The final tally is a .308/.419/.486 (~158 wRC+) batting line with 24 doubles and 17 homers, the fifth most in the system. Judge also led the farm system with 89 walks, 18 more than anyone else. He was described as a brute masher who would swing and miss a bunch as a pro, but Judge showed a sound approach and the ability to drive the ball in all counts in 2014. Honorable Mention: LHP Tyler Webb, RHP Nick Rumbelow
Best Pro Debut: OF Mark Payton
Payton, 22, was the team's seventh round pick back in June, though the start of his pro career was slightly delayed because Texas went to the College World Series. He signed early enough to appear in 48 games split between Low-A Charleston and High-A Tampa, where he hit .320/.418/.497 (~160 wRC+) with 15 doubles, four homers, and nearly as many walks (29) as strikeouts (32). Payton reached base 87 times in 48 pro games. Quite a few draftees and debuting international signees had strong summers, but Payton's was the best. Honorable Mention: LHP Justin Kamplain, LHP Jacob Lindgren
Comeback Player of the Year: 3B Dante Bichette Jr.
Bichette's career has not played out as hoped since the Yankees took him with their top selection in the 2011 draft. He did not hit at all with Low-A Charleston in either 2012 (84 wRC+) or 2013 (82 wRC+), but he turned his career around and regained some prospect luster with a big 2014 season. Bichette, 21, spent most of the year with High-A Tampa and hit .271/.352/.410 (120 wRC+) with 27 doubles and nine homers, though a late-season cameo with Double-A Trenton didn't go as well (73 wRC+). He finished the year as the owner of a .264/.345/.397 (113 wRC+) overall batting line with 30 doubles and ten homeruns in 127 games. The Yankees had a bunch of Comeback Player of the Year candidates this season, but Bichette was an easy call. Honorable Mention: LHP Manny Banuelos, RHP Nick Goody, RHP Conor Mullee, RHP Ty Hensley
Bounceback Player of the Year (started slow, finished strong): 3B Miguel Andujar
Andujar has one of the most exciting tool sets in the farm system, though he got off to a very slow start in his full season debut, hitting .212/.267/.335 (67 wRC+) with ten doubles, five homers, 16 walks, and 46 strikeouts in his first 63 games with Low-A Charleston. The 19-year-old then managed to hit .319/.367/.456 (129 wRC+) with 15 doubles, five homers, 19 walks, and 37 strikeouts in his final 64 games. That all works out to an overall season batting line of .267/.318/.397 (99 wRC+) with 25 doubles and ten homers in 127 games. That's quite the rebound for a teenager in a full season league. Honorable Mention: OF Tyler Austin
Most Disappointing Player of the Year: OF Mason Williams
Two years ago Williams was arguably the top prospect in the system. Now he's the back-to-back Most Disappointing Player of the Year. Williams, 23, spent the entire season with Double-A Trenton, hitting a weak .223/.290/.304 (66 wRC+) with 18 doubles, five homers, and 21 steals in 128 games. He was also benched on several occasions for not running out balls, insubordination, stuff like that. Last season was a bad season for Williams and this year was an opportunity for redemption. Instead, he only further played his way out of the team's long-term plans. Dishonorable Mention: 2B Gosuke Katoh
Individual Level Awards (click for larger)

All Minor League Teams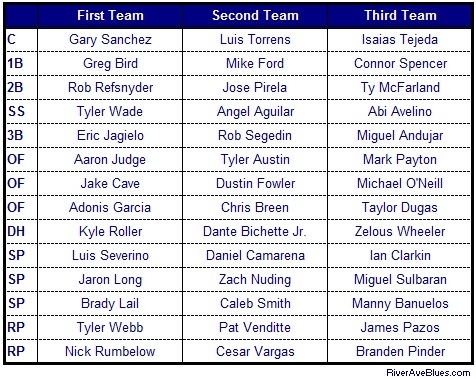 Lifetime Achievement Award: LHP Jeremy Bleich
This year's Lifetime Achievement Award honoree was the team's highest signed pick from the 2008 draft. He was their second choice between RHP Gerrit Cole and RHP Scott Bittle, neither of whom signed, and he is one of only five players from that draft class still in the organization. Hard to believe that draft was six years ago now.
Bleich, now 27, has been through it all as a pro, including major shoulder surgery that cost him most of the 2010 and 2012 seasons as well as the entire 2011 season. He returned primarily as a reliever and pitched to a 2.76 ERA in 98 innings from 2012-13 before settling into a swingman role this year. Bleich has thrown 397.1 innings across 68 starts and 37 relief appearances in his career, posting a 4.19 ERA and 7.2 K/9.
The shoulder injury derailed Bleich's career but he is still continuing to plug away. He has helped the Yankees these last two years at Double-A Trenton and Triple-A Scranton by soaking up innings and making spot starts whenever necessary. Since he is a lefty, Bleich will continue to get opportunities and could eventually find his way to MLB, even if it's with another organization. The injury was unfortunate but he's been a quality organizational player since returning.