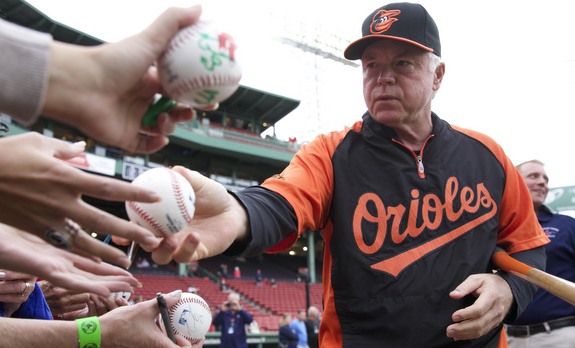 The Yankees are still mathematically alive in the division race, but realistically the Orioles have the AL East all wrapped up at this point. They've lapped the field. These two teams will play four games in three days this weekend — they're making up the August 12th rainout with a doubleheader today — and I guess it's worth noting the O's can officially eliminate the Yankees from the division race with a sweep. The Bombers have lost eight of eleven games to the Orioles this season, including one win in five games in Camden Yards.
What Have They Done Lately?
Baltimore was off yesterday and they swept three games from the Red Sox in Fenway Park earlier this week. They're on a serious roll, winning four straight, seven of nine, and eleven of 14. The O's are 86-59 with a +94 run differential, the second and fourth best marks in the league, respectively. They are ten games up on the Blue Jays and 10.5 games up on the Yankees with a little more than two weeks left in the regular season.
Offense
Manager Buck Showalter's offense averages 4.40 runs per game with a team 104 wRC+, so they are just a bit above the league average despite leading the world with 192 home runs. No other team is within even 20 of that total. They just don't get enough guys on base in front of the sluggers. Both C Matt Wieters (Tommy John surgery) and 3B Manny Machado (knee surgery) are done for the year, and SS J.J. Hardy (98 wRC+) is day-to-day with a back issue. He received a cortisone injection on Wednesday and I guess that means he could return at some point this weekend.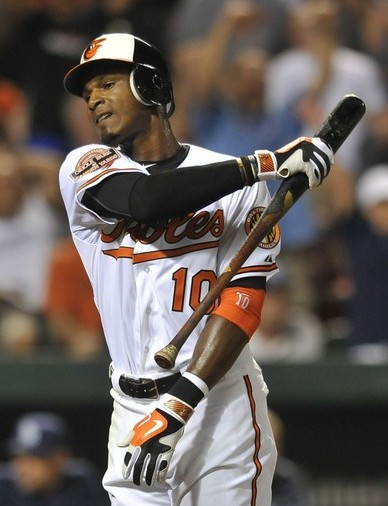 The Orioles lineup is built around the power bats of OF Adam Jones (117 wRC+) and OF Nelson Cruz (136 wRC+), who have hit 25 and 39 homeruns, respectively. Cruz leads baseball in dingers. 1B Chris Davis (93 wRC+) is having a rough year following last season's 53-homer breakout. He still has 26 homers though. Davis has been playing third base with Machado out and 1B Steve Pearce (147 wRC+) is filling in at first base. We all saw Pearce doing that when he was on the Yankees a few years ago, right? Right.
OF Nick Markakis (102 wRC+) leads off and OF Alejandro De Aza (91 wRC+) was a late-August waiver pickup to add depth. 2B Jonathan Schoop (67 wRC+) has crushed the Yankees all year and IF Ryan Flaherty (72 wRC+) has been filling in at short with Hardy hurt. Ex-Yankee Kelly Johnson (82 wRC+) comes off the bench to replace Davis for defense at third base, if you can believe that. C Caleb Joseph has taken over as the everyday catcher (93 wRC+) while C Nick Hundley (82 wRC+) joins OF David Lough (78 wRC+) on the bench. C Steve Clevenger, OF Quintin Berry, and ex-Yankees farmhand UTIL Jimmy Paredes are the September call-ups.
Pitching Matchups
Game One Friday: RHP Brandon McCarthy (vs. BAL) vs. RHP Kevin Gausman (vs. NYY)
The Orioles sure have taken advantage of the 23-year-old Gausman's minor league option this year, sending him up and down numerous times to manipulate the roster and add fresh arms. He's been their heavily used sixth starter — the O's have been using him to regularly give their other starters extra rest — and has a 3.83 ERA (3.40 FIP) in 17 starts and 96.1 innings this summer. Outside of a stellar homerun rate (0.47 HR/9 and 5.1 HR/FB%), Gausman's peripherals are kinda unimpressive: 6.82 K/9 (18.0 K%), 3.27 BB/9 (8.6 BB%), and 41.2% grounders. Lefties (.321 wOBA) have hit him a bit harder than righties (.296 wOBA). Gausman lives in the mid-90s with his four-seam fastball, which he throws roughly 70% of the time even as a starter. A low-to-mid-80s split-changeup hybrid is his top secondary pitch, and he'll also throw a few low-80s sliders as well. The Yankees scored one run in five innings against Gausman back in July.
Game Two Friday: TBA vs. RHP Bud Norris (vs. NYY)
Norris, 29, has probably been Baltimore's most consistent starter this season. He has pitched to a 3.92 ERA (4.32 FIP) in 25 starts and 147 innings with average-ish peripherals across the board: 7.10 K/9 (18.8 K%), 2.69 BB/9 (7.1 BB%), 1.10 HR/9 (11.0 HR/FB%), and 42.6% grounders. Lefties (.330) have had more success against him than righties (.313), and he's been better at home in Camden Yards (.300 wOBA) than on the road (.341 wOBA). Norris is basically a two-pitch pitcher with two other pitches. He relies heavily on his low-90s four-seamer and mid-80s slider, throwing them roughly 80% of the time combined, but he'll also throw a handful of mid-80s changeups and low-90s two-seamers per start. New York has seen Norris twice this year, scoring one run and then three runs, both times in five innings.
The Yankees have not yet announced their starter for the second game of today's doubleheader, but Joe Girardi did tell Chad Jennings that Bryan Mitchell has been "informed that he's a definite possibility." David Huff, Esmil Rogers, Chase Whitley, Adam Warren, and Preston Claiborne can all go two innings if needed, and David Phelps is expected to be activated off the disabled list today as well. The bullpen is full of September call-ups. They'll cobble it together one way or another.
Saturday: RHP Shane Greene (vs. BAL) vs. RHP Miguel Gonzalez (vs. NYY)
A few weeks ago it looked like Gonzalez was a candidate to be dropped from the roster, but he's pitched exceptionally well of late (four runs allowed in his last five starts total) and is now sitting on a 3.22 ERA (4.85 FIP) in 23 starts and 142.1 innings. He also made one relief appearance. The 30-year-old is another guy without strong peripheral stats: 6.39 K/9 (16.8 K%), 2.91 BB/9 (7.6 BB%), 1.39 HR/9 (12.0 HR/FB%), and 38.0% grounders. His platoon split is pretty small. Gonzalez's money-maker is a split-changeup hybrid that sits in the low-80s. He sets it up with low-90s fastballs and also throws a low-80s slider and mid-70s curveball. The Yankees scored three runs in six innings against Gonzalez back in April, then he held them to two runs in eight innings in July.
Sunday: RHP Hiroki Kuroda (vs. BAL) vs. RHP Chris Tillman (vs. NYY)
Tillman, 26, was the Orioles' Opening Day starter this year, and he has a 3.36 ERA (4.09 FIP) in 31 starts and 187.2 innings. Again, his strikeout (6.38 K/9 and 16.9 K%), walk (3.02 BB/9 and 8.0 BB%), homer (0.91 HR/9 and 8.4 HR/FB%), and ground ball (40.9%) numbers do not jump out at you. His platoon split is small but he has been much more effective at home (.274 wOBA) than on the road (.324 wOBA). Low-90s four-seamers and cutters set up Tillman's mid-80s slider, low-80s changeup, and big-breaking mid-70s curveball. He's lost about one mile an hour off his fastball for the second straight year, but he keeps getting outs. Tillman has started against the Yankees three times this season: six shutout innings in June, three runs in 6.2 innings in July, and two runs in seven innings in August.

Bullpen Status
Showalter's setup man/closer combination features two lefties who can actually get righties out: LHP Andrew Miller (1.48 FIP) and LHP Zach Britton (3.13 FIP). RHP Darren O'Day (3.07 FIP) will also see setup work while RHP Tommy Hunter (3.19 FIP) has been more of a sixth/seventh inning type. Baltimore was off yesterday, so everyone is relatively fresh.
RHP Brad Brach (3.59 FIP), LHP Brian Matusz (4.22 FIP), RHP Ryan Webb (2.65 FIP), and RHP Ubaldo Jimenez (4.81 FIP) are the rest of the bullpen regulars. Ubaldo was demoted to mop-up duty a few weeks ago. Yikes. LHP T.J. McFarland, RHP Evan Meek, and LHP Joe Saunders are the extra September arms. Check out the status of the Yankees bullpen at our Bullpen Workload page. Camden Chat is the plate to go for the latest and greatest on the Orioles.
Update: Chris Davis has been suspended 25 games after testing positive for an amphetamine, MLB announced. Apparently he was taking Adderall with out approval. Either way, we won't see him this weekend or when these two team play again in a week and a half.